Dear World,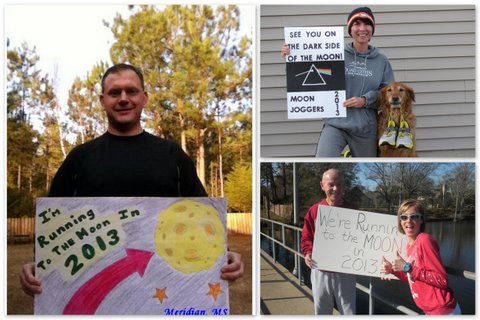 In December 2012 my sister and I decided to start a little project. At first it was a simple, sisterly competition to see which one of us could run a total of 1,000 miles in 2013. From that sprung an idea. Why don't we get enough people to run enough miles to the Moon in 2013? The moon is 238,857 miles away. Our goal was to get 238 people to join us and commit to running 1,000 miles each. What started as a "small project" quickly turned into a journey of EPIC proportions.
Before we knew it the idea spread like wildfire and we suddenly had hundreds of people committing to our challenge to walk, jog and run 1,000 miles in 2013. We even had many take it a step further and commit to the Ultimate challenge of running 2,013 miles in 2013. Before January 1, 2013 arrived, we had more than 1,000 people, from 40 different countries, signed up and read to run to the moon, and back to earth, and then to the moon, and then back to earth, and then to the moon and then back to earth. Yes, that's right. We calculated that we had enough people to do THREE round trip journeys to the moon in 2013!
The year started off and the Moon Joggers sprinted past the STARTING LINE and quickly start running through space. Our goal for the year: 1,528,197 miles. With 1,400 runners, everyone would have to complete each of the miles they committed to. As with all New Year's goals and commitments, some people started off strong and then suddenly disappeared, getting lost in space. Most of the Moon Joggers have remained committed and have walked and ran in snow, rain, blistering heat and everything else to help us reach our goal.
On May 23, 2013 we made our first landing on the moon and it was AWESOME! Having added more than 400 miles myself (more miles than I ran in all of 2012) it felt so good to "stand on the moon" and celebrate how far we had traveled. I began to accept that our group of die-hard individuals would stick with it and we'd make ONE round trip journey to the moon and back. I was almost satisfied with that….almost.
I am the type of person that when I set a goal and make a commitment, I want to reach it. Not just halfway, but reach it COMPLETELY and do what I said I was going to do. I said (you watch me saying this on the video below) that as a group we would run 1,528,197 miles in 2013 and that we'd have not just one, but THREE, moon landings this year. I said it and I meant it and as I re-watched that video (posted below) this evening something in my heart told me that WE CAN DO THIS! We can reach our goal!
How will we do it you ask? Well, there are more than 6 Billion people on this planet and millions of them LOVE to run (or at least go out walking). Why not ask them to join us? To each person reading this right now, I personally invite you to join Moon Joggers and help us reach our goal. What do you have to do? Make a commitment to MOVE. Whether it is walking, jogging, running, or even getting on the elliptical machine, all we ask is that you get MOVING and that you measure how far you go.
It does not matter what your fitness level is. You might be able to barely walk one mile or you might be out running a marathon every weekend. No matter your fitness level, we want you, and let us tell you something: YOU WANT MOON JOGGERS! Being a part of this group will change your life and motivate you to do the impossible: like running to the moon!
No, you do not have to commit to running 1,000 miles (although the option is still there for those of you that want to take on that challenge). You can sign up to complete 365 miles. There is still plenty of time to do this. Make the commitment, log your miles on our website (it's free) and help us reach our goal and celebrate with us on the MOON!
To all of my current Moon Joggers I say THANK YOU! Thank you for hitting the pavement, hitting the trail, running on the "dread-mill" and pushing yourself to get those few extra miles each week. Getting to know you and learning your stories has truly changed my life and inspired me. To the rest of you, do not pass up this amazing opportunity to become a Moon Jogger. You'll never be the same once you've taken your first steps on the moon.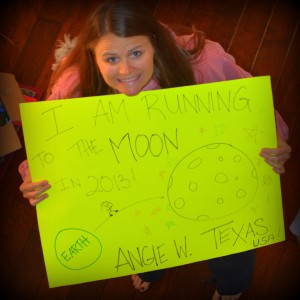 We will reach 1,528,197 miles!  The question is: how many of those miles will be yours?
Happy Jogging,
To become a Moon Jogger you can SIGN UP HERE.
Be sure to JOIN our Moon Joggers Facebook Group: this is where the magic happens and you get to connect with amazing Moon Joggers all over the world!
Watch our Moon Joggers TAKE OFF video from January 1, 2013 below:
Comments
comments