Meandering thoughts from the trail: As time goes by…
By Sheila Dawe
For anyone that would like to test their limits of endurance, I highly recommend finding a time event. Time events usually are loops which the runner or walkers see how many loops they can complete in a given time. I went to my very first time event, an 8 or 12 hour event on one of the hottest days this summer. The loop was 2.5 mile or 4.0 km in a lovely urban park, located next to the Trans-Canada Highway, in Surrey, B.C. I was hoping to get 20 laps or 50 miles, I didn't quite make my goal of distance but I did make my goal of having a fantastic time and enjoying the experience.
When I arrived at the start, I was quickly intimidated by some of the runners. We got to pick our own numbers and the race director wrote the number on our legs. This worked out great as we did not have to bother with a bib. Time came for us to line up at the start and unlike most races where people are fighting to be at the front, in this race everyone was determined to start from the back. As I was trying to find my place, I heard someone say, "But I am a walker, you can't go behind me." So I went to the front next to the one lonely guy, it was fun to be leading the race for 10 seconds (I was running intervals of 10 seconds, followed by 30 second walk). By the first 500 meters I was passed by nearly all the runners. Mentally to deal with my e-coached Galloway plan, I began my mantra of "Conserve, consistent, can do – tortoise power". I had to believe that my approach of slow and steady would ultimately result in my success to be able to keep on going.
One key to surviving ultra-distances is taking care of yourself: primarily eating and drinking early and often. I focused on eating in the first 4 hours, but lost this focus when I got distracted by my family showing up to cheer me on and pace me for a couple of laps. At hour 10 I realized that I had only eaten a banana since hour 4. This was really my own fault and one of my fondest memories was being able to share my passion with my family. Running 2 laps (laps 8 and 9) with my brother and nephew was such an incredible experience and made me feel like a true rock star having my amazing pacers beside me.
I decided to use a handheld bottle (24 oz.), as we would pass the aid station so often. I was hydrating very well as it was nearly empty each lap and I kept refilling for the next lap. Often when I am drinking well for many hours, I eventually start to hate the taste (or lack of taste) of water. I was taking gulps of Gatorade in between each lap but at the start of lap 10, I decided to carry a bottle of Gatorade, instead of water. This turned out to be a mistake. The Gatorade being so tasty resulted in me drinking it too fast and I had to try to ration out the liquid until I finished that lap. Not the smartest idea I had, especially, considering it was at the hottest time of the day.
After hour 8, things started to head south. First thing I noticed was a big old fat blister on one of my baby toes. It would come and go, as it seemed to move around a bit. But there came a point where I landed on it and the pain was excruciating. I had to turn off my interval timer and continue walking without my run intervals. When hour 9 came along I decided to give running another go, and was able to do it for about 20 minutes. The good news was the blister seemed to go away (I think it burst) but the bad news was my energy was beginning to fade.
At hour 10, just finishing lap 16, I started to begin to feel nauseas and woozy. I had to stop for a few minutes and sit on a log, a little self-imposed time out. I realized that I hadn't eaten much in the last 6 hours. At the aid station I ate some potatoes and a PB and J sandwich. I called my family and informed them my next lap would be my last. I did not know how long it would take me to walk the last lap, but I set off to just do it. As I walked the final lap, the food started to kick in and I started to feel like the real me, I realized that I could do more, I could do another lap. But as I returned to the start/finish and saw my family there, I did not have the heart to make them wait another 45 minutes and since I only had 44 minutes left, I had to make the decision instantly. In the future I will go that extra lap, as long as it is reasonably within my capabilities.
I finished in 2nd place overall out of 20 people who started. I completed 17 laps for 68.68 km or 42.5 miles (although my Garmin stated 43.5 miles). I finished in 11 hours and 16 minutes. First place was out of reach as she completed 20 laps for 50 miles. There was only one hill but we did it over, and over, and over again – talk about your hill repeats, elevation gain added up to nearly 3000 feet. The high temperature according to Environment Canada was only 33.5 C (92 F), but it felt a whole lot hotter, especially since it was a sudden temperature increase only over the last week. One week ago, it was a high of 16 C. I had so much fun and would highly recommend time events for anyone who wants to push their boundaries and just see how far they can run or walk. Keep on keeping on, no matter how long it takes.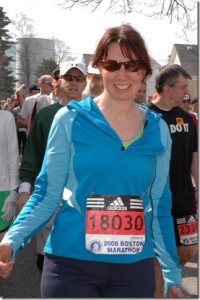 Biography:  Sheila being 49 years old, single, with no kids has the perfect lifestyle for becoming an obsessive runner. Her 77 year old mother, Catherine Campbell (another Moon Jogger) moved in next door to her in 2000. After cheering Sheila on at multiple marathons, Catherine finally caught the running bug. Sheila taught her to run in 2009 and this year is very significant as Sheila is training Catherine to complete her first ever half marathon. Sheila works for the Government of Canada as a fish health technician but longs for the day when she can retire and dedicate even more time to her passion…running.
Comments
comments