By Perry Newburn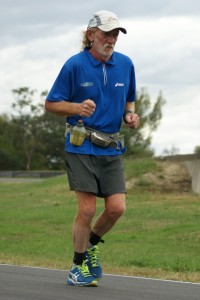 So after finishing my run around NZ in November 2012 I had my next goal to look towards. Goals for me are extremely important – they give me something to work towards. I have come off runs before with nothing planned and have felt flat, unmotivated and its been a real battle to get out the door. Not the case this time as I didn't really take any time off. Initially it was about " winding " the body down from the daily grind of the previous 70 days and then building back up for the next challenge – " doing the double " around our beautiful Lake Taupo in under 48 hours – a distance of 310 kms. It is a tough hilly course. They do a bike race around the Lake also and some do it several times but no-one had attempted doing it more than once on foot – who would be silly enough???
I set off from the start/finish area at 2pm on a Thursday on a fairly hot day. This was going to be about being conservative, especially with the heat and making sure I kept up with hydration. I ensured my support vehicle on went ahead in 5 km blocks during the day so I could regularly fill up the bottles. The first day well and I arrived back at the start/finish area at about midday the next day. Right I had 26 hours to complete the journey. I knew the next 6 hours would be toughas the heat really picked up again. A couple of power naps ( approximately 20 minutes each ) in the shade helped and then it was nice to be running at night time again. By approximately 630 am on the Saturday morning I had 50 kms to go and then with 25 km to go I was starting to get company with the around the Lake relay runners catching up ( and passing of course). This company , also with their supporters , really helped and the time went by fairly quickly. I ran back into the finish area just before 1 pm on the Saturday – goal accomplished.
My recovery after this was really good and I ended up running approximately 80 miles in the week after. Again the first day after I will always get out for a walk and this helps getting the body going again – all be it at a fairly slow rate.
Now onto the next goal – yes I had this already sorted – and this ended up with being only about 6 weeks away – 72 hours running , without sleep, in the hope of reaching 300 miles. I did this around our local motor racing circuit with loops of either 3 km or 4.5 km and also did this to raise funds for my sons special needs unit at the local high school. This was a new challenge – I wasn't worried about the first 24 hours but beyond that was new territory in the sense of no sleep. To cut a long story short this was successful and reached 302 miles by the end. There was a bit of hallucinations going on at times , and the early hours of the mornings were tough when the mind was trying to tell me it was sleep time. I laughed off the hallucinations as I was expecting them. I was also expecting it to be tough ( and it was) but again by expecting it , when it actually hit I knew I could work through it – sometimes by just dropping the target back to small achievable targets ( 1 step at a time) .
One thing I should mention here is at the end of 2012 I came across the moon joggers site and thought this could be fun. It has been with many friendships gained, plenty of motivation to get out the door ( and there were some when it was a real battle) for the necessary miles I need to do to keep building up for future goals/challenges. I have loved seeing people getting out and exercising and again the mental wellness this creates is huge. Everyone has their own goals and all strive to meet them. I am in awe of you all and can always remember the battles I had in the early days of getting back into running. It doesn't matter whether it's a mile or ….. , it takes time to build up and it has taken me a while.
I did do 1 more 72 hour run later in 2013, this time with some power naps with the goal of reaching 500 kms. I achieved 504 kms in 71 hours and after sleep walking for a few steps decided that that was enough .
2013 has been my biggest year yet in mileage with the 7033 miles achieved. So what will 2014 bring?? First there is the run across America which was set for April/May with the goal of doing it in 50 days – this would break the masters record. Due to logistics and making sure everything is totally in place for this venture we have decided to move it back to September/October. I will now have to plan something special for around May as part of the build up. I have ideas so watch this space!!!!!
This brings you all up to date on my journey so far – there will be lots more. If any of you have ideas on what you would like me to write about in the future please put them forward – I will be the first to say if I can't.
And again always remember " Exercise has to be FUN "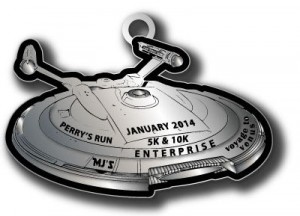 Moon Joggers is hosting a virtual race, the Enterprise 5K & 10K, in February 2014 to help Perry raise the needed funds to come to the United States and run across American (from California to New York!).  Sign up and support Perry now!
Comments
comments