Both Hills and Valleys: Decide What to Be
by Michelle Roberts
Every accomplishment starts with a decision to try. I've never been one to mull over a decision for long and don't have much patience for people who do. I'm working on that, by the way. I meet customers all the time who want to weigh all their options, see every product available and think on it awhile. There are definitely times when they benefit over impulsive me but I can't say making a flooring selection is usually one of them. Choosing a spouse or buying a home deserves at least a little thought. I guess.
So for me making a decision to start is easy. It's making that same decision every morning that's difficult. Eating healthier for a long term life style change not a diet? Absolutely. Done. Until the kids are enjoying brownies at the end of a long work day. Committing to putting in the miles every day toward my annual Moon Joggers goal? Of course. Can't think of a reason not to at the moment. Until it's raining in the morning and there's soccer practice for my son in the evening.
Thanks to Moon Joggers like Felix, Melissa and my very own cousin, Paul, I've found the answer. A streak!
These Moon Jogger role models have committed to their own daily goals and don't let any excuse get in their way. Felix posted pictures of his busted eye and skinned knee earlier in the year but logged his minimum of one mile running anyway. My Toronto cousin's trusty elliptical machine broke in the dead of winter and he found a quick replacement the next day to avoid breaking his streak. And Melissa has joined the United States Running Streak Association (USRSA) Face Book page to cheer on others and help her stay strong in the face of her own daily struggles.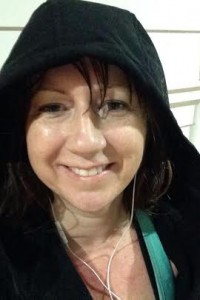 So March 1st I decided I'd run/walk at least a 5k every day of the month. Of course it doesn't hurt that March in Tallahassee is the beginning of an early Spring and longer days filled with beautiful azaleas and soft cotton breezes. (I say this with my deepest apologies to our northern Moon Joggers still living with snow.) When I didn't have the time in the morning because of an appointment or coffee with a friend it just meant I'd find the time after work. After enjoying buy-one-get-one-free margaritas with a friend at our new neighborhood Mexican restaurant, walking seemed the better choice but I still logged the miles. And the full day of rain last Friday, just three days before the end of the month, only meant I had to put on a jacket with a hood and head out.
A streak can be whatever you make it. I include walking miles because it's the distance and activity every day that I wanted to fit into my busy life of work and family. The USRSA requires at least one mile of running but that doesn't mean my streak hasn't served the same purpose for me as it does for anyone else. It takes away the choice. Frees me each and every morning of that daily decision. No matter my mood, the weather, sick kids, long day or work obligations my answer is always YES to my daily 5k. The decision has already been made. It's a promise I made to myself but disguised as an imaginary accountability partner. "The Streak" accepts no excuses so neither do I.
We're all reliable and trustworthy friends who would never think of letting others down by going back on our word. We're there when we say we'll be there. We do what we say we'll do for others. It's those promises I make to myself for my own health and well being that are often forgotten or pushed aside for one reason or another. My first streak has made me understand that's not okay.
If we can rely on anyone in life we should be able to rely on ourselves, every day, without fail. And for those days that are especially difficult, Moon Joggers are lucky enough to have each other to push them out the door. What Iva likes to call "a nudge".
Just like anything else in life, it's all in the decision…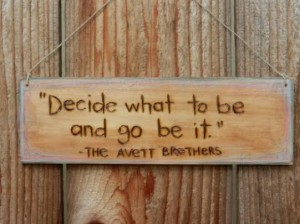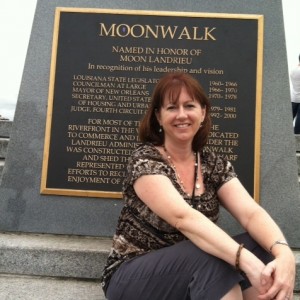 ABOUT: Michelle Roberts lives in Tallahassee, Florida, with her husband, Paul, and two children, Ashleigh (10) and Philip (8). She ran her first 5k in October of 2012 and her first half marathon in February of 2013. She was diagnosed with Bipolar Disorder in 2001 and maintains a healthy balance without the use of medication thanks to a job she loves, a supportive family, regular exercise, her writing and therapy. A wonderful life of "Both Hills and Valleys".
"The marvelous richness of human experience would lose something of rewarding joy if there were no limitations to overcome. The hilltop hour would not be half so wonderful if there were no dark valleys to traverse."
Helen Keller
Comments
comments