EVERY MILE MATTERS….
by Harmony Drogosz
We all want to achieve our goals with those who mean the most to us. There are many milestones, hardships and victories with each goal completion. Every story encourages another to do their best, to have fun and to be inspired. Running was all of this to me. Why? Because you can push the limits!
My achievements have been successful because I was inspired by my best friend who got me to be passionate about running, to start small and to finish with your best. We signed up for our first race almost 3 years ago after training to reach our 3 mile marker. And to our surprise we gathered a great support group that included our significant others, my kids, and my bestie's boyfriend's father. They all watched us from the start line, walked throughout the course to watch our progress and headed over to the finish line to watch us complete the race. The whole race, the vibe, the cheering from the people we love most was exhilarating.
That winter my husband got a better job and we were separated by a 13 hour drive. Our will to continue to run and to find races didn't end. We traveled together so we can race, make faster times, run longer distances as a team. My family didn't travel with me as often as I wanted but I still had their support and thanks to my best friend she always had her family (husband and father-in-law) to cheer us on. Distance was nothing to us considering everything we trained for, keeping the same pace, her wedding, and more races. Everything that we were a part of had her father-in-law right there to support us. Our 30k race was her father-in-law's last one with us. Even though he was ill he was there at the finish line for us cheering us on. Still the loving, caring man he always was. This was a rough time for us since he couldn't be there for her first wedding anniversary.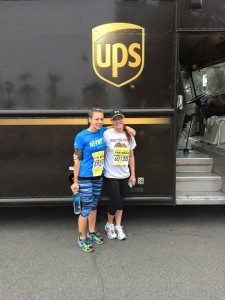 Needless to say our next race was the full on marathon, when we arrived to check in our bags, the details he kept away from us was all there, right in front of us. The UPS truck, the last name, and the day he died was on that truck. We knew he was with us, still giving us all his support. Throughout the course when we thought about giving up, a UPS truck was there and we were inspired to keep running and we made it to the finish line knowing he was our encouragement through the hard times, the reason our milestones were so amazing and why our victories were honorable! In the upcoming months we will continue to run his last race on a yearly basis as a monument of a man who loved us, inspired us, believed in us and who taught of the true meanings of life. Even though the miles were never counted by us, to him every mile mattered!
Comments
comments