Every Mile Matters
– Tina Bond
I have come to a difficult decision.  I think I am going to give up running.  The thrill is gone.  Pretty, big, shiny medals have lost their lure.  Training has become a chore.  I don't enjoy eating all the food.  I especially don't like that my pants don't fit me anymore!  If you believe that…. APRIL FOOLS!!!!!
The thrill isn't gone.  I had the biggest thrill when I FINALLY reached a huge goal of mine in January.  Since I started long distance running I've wanted to run a 2:45 half.  I ran the Celebration Half this year, in perfect running conditions, without the use of intervals and no walk breaks of any kind, and finished the race in 2:32:24!!!  I was elated and on a runners high for at least a week!  I started long distance running in 2012 (running in general in 2007), so it took me about 2 years to finally hit my goal.  I blew that goal out of the water!!
As far as medals, I love medals.  Normally I do not sign up for 5 or 10k races because they typically don't give out race bling, but I'm seeing more and more races doing just that!  And some of the bling is really pretty!  If I can find a 5 or 10k that is reasonably priced that also gives out medals (that's not too far of a drive), I'm more likely to sign up.  I love looking at my medals and the memories they bring back for each of my races.  That's why I love race medals.
Training can be challenging at times!  We all have our moments, but right now for me training is fun.  Sure there are days that I don't want to get out there, but I usually feel better after a run.  I've had weeks where I didn't get out there as much as I wanted or should have and I look back on those weeks with regret.  If I had just gone out and done 2 miles!  If you do nothing but go out and walk 2 miles a day, 5 days a week, that's 10 miles a week, 40 miles a month, 480 miles a year!!  Sometimes I'll go out for a 3 mile run in the morning and a 2 mile walk in the afternoon.  That ends up being a 5 mile day!  It's so important to understand how, in our Moon Jogger group, every mile does matter!!
If you know me, you know that one of the reasons why I run is so I can eat all the food!!  You knew from the moment of reading that sentence this had to be some kind of joke!  I love being able to go out for a long run and not feel guilty for wanting to eat ice cream or indulge with cupcakes, or have an ice cream cupcake!  I do not go overboard because there are still limits to what I can and should eat.  Running allows me to be able to indulge in the things I love to eat.  So there's no way I can stop running.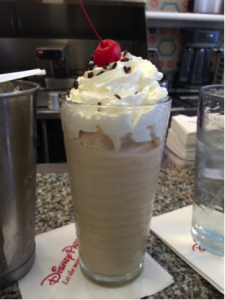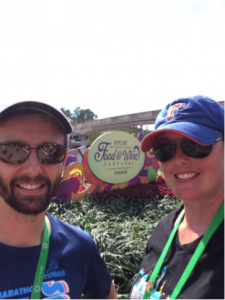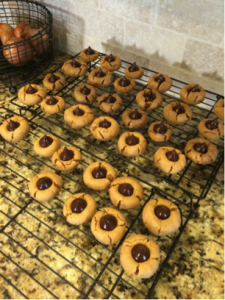 Milkshakes, cookies and Food and Wine Festival, Oh my!
As far as my pants not fitting… well that relates more to running than eating (most of the time!!)!!  I've come to learn that 'skinny jeans' are not for athletes.  My calves are too big for skinny jeans.  When I put on a pair of skinny jeans I feel like my calves are about to bust out of them!  Even my thighs don't feel quite right in regular jeans.  Some women athletes even have problems with their booty not fitting right in jeans.  I do not know if men have the same issues.  Sorry guys!  I should probably ask Jim if he has these issues, but he doesn't wear skinny jeans.  Alas, it is good to have a problem with clothes fitting but not because of weight gain, but because I am gaining MUSCLE!  I wish I could say the same for button down shirts, but that's another topic for another day.
I guess the moral of this April Fools Tale is to keep moving.  Keep moving so you can get miles in.  So you can eat all the food.  So you don't fit into skinny jeans. And don't forget about getting the shiny bling.

Tina lives in Winter Garden with her husband and fellow Moon Jogger, Jim. When she's not jet setting across the country with her job or running, or training for a race, or recovering from a race, she enjoys reading, photography, movies, music and going to Disney!!
Comments
comments