Back of the Pack: Happy Birthday to Me
By Amber Hadigan
April 12, 2014. My 40th birthday. It was also the day of my first official half-marathon. I chose the date on purpose because I wanted to do something spectacular for my birthday, and what is more spectacular than running 13.1 miles?
On the Wednesday before, I had a fever of 100.2. I decided, no matter what, I would complete this race, no matter how I felt. I'd been planning it for six months; I had a special t-shirt made and everything. Nothing would stop me from racing.
We drove the almost four hours to New Holland, Pennsylvania on Friday, the day before the race. My husband, along for moral support, was a good sport about the whole thing and was a great supporter, even though he was getting sick also.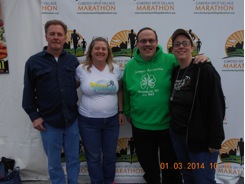 John and I met up with another Moon Jogger, Vicki Sauders, who would also be racing the next day with her husband Tim. We enjoyed pleasant conversation at the pasta dinner and took pictures together. We talked of running and cats and became quick friends. Moon Joggers has been great for that.
Back at the hotel, I laid out my clothes, pinned my bib to my shirt, and got everything I needed together. My husband watched baseball on TV.
Race day: always a time of butterflies in the stomach and several trips to the rest room. Oatmeal for breakfast, Gatorade and energy beans in the belt. I put myself between the 2:30 and 2:45 pacers for the half, hoping to make a 2:40 time. But really, my goal was to finish and to kick age 40 in the butt! Growing older won't get me!
The Garden Spot Village Marathon and Half-Marathon was the best run race I had ever attended. The race director sent out weekly emails on training and preparation. Upon entering the grounds, parking was well marked and attendants were there to direct you. And they had the best food in the world, including milk shakes and made-to-order omelets!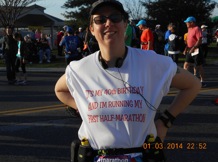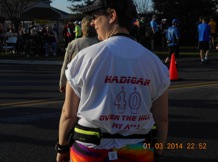 The course ran through Lancaster County, Amish Country. Amish are fascinating to me, and I loved to see the horse-pulled carriages on the roads. The Amish were gracious enough to let the event place porta-potties and water stations on their property. And there were both every two miles- fantastic organization for any race. My favorite part was that the Amish were the greatest cheerleaders. They made an event out of it, sitting on the edge of their property, cheering on the runners as the children played and rang cowbells to encourage us. I waved and said hi as I ran by. One Amish woman, who had to be more than 60 years old, complimented my capris- she said she loved the colors! That was the highlight of my run.
Race organizers had cones on the road every tenth of a mile. In some of the cones were inspirational and amusing signs. At mile one, the sign read "Your are NOT almost there." Another read "13.1 is only half-crazy." Funny, I felt completely crazy running.
One danger of running in Amish country are road apples. The sign at mile marker two warned that they are ahead. For the uninitiated, road apples is an affectionate term for what the horses leave behind on the road after doing their business. It was helpful to be reminded that they would be coming. I'd hate to have them all over my running shoes. On the drive in, my husband and I wondered who was responsible for cleaning them up. Has to be a full-time job!
I wondered part way through if I would finish the course. It was very hilly. In fact, the moniker on the t-shirt said, "I conquered the hill." I knew "The Hill" was around mile 8. But even before "the hill", there were some pretty difficult hills, especially for one like me who runs mostly flat land. I hit the downhill of "the hill" first. We had to run down, which is usually pretty good for me. I am a whiz at downhills. But this one was so steep that I killed my muscles; I didn't know how I was ever going to hit the turnaround and go back up.
But I did. With a crowd at the top, I walked the hill to cheers and the ringing of the cowbells. And when I got to the top, I ran again.
Two things abut this race were special to me. One was the scenery. The views of farmland, wooded areas, and suburban areas were beautiful. At 60 degrees with the sun shining, one couldn't ask for a better day. I saw Amish men plowing fields, cows and horses out to graze, and laundry hanging on the line. The smells reminded me of the Wisconsin farmland I grew up around.
The other thing that was special to me was running on my birthday. Since I had a t-shirt made advertising that it was my 40th, probably one hundred or so people wished me a happy birthday. Strangers came up to congratulate me for running my first and to wish me a happy birthday. The runners were so nice and friendly. That has always been one of the draws of the running community: we are all there for each other. We encourage, we build each other up, not tear each other down.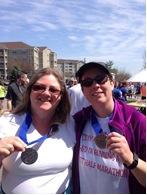 I receive a lot of encouragement from the pacer for the 2:45 half. We ran back and forth the last four miles of the race, and she kept pushing me when I didn't think I could go on. And when the finish line came in sight, I ran harder and faster, and crossed to an older volunteer placing a medal around my neck! I had done it! I didn't make my goal time, but I had completed a half and kicked my birthday in the behind!
For a present, my husband gave me a 13.1 pendant in a heart. I had a metal. And when I took my shoe off, I had the beginning of a black toenail. Happy birthday to me!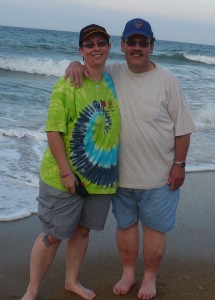 Amber Hadigan currently lives in Hyde Park, NY with her husband John and her two cats, Sobe and Scrappy. Originally from Wisconsin, she has lived in many different states. Now settled, she spends her time working, freelance writing, and writing and performing folk music. A runner as a child, she began running again in May 2013 and has rediscovered the peace and joy running gives her.
Comments
comments