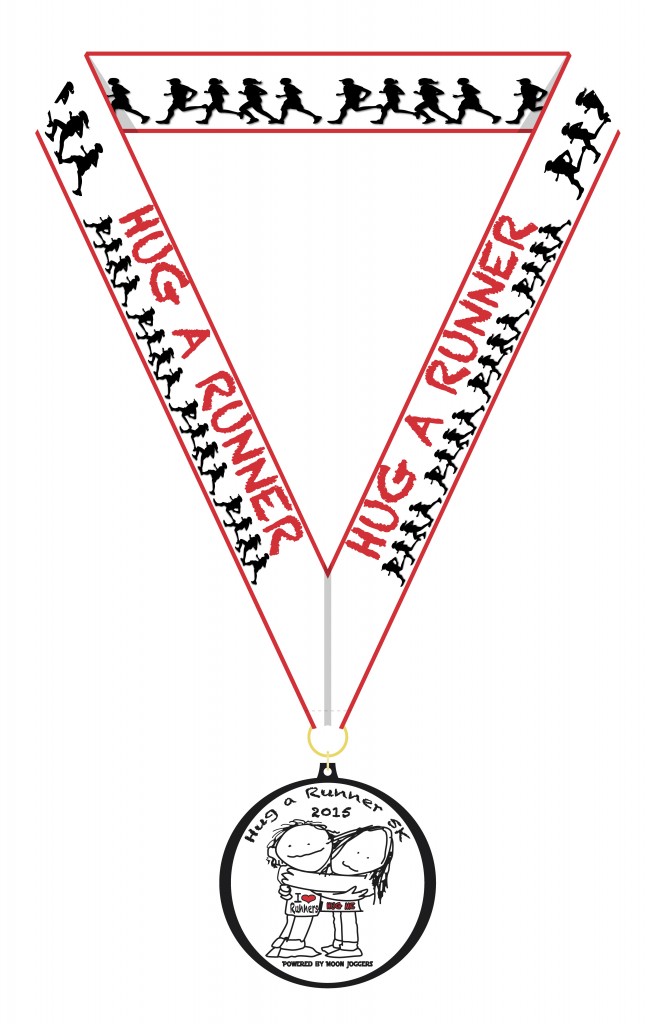 November 20th is National Hug A Runner Day! In honor of this day we are dedicating our November virtual race to Hugging a Runner.  This is a virtual event and any one from around the world is welcome to join us! We will honor one special runner each year on National Hug A Runner Day and this year we want to give a huge HUG to Carolyn Guhman.  She is an original member of our Moon Jogger family that welcomes everyone to the group with open arms and has helped to make our Moon Jogger community one of the best in the universe! Read more about Carolyn below.  Also, part of the proceeds from this race will be donated to The Leukemia & Lymphoma Society.
*Medals will be shipped out in December 2015. 
What: Complete a 5K! Set a goal for what your finishing time will be and dedicate your run/walk to your favorite runner.
When: Complete your race any time between November 1 and December 31, 2015.
Where:  You choose the course and you time yourself (you'll report your finishing time to us).
Why:  Because we want to celebrate all of the runners out there. They each deserve a HUG!
FOLLOW US ON FACEBOOK
Reasons we want to give Carolyn a HUG:
A recent walk took me through an old, well kept neighborhood that had an unusual amount of home security and no soliciting warnings. I noticed a few, so started looking for them and realized that, probably, one in every third home had a warning – I wondered what had traumatized the neighborhood. Then, I saw one "welcome" sign, so started looking for those – that was the only one. Carolyn reminds me of that one safe place; that one person in the neighborhood who doesn't shut the door on you, but puts out the welcome mat.  She has no fear.  -Iva Jill
So, when I joined Moon Joggers, every member was like a glamorous movie star to me, and Carolyn was the first person to reach out and befriend me, as she does with every new member. She encouraged me to do my first half marathon, and my first marathon, and I swear to you, has been more thrilled about my accomplishments than she is with her own. She has become my beloved friend and someone I try to emulate. Carolyn is the personification of what Moon Joggers is all about, reaching out and joining hands with others to reach our goals TOGETHER!  -Melissa Oltman
 How can I simply write one paragraph for someone who inspires me so much? To explain Carolyn you must know she is the great Memaw the marathoner to the world but to me she's my cousin, my hero and the one who introduced me to y'all. She inspires everyone she meets but goes way beyond that, she helps carry burdens, heartaches and is genuine when she rejoices in your victories. Carolyn is a one person welcoming committee to new moon joggers and counts every one of you as friends and extensions to our family. I can't think of anyone more deserving of a shout out for National Hug a runner day or for a dedication run! I love you, Carolyn and you make my heart happy.  -Linda Hodges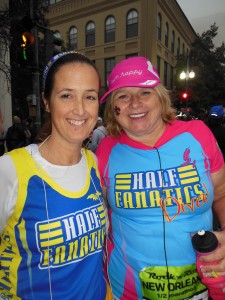 There is a little story that happened within Moonjoggers…and it goes like this…in December of 2012, a group of people joined this crazy sister team to try and reach a goal of running to the moon. That was the beginning…the beginning of a friendship that means the world to me. We've talked about "real" friends…you know, the ones that you see and can touch and hug on any given day….or the ones that you met years ago and even though you don't see them, you know they exist. Well, I know that in those first 11 months, we became real friends, and just because I had to wait for Space Coast 2013 to actually give her a real hug…I knew that Carolyn was a friend for life! We've now met up in several states and I am so excited about our next meet up…because she is so special to me…I love her encouragement, her advice, her humor, her stories, her accent, and especially her hugs! Carolyn, you've made my days brighter and more fun…and a little scary at times of talk of axes and taxi drivers…but you, my dear, will be my real friend forever! Now just MOVE IT, MOVE IT!!! Xoxo   -Carol-Lee Holland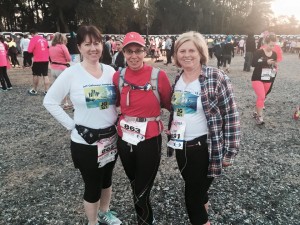 "Since the very beginning Carolyn has been Moon Joggers' most outspoken cheerleader, eager supporter and faithful friend! She ran Rock N Roll New Orleans on the same day as my first half at the Princess 2013 and we started a tradition of texting each other the morning of the event. That way we always knew there was someone out there putting one foot in front of the other right along with us. Then she opened her home to our first Moon Jogger meet-up in August of that year and we became "for real" friends in a whirlwind of 13.1 miles, muffalettas, the French Quarter and Hurricanes. Best time I ever had with four strangers!

Carolyn made the trip to/from Space Coast 2013 with me and my two kids, Atlanta for the Jeff Galloway Half and went out of her way after the arrival of her new granddaughter to be there for my first full at 26.2 with Donna in February. I can't remember another time when I didn't turn on music during a long road trip? With the two of us in the car it's never quiet so don't even miss it. We've shared stories, laughter, advice and adventures together already and I can't wait for the next time I see my friend in person! Thank you, Carolyn, for all the ways you lift us up and contribute in your warm, unique and enthusiastic way! Love you XO"  -Michelle Roberts
**If you are a paid MERCURY RISING  2016 participant you should have received an email with a discount code to use on all of our virtual races this year (2016) to save 25% on each race. If you have not received that code email us at moonjoggers@gmail.com.  If  you have not signed up for MERCURY RISING  (one of the paid registration options) do so now and you'll be able to save 25% on our virtual races in 2016! (Use code RUN2MERCURY to save 20% on MERCURY RISING)