Yes, I am the brother of the two sisters that came up with this crazy idea called MoonJoggers! It has been exciting to see Angela so passionate about her MoonJoggers project and to see how far it has come along this year. She is an incredible woman, sister, and friend, and I am so excited to jump in and really get involved with MoonJoggers the rest of this year, and to be part of the Voyage to Venus in 2014.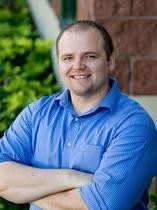 I have been on the fence all year about really becoming a full-fledged MoonJogger. It is ironic because I use to run a lot when I was younger, and I really liked it, too. I didn't do marathons or anything like that growing up. But, I would run a few times a week for 2-5 miles at a time to stay in shape for sports. One of my favorite memories is the weekly run I would go on with one of my best friends in high school every Sunday. I looked forward to it every Sunday.
Running for me, at the beginning, was all about getting in the best shape I possibly could for sports. I wanted to be on top of my game and as a boy I had visions of playing basketball on the high school team and at the college level, and of course, I dreamed about playing in the pros. It worked great for me and I excelled with basketball, was a captain on a high school basketball team, and had a lot of fun with it. I was in great shape by the end of high school, and running has a lot to do with that… Heaven knows I ate enough fast food each day to take care of a small family for a week! Teenage appetite.
I kept it up in college for the first semester up in Rexburg, Idaho. One of my favorite memories of that semester is when I would just go outside of city limits and run for miles and miles on the empty country roads. An occasional car would drive by to disrupt the quiet, peaceful, alone time, but it happened so seldom that I was really able to get into the zone and feel my body working and getting stronger. Even now I can remember the smell of the fresh air and the peaceful feelings from being alone in nature! Those were good times.
Well, I served an LDS mission in Budapest, Hungary for 2 years and when I got back and started college I got back into fantastic shape and was ready to try out for the college basketball team. I made it past the first couple of rounds and then it happened. I broke my ankle at the gym in a pick-up game. It was such a small hairline facture, but it was right in the middle of my right ankle. I thought it was just a bad sprain. I had never broken any bones before. It was a big bummer!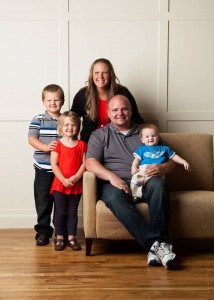 I had surgery on my ankle and, unfortunately, didn't rehab my ankle the way the doctor instructed and my ankle didn't quite heal. Years went by and I even ran a marathon a few years later, but it was evident that the ankle was not all the way healed. Not sure how I was able to make it for a full marathon, especially with very little training. Surprised myself. About a year later I ended up having another surgery on my ankle.
Well, life has happened. I am married to a beautiful and incredible woman and we have 3 amazing kids. I am self-employed and do contract work for businesses in the accounting and finance field. Over the years I have just gotten more and more out of shape and have done less and less of the sports and running that I was so use to doing in my youth. There have been many excuses (not enough time, what's the point if I am not competing, is it really going to make a difference). I am tired of making up excuses and not allowing myself to get back into doing something I truly love to do: run!
So, I am committing myself, as a MoonJogger, to finish out this year on a pre-training marathon plan for 3 months and then start a 4 month marathon training regime so that I can run a marathon in the early spring of 2014. I will triple the number of miles in the next couple of months that I have run all year to date. I want to seize the opportunity to really make a change and stick to making good health decisions. No more excuses. No more letting life pass me by. I want this for my wife, for my children, and most importantly, for myself. So, I am excited to be surrounded by so many wonderful people in this running group who are so supportive of each other. I am ready. I am going to do it this time. Excited to share this journey with you. Looking forward to getting to know more and more of you and supporting you in overcoming your challenges. We can do it!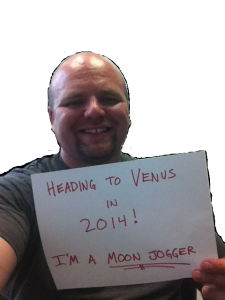 Comments
comments