I Am Runner 5.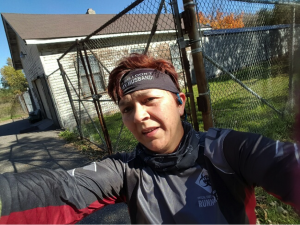 The alarm goes off at 4:30. Headset, headlamp and phone are at my bedside, fully charged. Running shoes and clothing, carefully chosen, wait on the floor within arm's reach.
In a few minutes I'm ready and standing in front of my house. This day and time were chosen because of near 100% certainty that conditions would be optimal for me to pound out a 5K as hard and fast as my feet can carry me with no traffic or obstacles to hold me back. I'm in the dark, alone, running the Zombies, Run! virtual race. I am Runner 5, and I am going to save the world.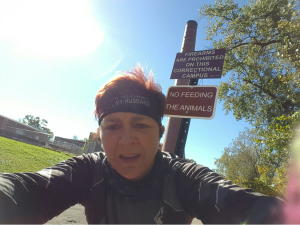 I start the app and immediately become immersed in the story. Bone-conduction headphones allow me to hear every noise around me, even though I can't see past the beam of my headlamp. I push harder and harder as the mission proceeds from clip to clip, the hardcore playlist driving me to run faster, stronger, pump those arms, watch the trail, listen for danger and zombies in the darkness. Every inch of my body feels the strain and my lungs burn as I struggle to take in enough air to keep from passing out.
Rounding the corner by the high school, I know the end is close but I'm convinced either my heart will explode or my legs will fall off before I'm told I can stop running. My God, I don't run this hard in a road race with REAL people! Suddenly, it's over. Mission complete. I slow to a walk and turn around for home, grinning like a maniac. I check my time and wonder if I can beat it in a day or two, or if I should run the 10K version and see how fast I can cover that distance.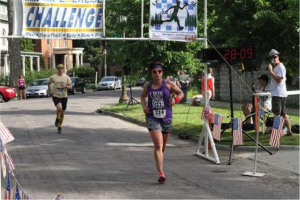 In a few days, I'll go to a meetup with other Runner 5's in the area and we'll run the mission at the same time if not together, then meet afterwards for beers and food. We all have our own "Runner 5" names – mine is Valkyrie5. We don't compete. We love Zombies, Run! and we love the community we've built around it, and that's what brings us together and motivates us to get out there and run or walk on days we'd rather not. All our times will be automatically posted by the app on a "leaderboard" along with thousands of other Runner 5's across the globe who over the course of a few weeks will save the world over and over again. My screen name will be Duckstomper. After Nov. 1 passes, we'll all have to content ourselves with going back to the "regular" storyline and trying to guess what Runner 5 is going to get into next, without spoiling it for people who are just getting started.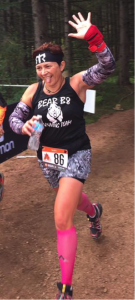 I am Runner 5. Raise the gates…covering fire…and…GO!
I'm V and I wrote this story. Join me for a run and some nice craft beer/pub food after!
*Be sure to sign up for our 2017 main event: CHASE THE SUN!  When you sign up you'll get  a discount code to save 15% on all of our 2017 vrtual races!  Sign up for Chase the Sun now and use promo code CHASE20 to save 20% HERE.
Comments
comments