Moon Joggers In The News!
Thanks to ALBUQUERQUE (KRQE) News 13 for sharing our story, and to fellow Moon Jogger, Anne, for representing us so well!

Lisa Foxx from 104.3 MYfm in in Los Angeles took a few minutes to sit down and talk about Moon Joggers.  Check out her interviews with Angie Webb below.

Articles
Dallas News, June 10, 2013
Canadian Running Magazine, December 31, 2012
---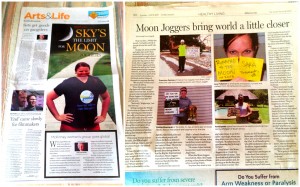 Angie Webb of McKinney started Moon Joggers after she and her sister Ashley of Utah made a commitment to run 1,000 miles this year. After posting on Facebook they got others to join them and make their goal the distance to the moon. About 800 joggers around the world combined their mileage to equal the 238,857 miles needed.
When Angie Webb looks at the moon, she sees much more than an orb in a starlit sky, more than a silver circle at dusk or a cream-colored disc at dawn.
Instead, she visualizes her Moon Joggers — runners and walkers in (at last count) 45 states and 40 countries.
On June 11, 2013, the Moon Joggers were spotlighted in the Dallas Morning News.  Click here to read the entire article.
---

Let me introduce you to Angie and Ashley (Moon Joggers Extraordinaire), they are the collective brains behind The Moon Joggers. It all started as a sisterly challenge to run 1,000 miles in 2013, it then quickly morphed into something a whole lot more. With little to no advertising, just a few posts strategically placed on a social network or two, they have quickly been joined by over 1,400 runners and walkers from all over the world on their journey. The idea was to amass enough miles to physically run or walk to the moon by either completing 1,000 or 2,013 miles either individually or as a team throughout the year. As the moon is approximately 238,857 miles away from the earth, that would mean that the group would need a total of 239 runners and walkers to complete the challenge. Well I can say collectively we should be able to run to the moon, do a few laps on the dark side and run back at least 3 times.
The sisters have been overwhelmed by the response that they have received from all corners of the world. "Our goal was 250, I hoped we'd get 500…suddenly it exploded and runners from all over wanted to get involved and there was no way we were going to turn anyone away!!! Everyone is so excited and we've received so much positive feedback!!!" Angie exclaimed. The work involved organizing the runners and to get everything prepared for the upcoming year must have been substantial. Although, I am sure that Angie and Ashley have enjoyed every minute of it, as they have created a community that is going to be fun to watch and be involved with.
Click here to read the rest of the article.