When the going gets tough…
In 2009 I hit the lowest point of my life…
I looked around and said, "I don't have the strength to do this anymore."
I had everything, a loving husband, loving children, four beautiful grandsons and twin grandbabies on the way. But nothing seemed worth "it". Life was a struggle, a challenge, and I didn't want to play anymore.
I told my husband how I felt and he was shocked, alarmed, afraid. He reminded me about the grandchildren, especially the twins that were on the way (because he knew that was dear to my heart) and I numbly shook my head. Not worth it. They would be fine without me. I just didn't have the strength or energy to wait for them.
This was a Friday afternoon and he insisted I call my psychiatrist who had been treating me for what she had diagnosed as bipolar disorder. Of course on a Friday afternoon she was not in her office so I left a message with her office-worker. "I am tired, I am despondent, I don't want to do this anymore." I did not use the word suicide because, really, suicide had not entered my mind. I just wanted "it" to end.
A return phone call never came.
As I think back on that day, I realize that I really didn't want to die…I don't know what I wanted. I think I just wanted a reason to find the energy to live. When the return call did not come, I got angry. Anger is not a pleasant emotion, but it is an active emotion. And somewhere in that active emotion I found the energy and strength to fight back. I drew energy from the anger and I found strength to go on. I had energy to live…because I was so angry.
I used some of that energy to go for a walk. A cool, refreshing walk. Outside–where I had not been in quite a while because I just did not have the energy, things looked a little brighter, a little clearer. I started walking everyday. I started walking with a friend I had just met. Eventually, I told her that I really did not enjoy walking as much as I loved running. I felt that walking was like chewing without swallowing.. you got the taste but it never really satisfied. So she offered to run with me.
We went to the park the next day and we did some run/walk intervals. She seemed to enjoy them and I was so excited! I am running! I am running! Kim and I are going to enter races! We are going to get back to the world I loved years ago!
The next day she called and said she would not be able to run any more. She had had botched back surgery many years ago and as much as she wanted to run with me and for me..her back could not take it. She would have to stick with walking. I told her it was no problem, that I would walk with her. She was adamant..
"NO…you must run. When you talk about running your eyes light up. Your voice gets a lilt and you are a happier person. Please run. I am sorry I can't run with you…but please run."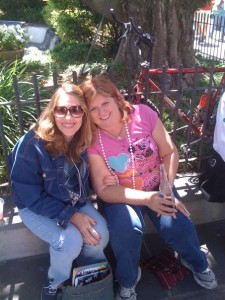 So I took her advice. I started to run. We went to races and she would walk and I would run/walk. I would come to finish line not long before she did but I was happy…I could run!!! I started setting goals. I started planning training strategies, I went to the gym and took up cross-training ways to get stronger. I started to eat better so that I could work harder. I had a plan…I had a day to day plan for my life that turned into a reason to live. In that life I had energy for my husband, my kids and their families, for myself.
In April, 2010, my friend had another back surgery and, as unfair as it is, this one went badly too. A blood clot formed on her spine and she was paralyzed from the waist down. After a year and a half of living in a wheelchair in pain, she finally found eternal peace. I will always miss her.
When I did the Chicago Marathon I carried with me the picture of my friend, Kim. And when it got hard I remembered her words about how I was doing what I really wanted to do. If not for her I am not sure I would have realized it made me so happy. I am not sure I would have recognized the lilt in my voice or the sparkle in my eyes when I talked about running. But she did, and that made all the difference in the world.
We never know how we will affect someone else. We never know how a simple observation may change the course of their lives. We never know the impact we have on the world as a whole. Although we weren't friends for very long here on earth, I will be eternally grateful my friend Kim for showing me my way to joy. I hope one day I can pay it forward and do the same for someone else.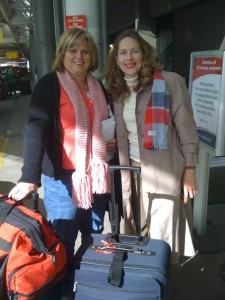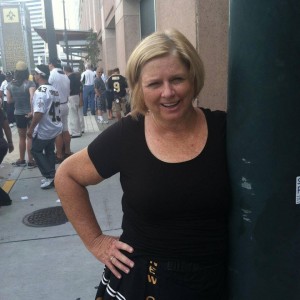 Carolyn Guhman is a 61 year old, retired insurance agent who is a mother of five and grandmother of six. She lives in suburban New Orleans, LA with her husband, Rick. When health issues forced her into early retirement and severe depression in 2008, she decided it was time to grab the reins of her own life. After a couple of years of trying to figure out where things went wrong and how to set them right,she laced up her shoes, filled out some race registrations, discovered a whole community of helpful people and finally found herself–running. Follow Carolyn on Facebook at Meemaw the Marathoner.
Comments
comments