Where Have You Run to This Year?
I am so excited to be writing for Moon Joggers! Not completely sure what I wanted to write about for my first installment, I found myself looking at my miles for the year and thought that 'miles' would be a great first topic.  As of October 3, I am at 795 miles for the year, but was curious to know where I'd actually be if I started running from my house heading north.  795 miles north takes me to a little town in Virginia called Hanover.  I don't know anything about Hanover, except that's where they make those delicious pretzels… or is that Pennsylvania?  I digress.  When you look at the distance on a map, it's pretty impressive.
I've run in all kinds of places to build up my miles over the year.  The majority of miles have been logged in my very own neighborhood.  It's a great place to run.  Lots of sidewalk and it's on a golf course that has water coolers and a bathroom!  Not only does my neighborhood have great amenities, but a lot of the time I see gators, eagles, armadillos, and other creatures.  Sometimes hot air balloons will take off right from the golf course!
As much as I love seeing gators and hot air balloons sometimes I need a change of scenery.  That's when I head over to Celebration, Downtown Disney or Disney's Boardwalk Resort for some runs.  Disney is one of my favorite places to run.  Not only have I done training runs there, but I did my very first half marathon there (Princess Half) and also completed the Coast to Coast Challenge by running the Disneyland Half (Dumbo Double Dare) in California this year!  It's great to be able to run in different places.
I travel a lot with my job and that affords me the ability to run in various states across the country.  I've run from Florida to California and many places in between.  One of the most beautiful places I've run was Truckee, CA.  The weather was beautiful and the scenery was breath taking!  One of the things I love doing is listening to birds and looking at wildlife when I run.  There was plenty of that in Truckee!  I've also run by the Alamo in Texas, the Southernmost Point in Key West, the mountains of West Virginia and even run by Times Square in NYC!  As far as miles, I'd be right up there with our very own Perry Newburn if I had actually run all that distance!
In 2012 I ran 350 miles.  By the end of 2013 I'll have run 3 times that amount!  Running 1,000 miles has been an incredible journey, but some of it has been difficult.  Injury, fatigue and loss of motivation have been challenges I have had to face while running all these miles.  Fortunately I've had a ton of support from my Moon Jogger friends.  With every mile, good or bad, Moon Joggers have helped keep me accountable, have inspired me, have helped me when I was feeling down and have pushed me when I needed it.  No matter how many miles separate us, the Moon Joggers have been there giving support and inspiration across the miles!
Looking at the map and where I am projected to run, the next 100 miles brings me to Silver Spring, MD.  The final leg of the journey will take me right to the finish line in West Chester, PA.  1,000 miles from home.  Then I get to stop.  Turn around.  And keep running one small step at a time!!
Where have your running miles taken you this year?  Post a picture of your map on my Facebook Page "OneSmallStep" and share your experience with the rest of the Moon Joggers!
____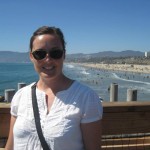 Tina lives in Orlando with her husband, Jim.  When she's not jet setting across the country with her job or running, or training for a race, she enjoys going to Disney!!  Tina is currently training for her first marathon, the Walt Disney World Marathon in January.  Keep reading to see her progress!
Comments
comments