Meandering thoughts from the trail: Mind and Body Disconnect
by Sheila Dawe
A new year means all sorts of amazing possibilities. I have big plans for 2014, a significant year as I am turning 50.  I have signed up for numerous races: 2 marathons, my first 12 hour event a 50 miler followed the next day by a 50 km both in the mountains, and a 100 miler, a couple of these races downright scare me. As early as October last year I had nearly my whole year's training already inked into a calendar. Prior to December, I was very optimistic with a "can do" attitude which motivated me for the flurry of registering for race, after race, after race. When Christmas arrived and I got the flu and doubts began to set in. New Year's Eve I was up all night but not in a good way. What a start 2014. In addition to not feeling healthy, I had a pain in my foot which a little voice in the back of my head was repeating "stress fracture". After a week break from running, due to being sick (probably the longest time I've taken off in years), I thought all my little aches and pains would go away – they didn't. Everything was hard, a struggle and hurt. What have I got myself into, will this go from my best year to my worst?
It feels so unfair when the body doesn't behave the way I expect it to. It feels deceitful when the body lets me down. This disconnect between what I think I can do and what I am actually able to do comes in many forms: recovering from injury, adverse training conditions, and unfulfilled race expectations. I had a serious fall 5 years ago which significantly changed my abilities as a runner. As I rehabbed and slowly developed I learned that I really can only do what my body is capable of doing, not what my mind thinks I should be able to do. Every once in a while the mind begins to play tricks taunting me with different potential marathon times. Sometimes I believe it so much that the first 10 km will be on pace, then the mind switches gears and decides that race plan wasn't such a good idea after all. At that point the body takes over as the mind tends to give up.  The mind is full of negatives, belittling the body, heckling it for steadily slowing down, and chuckles softly as the various pace bunnies past us.
I know that I should do baby steps in trying to pick up my marathon times. I may never regain the form prior to my fall, especially as the age clock keeps ticking on, but that stubborn mind still wants the body to be as fast as it was prior to the accident and an age category ago. The mind thinks that if it can get the body to believe then it will be able to dig deep and make it happen. To be honest, I don't know which one is right and what my actual potential is. This is one of the key reasons that I like running ultra-marathons, because the mind butts out of the conversation. The mind is not so demanding and full of great expectations. The mind has a new job which is keeping the body going slow, making sure to remember to eat and drink, knowing it is a long ways to go, and just keep the body keeping on.
The one other time that there is a major disconnect between these two is during training. It is so difficult to not let the mind see the Garmin and start lamenting over the pace, despite fully knowing that long runs can be as slow as the body needs to go. Recently I was doing an 11 miler in a torrential downpour over an extremely hilly route with pain still in my foot and ever present in the knees. Added to the misery I still hadn't fully recovered from the holiday flu and had hacking cough occur at each walk break. I was proud when I finished yet I couldn't help but look at the pace and ask myself "how will I ever run over a minute per km faster on race day"? Now I fully know that you can't translate training runs to race day runs – taper hasn't occurred, you are still building strength (especially in week 2), and besides I was not 100%. Yet I will still feel a touch of disappointment as I note the pace in my journal.
Bottom line, I know that I am a turtle and I should embrace what I do best…running all the runs I plan to run despite how slow or fast I go. The slower I go, the more time I get to enjoy all around me and the joy of running. Come race day I will do the best that I can do and be happy with sense of accomplishment after the race. If I can get all my training runs in then I will give the body a chance at making peace with the mind. I am sure they will continue to battle but they will also learn to get along and they are always able to see each other's point of view at the end of the day. Happy trails everyone.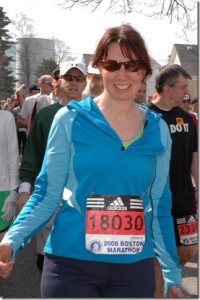 Biography:  Sheila being 49 years old, single, with no kids has the perfect lifestyle for becoming an obsessive runner. Her 77 year old mother, Catherine Campbell (another Moon Jogger) moved in next door to her in 2000. After cheering Sheila on at multiple marathons, Catherine finally caught the running bug. Sheila taught her to run in 2009 and this year is very significant as Sheila is training Catherine to complete her first ever half marathon. Sheila works for the Government of Canada as a fish health technician but longs for the day when she can retire and dedicate even more time to her passion…running.
Comments
comments