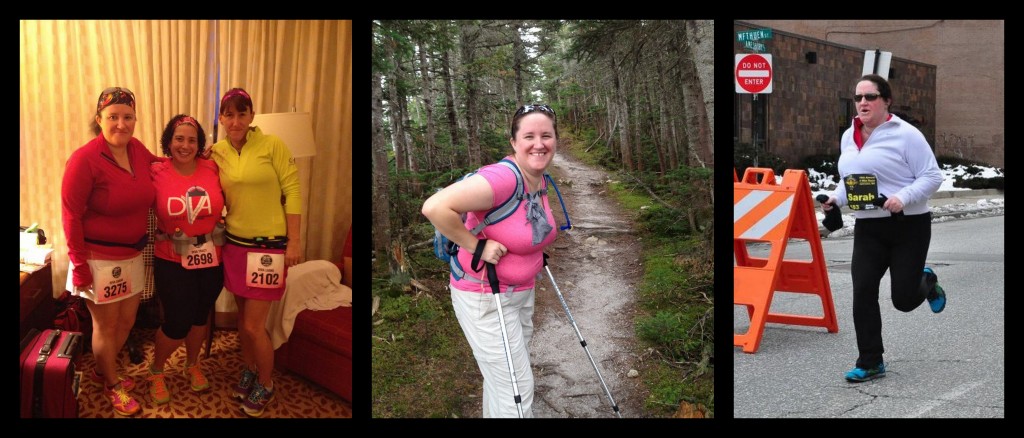 Tell us about yourself
. –
There are a lot of "things" I could say about me – I'm an accountant by day for a software company. I volunteer for an amazing organization called 2020 Vision Quest which was founded by a good friend of mine (I manage social media for 2020), I'm the oldest of 5 siblings and live about 20 miles outside of Boston. I'm a New England girl through and through, though I have traveled a great deal (best trip? The Taj Mahal. What a place!). I love to read, am a complete geek when it comes to movies (give me the Avengers any day!), and am completely in love with football (Go Pats!). I have a great life with amazing friends and family. Oh, and I run!


What motivated you to first start running? The fact that I run is my youngest sister's fault. A few years back she mentioned one day that she wanted to run a 5K, and would I do it with her? Unable to say no to her, I agreed and then panicked about having to learn to run! I started with Couch-to-5K and completed that 5K in September 2011 in under 40 minutes (I was LAST, but who cares?) Well, I kept up with the running and went on to run 3 half marathons (among many other races) in 2012.


What do you love most about running? For me, it's freedom. I was always the clutzy/slow kid, but when I run I'm awesome!
Who in your life inspires you to run?  Every one of my Sassy Shamrock Sheriffs weight loss team inspires me. They work so hard to meet their goals, and are so incredibly supportive of each other!
You're favorite place to go running? – I train along the Merrimack River in Massachusetts (the Baystate Marathon course). Every so often I also get out on the trails with my running partner – I love those times. Running trails provides a very different opportunity to enjoy one's surroundings. 
You're favorite food to eat that gives you energy? – Ooh, trick question right? I mean, right now I'd probably trade a pair of my running shoes (NOT the Newtons!) for a pizza (with chicken, pineapple and feta cheese, please!). But for running fuel I really don't think you can beat yogurt/fruit/granola beforehand. And I use Gu gels during runs longer than 10 miles.
What was it about Moon Joggers that made you want to join?
–
A couple friends had joined and they love to "encourage" the rest of our group of runners to follow along.

I really need focused goals to keep myself going, and last year I hit my 500 mile goal in early October. 1000 miles is a stretch for me, for certain, but I think it's achievable. And it will keep me on track as I am already committed to two races in 2013 (Flying Pig Half in May and the 1812 Challenge in September).
What is the first thing you're going to do when you step foot on the moon?
–
Hmm… well, I think I'll drag Tammy and Shirley along for a run along the craters!

What's your favorite running experience? – There are two. One is running Divas Long Island last year with my friends. It was awesome to run with friends, have crazy amounts of silly fun, and see several friends achieve their first half marathon! The second is running the Gillette Stadium finish on the 50 10K. Not only did I get to run to midfield where my favorite football team plays, but I got to see my friend Randy and his guide dog Quinn in action as they ran the 5K. Just an awesome day all around!
Comments
comments