Moon Jogger Spotlight: Shellee Jenkins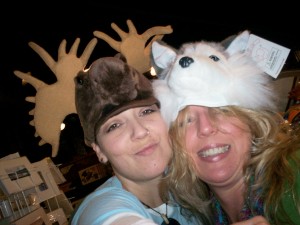 Meet Moon Jogger Shellee Jenkins
When did you first start walking/running? What motivated you to start walking/running? I've walked all my life; as a kid, teenager, always. It was my mode of transportation in my younger years, then it worked for exercise, and then, in 2002, my sister was diagnosed with Hodgkin's Lymphoma. That didn't really change why I walked until 2004. She was about to go through a stem cell transplant when a co-worker walked in and introduced me to Team in Training with The Leukemia & Lymphoma Society. From that point on, I've walked to raise money, awareness, push myself in honor of all the pain she went through, for my sanity when things were out of control, always for my health and fitness, and now, once again, for my sanity as I deal with the loss of my precious baby sister.
What do you love most about running/walking? How does it make you feel? I'm not sure I can say (yet) that I love running/lol. I've always been a walker, period. A fast one though:) It doesn't always start out great, but by the time I finish, I feel a sense of accomplishment. I just recently started interval training after I accidentally started running (OK, it's a slow shuffle-job :>) to take the pressure of my heels one day, and I liked it! I can't say for sure, but I almost feel like I might be starting to understand what people are talking about when they refer to the "runner's high". I am beginning to sense something new when I'm out there.
Who in your life inspires you? Who do you want to dedicate this year of running to? That's easy. My sister. Liz Jenkins. Elizabeth Danielle Jenkins. She was an amazing individual who fought valiantly for ten years with dignity and grace, courage and laughter, love and heart. Through it all, "Love My Life" was her motto. Always ready with a smile, she spread light and love wherever she went, to whomever she met, and left behind a legacy of love to many who will miss her forever.
Describe one of your favorite running/walking experiences that you've had in your life: Gosh, there are so many. Each one involves crossing a finish line I think. I guess the one that sticks out most in my mind is my first marathon. San Diego, CA, June 4, 2004. Liz was just days out of transplant and I was on the phone with her when I crossed the finish line. We were both crying. My finish line photo shows that and I even remember the announcer saying something about my being on the phone. It was very emotional. I had hit the wall at mile 18, but hell or highwater, I was finishing that marathon, for her…
What is the longest distance you have ever walked/ran in one day?: 26.2
What is the best advice you've ever been given? What is the best advice you've ever given to someone else? In general, or for running? In general, tomorrow's another day maybe. As bad as anything may seem right now, it will look different in the morning. For running… run your race and don't worry about anyone else. Best advice I may have given someone else? Seems that answer should come from someone else:) But, I think it might be to ignore the sweeper van; just keep walking. Don't let them stop you. That was to a teammate who had never finished a full marathon but trained her heart out; she was SO determined, but her pace wasn't up to par. She did just that on race day and completed her first marathon.
What obstacles or challenges have you faced as you've tried to live a life of health and fitness? The death of my sister (10/16/2011). It's hard to make myself get out of bed some days and I feel lucky just to get to work. Oh, yeah, in 2010 I was diagnosed with Stage I breast cancer too. Luckily, and gratefully, largely because of everything we went through with my sister, it was caught early and all markers were positive so after a lumpectomy and radiation, I'm 2+ years cancer free ~ Praise God!
What does this next year of running/walking mean to you? Why do you want to go to the moon? What will it mean to you when you have reached your goal? It's a combination of woggling (my walk/shuffle-jog)

for a cure and my health. The exercise is good for me on both levels. It sounded like a quirky, catchy, fun goal to keep me motivated. It will be fun to say, "I woggled to the moon!"

Maybe I can turn it into some sort of twist to my fund raising too? I'll have to think on that.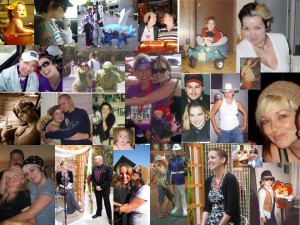 Tell us a little bit more about you. Who are you? Where are you from? What do you do for a living? What makes you happy? Tell us anything that you want the team to know: Wow, that's quite a question. Right now, "who am I" is one of the biggest questions in my life since Liz died. There are 13 years between us and she was the little sister I dreamed of. She was SO special! She was not only my baby sister, but my best friend and the child I never had. Her illness consumed ten years of my life. Now I'm not sure who I am to be honest. I've been an administrative assistant all my life and I've loved what I do until recently. Now I want to do something that matters – really matters, but I have to figure that out yet. Raising money for a cure makes me happy, spending time with my mom and brother, being with nature, horseback riding, and painting make me happy. Oh, I was born/raised in Ohio, but have lived in Southern California since I was 18.
*Shellee is running in the LLS' Man & Woman of the Year campaign in 2014. It's a 10 week program (March 6-May17) where she will try to raise (at least) $50,000 to get a research grant in her sister's name. Here is the link to her FB campaign page and blog.
Comments
comments