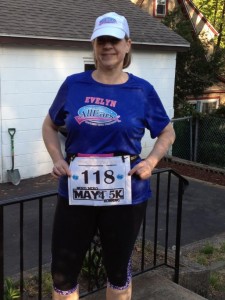 Get to know Evelyn from her answers below!
When did you first start walking/running? What motivated you to start walking/running? :  I started running at the age of 46. I needed to do something more than normal exercise classes and go to the gym. I started running with a group of people called Team Allears and the members are from all over the United States and we meet Marathon Weekend in Disneyworld as well as throughout the year at various other races. The team sponsors Avon Walk for Breast Cancer since so many of us have had Breast Cancer and/or cancer affects our families, friends or loved ones.
What do you love most about running/walking? How does it make you feel? : I use running to wind down from the day. It makes me proud to do something that is healthy as well as supporting a cause. I used to run the entire time, but now I run/walk intervals. I love the peace and quiet, and just listen to my music and go.
Who in your life inspires you? Who do you want to dedicate this year of running to?:       To all those people who have health issues and cannot get out to run.
Describe one of your favorite running/walking experiences that you've had in your life.: Doing a marathon and a half marathon on a Saturday and Sunday. Wondering can I pull this off. Getting to the last mile of the full (after the half marathon the day before) and having my family there cheering me on, and my daughter coming out and doing part of the last mile with me. Seeing the Finish Line and tearing up in happiness knowing I did it.
What is the longest distance you have ever walked/ran in one day?: 26.2 miles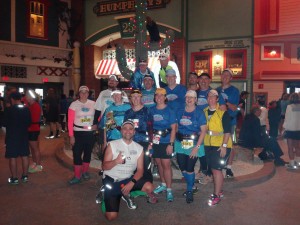 What is your most embarrassing running/walking experience?  While doing a normal run, once I tripped over an uneven sidewalk in front of onlookers going into church; and the second fall was with my daughter and went rolling in the grass and hitting my head. Both times i was pretty much ok, but it's pretty embarrassing because I don't bounce. Lol
What is the best advice you've ever been given? What is the best advice you've ever given to someone else?:  Run your own race. Listen to your body, and run to your ability.
What obstacles or challenges have you faced as you've tried to live a life of health and fitness?: Weight control. It's a constant battle. People saying "since you run, why do you still battle your weight?". Hmmmmmmm.
What does this next year of running/walking mean to you? Why do you want to go to the moon? What will it mean to you when you have reached your goal?:              It's something I do for me. I don't do it to impress and I am only competitive with myself.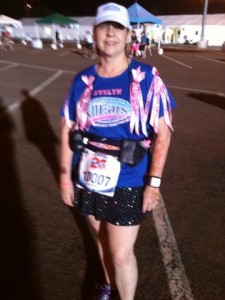 Tell us a little bit more about you. Who are you? Where are you from? What do you do for a living? What makes you happy? Tell us anything that you want the team to know. : I am a mom, I work full time for a very busy law firm. I use running and working out to distress and help to possibly finally reach my goal weight. To do my various runs and know that I can do it is important. I may interval, but I enjoy feeling strong.  I recently did a mud run and that was an experience. I did several virtual runs this year which was cool. I did Disneyland's Dumbo Dare (a 10k and Half Marathon back to back); did Atlantic City's Half Marathon as well. Both were fun and many of my running team "Team AllEars" was there to join in. Team AllEars raises money for Avon Walk for Breast Cancer. My next big race is Dopey Challenge in Orlando (5k, 10k, Half marathon and Full Marathon – each day for 4 days is a different race).  I am not fast but I enjoy the challenges and go for the Finish Line. I wear names on my team shirt of people who had breast cancer or have passed from breast cancer.  I am in the process of decided what runs to do in 2014.
Comments
comments