Finding the Perfect Fit
A few weeks ago I went out for my longest run ever, a 17 miler!  At mile 13, I felt this pain in my calf and tried to be hard core and press on, but the pain was so bad I literally could not run.  I had to walk 2 miles to get home and didn't get to finish my 17 miles.  I was bummed.
That weekend Jim (my husband who also runs!) and I went shopping for running shoes.  I didn't intend on getting a new pair, but since he was getting a new pair it was only fair that I get a pair too!  Plus, my old Saucony Guide 6's were up to roughly 350 miles (totally justifies a new pair).
Jim and I didn't go out on a whim and buy shoes based on color, comfort or name.  We do a lot of research before we head to the stores to try on shoes (and we do buy them out the outlets, gasp!).  We have both been fitted for shoes, but now when we purchase shoes we take the knowledge from our fittings and base our shoe purchases on how the shoes feel to us.
I ran FOREVER in Nike Pegasus.  I loved the shoes from the very first time I ever put them on.  I've had about 4-5 pair of Pegasus that's how much I loved running in them.  For me the Pegasus had the best cushion and was so comfortable that I didn't think I needed to bother with another shoe.  I really didn't need another shoe because I was very happy with the Pegasus; however as I started running more I wondered if I did need a different type of shoe.  I never had any problems running in the Pegasus before, but I had my first 15k coming up and decided I should probably be fitted by a professional.
I went to a store that specializes in running gear for my first fitting.  The sales guy had me try on all kinds of shoes, marked my feet with a pen and finally had me run on a treadmill so he could video tape my gait.  I really thought this guy knew what he was talking about, so I ended up walking out of the store with Mizuno Wave Elixir 7's.
I had a few weeks before a 15k to try out the new shoes, but even before I started running in them something didn't feel right about them.  I ended up having horrible knee pain and was very worried about running my race.  I took it easy and did end up running the race in the Mizuno's, but soon after that I returned the shoes and went back to my Pegasus.  The pain went away pretty quickly after I went back to the Pegasus.
After the fiasco with the Mizuno's I went to another running store and was fitted again, probably about 7 months later.  This time the sales person actually watched me run, no video, no marking up my feet with a pen, no trying on 500 different pairs of shoes.  I had much more confidence in this guy than the guy at the other store.  This time the salesman recommended Saucony Guide 6's or Nike Structure (these are the Pegasus but with stability because he told me I slightly overpronate).  This time, I walked out of the store with Saucony Guide 6's.
The Saucony Guide's are a great shoe.  They are different from the Pegasus in weight and heel drop.  The Saucony has an 8 mm heel drop whereas the Pegasus has a 12 mm heel drop.  The Pegasus are also slightly heavier (9 oz) vs. the lighter Saucony (7 oz… and yes I did get out my kitchen scale to weigh my shoes!).  Overall, I liked the shoe.  I trained for and ran the Dumbo Double Dare (Disneyland 10k and Half Marathon) in them.
Remember I was telling you about my 17 miler that turned into a 15 miler because of calf issues?  Well
before Jim and I went shoe shopping we went to the Runner's World Shoe Advisor website to see what it recommended for my mild pronation.  There were actually a number of choices that came up based on what I was looking for.  It was easy to narrow down because not all stores carried all of the shoes from the list.  We went to the outlets because most of the running shoe manufacturers have stores where we shop.  I tried on a number of different shoes, always keeping my eyes peeled for the new Nike Pegasus 30's, but resisting the temptation to buy them because I really needed a shoe with more support.  We went into the New Balance outlet where there were 4 different models there that I could try.  I tried on 870's, 880's and 890's but I didn't like any of those shoes.  They just weren't comfortable.  The last pair I tried was the New Balance 1080v3 and I fell in love immediately!!!  These were listed as a mild stability shoe and had the same heel drop as the Saucony Guides.  While they didn't have the cushion of the Pegasus, they felt cushier than the Saucony so I was very excited and eager to try them out!  I walked out of the store that day with a brand new pair of New Balance 1080v3's with neon yellow show laces!!
On my first run out since my calf blowout I ran 10 miles.  I PR'd (Personal Record) my run by 4 minutes and I felt awesome!  The shoes felt awesome!  I was so happy with my purchase that I was almost tempted to go back out and get another pair while I knew they still had them.  Later that week I was supposed to do another long run and was very worried.  I was scheduled for the 17 miler that I missed 2 weekends before and wondered if I would have any issues.  I got out there and ran those 17 miles and felt amazing!!  I was so happy and the best part was I didn't have any pain (nothing that wasn't normal for having run 17 miles!!).  No knee pain.  No calf pain.  No hip pain!!!  Aaaahhhhhhhh!

The moral of this story is it might take you some time to figure out which shoe gives you the Perfect Fit.  Getting to that point is a task, but one well worth investigating.  I'm no elite or professional athlete, but I do recommend getting fit for shoes at a running store, but use that information as a guide.  Based on my experience, the first pair of shoes I was fitted for was not the right shoe for me.  The worst part?  I could tell immediately when I put them on, but I was fitted for them by a 'professional' who marked up my feet with a pen so they had to be the right shoe, right?  Wrong!!
The second tip I would give would be to check the Runner's World Shoe Advisor or any shoe guide from a reputable source online and see which shoes are getting good reviews by runners.  Most of the shoe manufacturers have shoe guides (Brooks, Mizuno, Nike) and some shoe stores have them (Foot Locker and Roadrunner Sports).  I know many of you like shoes with colors that will match your next race costume, but your feet need more than a cool color!  You're running all these miles and your feet need as much support as you can give them!  As much as you don't like this advice, don't base your next shoe purchase on color or even looks alone!
The very last tip I would give is simple, if it doesn't feel right don't buy it!  That shoe should slip on just like Cinderella's Glass Slipper!!  It will feel like the Perfect Fit!
What kind of shoes do you wear?  How do you go about choosing new running shoes? Drop me a line on Facebook at One Small Step at https://www.facebook.com/home.php#!/onesmallstepmoonjog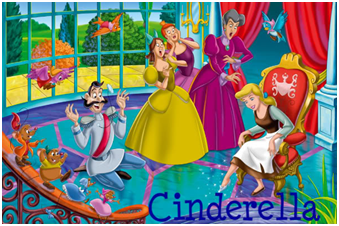 Tina lives in Orlando with her husband, Jim. When she's not jet setting across the country with her job or running, or training for a race, she enjoys reading, photography, music and going to Disney!! Tina is currently training for her first marathon, the Walt Disney World Marathon in January. Keep reading to see her progress!
Marathon training update:  Unfortunately, I have been sidelined with an injury.  I am on 2 weeks of rest.   I can start running again on November 26.  We'll see how this rest thing goes!  I'm already stir crazy from not running.
Comments
comments