A Ramble From The Heart!!!
by Perry Newburn
Why do I run? As in the last blogs I have given you all a glimpse of how running has helped to reshape my life, how it has helped me to survive, and how it has helped my Mental Wellness. It has been a passion of mine over recent years to push the message of how any form of exercise – doesn't matter whether its walking, running biking, swimming, kids playing with their mates – goes a long way to helping people feel "mentally" well.
How many times have people said after a long hard day "I cant be bothered doing anything…" But after putting on their shoes and getting out the door they have come back a much happier person. The " distress" that goes with it can be huge. A classic statement I once heard from a fellow runner was " I had had a very long stressful day at work and when arriving home my wife wanted to sit and talk about the day. I was too wound up so said I needed to go for a half hour run. When arriving back I was in a much better frame of mind to sit and be together and chat."
A lot of people have said to me – " how do you run and are able to run  (crawl sometimes) for so long?" My comment is always – " I am nothing special and anyone (within reason ) can do what I do, but the main thing is – you have to want to do it." It does take a lot of work and time to build up to high mileage though.
This brings me to another passion of mine – GOALS. Again I am a firm believer in goal setting but it is something I had to learn and work at initially. In the past I probably wasn't great at it and life just meandered on around me with me quite oblivious to everything going on. I remember in my 50th year I set 3 goals; 1) To survive till I turned 50. 2) To complete my university degree. 3) To run a marathon. I succeeded in all 3 and of course that first marathon was all about doing it and it was the only one I was ever going to do……….. I mean a marathon is so far!!
I have found many a time coming off a long run, there is a flatness, and if there wasn't a goal to work towards I would struggle to get out the door. MJ's have helped me immensely in keeping an accountability and motivation there. I always try and set realistic goals (even if sometimes on the edge a bit!!) and within reason I will immerse myself in them til the "appointed" time.
If however a goal is not quite reached that is also okay because it is what we learn from them that will help future ones – and often they only need a bit of tweeking. So the importance of goals for me – it gives me something to strive towards – and if they are not quite reached there is a reason and with a little bit of adjustment I will get there.
Now with the USA run firmly set for Sept/ Oct I need to put in a couple of sub goals as a lead up to the big one – 1) I still need to be raising a bit more sponsorship money, 2) I still need to be getting in fairly big mileage weeks with the back to back to back….. – but now its still a few months I can have a big month and then drop back a bit the following month. The drop back months are still relatively big (200 km weeks as opposed to 250 odd) by most peoples standards but now I have " Trained the body and mind" to cope with the bigger mileage.
Some of it is about training the body and mind to run on " tired". I still need to be aware of little niggles and am a strong believer in lots of stretching. The other goals I have set myself for the next few months are; to run a 3hr 20 min marathon, to run a 1 hr 34 min half marathon, and also to run a 43 min 10 km. This will break up the training a bit more with speed work put into the equation. .
I am hoping to "launch" the USA run in possibly April by doing a 24 hr run with the goal of 200 + kms. All these things are in place to keep the motivation high in the lead up to the big goal. Keep on exercising and remember its got to be FUN.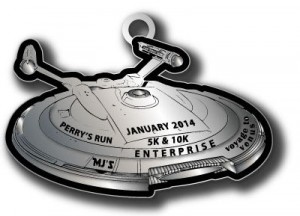 Moon Joggers is hosting a virtual race, the Enterprise 5K & 10K, in February 2014 to help Perry raise the needed funds to come to the United States and run across American (from California to New York!).  Sign up and support Perry now!
Comments
comments