Remaining Upright
by Michelle Roberts
"What's the matter, honey?"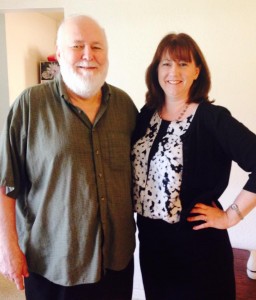 By the time my father asked me I never even knew the answer. He said when I was a teenager he used to watch as I took on more and more – bigger challenges, harder classes and more after-school activities. He waited on the sidelines for me to meet my match and finally hit a wall I couldn't climb over. He wanted to be there for me when it happened. But he said I never did. I made it over every one.
It was the emotional toll and the stress I put myself under that only he recognized. The fatigue that came from going too long without rest and the tears from putting myself last on the list. He worked overnight shifts as a communications technician at the Space Center and did computer programming on the side to pay for my braces. He knew first-hand about fatigue. Each time he took me aside and forced me to sit still long enough to ask me that question I was a puddle – every time. I'd shake my head and cry after weeks of answering, "I'm fine." Upset over a jumble of so many teen-aged injustices and hurt feelings that I couldn't begin to unravel them. A long talk, some fatherly advice and a few hugs served as my psychological reset. It put me firmly on my feet until the next time I felt overwhelmed.
Two years ago it was my Dad who warned me against attempting my first full marathon.
"People train for those, you know? They don't just show up for a marathon."
Sure I'd finished a few half marathons but a full looked to him like one of those walls he always worried about. Except I knew that in the twenty-five years since high school I'd hit a few all on my own. I'd fallen flat, recovered and survived many times by then. I never saw the walls when I was younger but, in my forties, I knew they were there and they didn't scare me.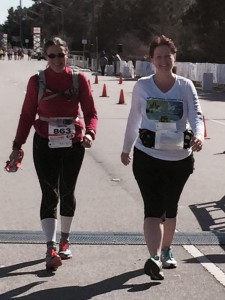 I don't remember if I told him I only made it halfway through my first attempt at a marathon in February 2014. I didn't have to say anything. He was always the person I hurried to tell and he knew he'd have seen the medal if I'd earned it. No matter how old I was there would always exist in me the little girl showing off her report card. Only 13.1 miles that day due to an injury but my Moon Jogger friends rallied around me almost immediately and I registered for my next marathon – 26.2 with Donna in Jacksonville February 2015 to financially support women going through breast cancer treatment. With over 1,500 Moon Jogger miles in 2014 I'd worked up to my 20 mile training run/walk in early January and felt ready for my first marathon finish. Sheila Dawe from BC, Canada, was flying in to run with me and my faithful cheerleader, Carolyn Guhman, from New Orleans was bringing her trusty purple pom poms.
Then on January 16th I got the call that my father had suffered a sudden cardiac arrest and was on life support. It was late on a Friday night and he was going to be removed from the machines the next morning.  The wind was knocked out of me.
I went through the next couple weeks on autopilot – forcing myself to eat and doing my best to sleep. When it was time for my 24 mile training run I knew I didn't have the strength to remain upright. Thankfully over the years I'd internalized the question my Father used to ask me to check in on my own emotional well-being. I made sure that, mixed with all the ways I thought I needed to contribute to those around me, there was plenty of joy in my life. Hours spent doing what I loved with the people I loved. I knew what it felt like to run on empty and what it took to fill up my reserves. I'd even learned to rest. To take the time I needed for myself no matter who needed me. If there was ever a time to quiet the goal-driven perfectionist in me this was it. I decided twenty miles would have to do and I'd adjust my training to include 10 miles/6 miles in the weeks ahead.
So many things fell into place in the next few weeks I could feel my father's hands in all of it. My last two longer runs were strong and the heaviness in my heart began to lift. Carolyn told me that if her new granddaughter was born by Monday then she would make the drive to Tallahassee to join me in Jacksonville. Quinn was born Monday night after 9pm and right on time! We drove over Saturday morning to meet Sheila for the Expo with a quick detour in St. Augustine to show off the Nation's Oldest City to our Canadian friend. Even the weather forecast cooperated by inching up one degree at a time until race day was the perfect high of 55 – sunny with an ocean breeze.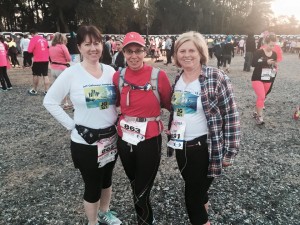 The morning of the marathon I had just the right amount of ignorance about everything. I'm usually anxious about doing something for the first time but felt the support of so many friends and an inexplicable confidence about finishing. With Sheila by my side we did intervals along the beachfront road to the cheers of the local community and many grateful breast cancer survivors. After several miles the course turned onto the beach with the full force of those ocean breezes, 15 mph winds, in our faces and the hard sand under our feet. But what a view! The half marathoners turned back and we wound through shady subdivisions past mile marker 16. By then I was spent and had given up on intervals. We walked as fast as I could manage while keeping tabs on our pace with a silent goal of finishing within the 7 hour window.
At mile 20 we were heading back along the beachfront road. This was my longest distance! I knew after finishing twenty there was no way I wouldn't get those last 6.2 miles. Today was the day I was going to finish my first full marathon – almost exactly one month after losing my father. I thought about how I'd never have the chance to show him my medal and that's when the tears came silently as I put one foot in front of the other.
After passing mile marker 22 I told Sheila, "I can do anything for 4 miles!" She grinned knowing those four are a whole lot different after the previous twenty-two. And after twenty-three miles of gorgeous scenery, palm-lined roads and oak canopies, we turned onto A1A with views of fast food restaurants and gas stations. I realized we were heading toward an onramp. Um. What?
That's where the ignorance came into play. Begrudgingly I made it up the onramp and onto the highway leading to the finish line at the Mayo Clinic. When I spotted the bridge ahead I asked another runner, "We're not going over that, are we?"
"Mile 25 is at the top and mile 26 is at the bottom. There's no way around it" she explained.
I turned to Sheila knowing it was probably a good thing I didn't pay attention to the course map the night before. She doesn't have much of a taste for profanity.
"You're fu@*&ng kidding me?!" I said, under my breath, and Sheila pretended she didn't hear me. But I knew my Navy father would've found it completely appropriate given the circumstances.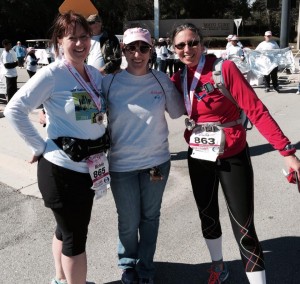 Sheila waited a few minutes before adding, "I'm going to say this now because you might not want to hear it later. I'm really proud of you! You did amazing!"
"Thanks," as I stared straight ahead but managed a smile, "and please don't talk to me while we're on the bridge." Actually, I'm not sure I said please.
But the bridge was almost worth it when we reached the top. To know that mile 26 was in our sights and the glorious downhill was ahead.
"Ok, we have time for a couple more stories." I told Sheila who'd been generously entertaining me with tales of Ultras and Canada and coulees for hours already.
As we rounded the off-ramp and were heading into the finish line I saw those wonderful purple pom poms and Carolyn's big New Orleans smile cheering us on. Our Moon Jogger friend, Robyn Hershberger, had volunteered at the finish since 7am just so she could put the ribbons around our necks. And she did. And we all smiled. Until Carolyn caught me crying and we hugged. She understood.
I did it! In 6 hours and 57 minutes.
As confident as I felt that morning and with everything that happened in the month before, this was one wall I wasn't quite sure I could climb. Until I actually did.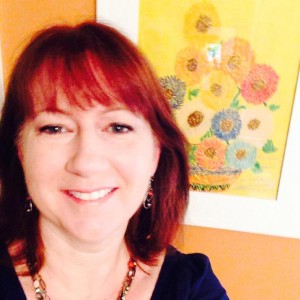 ABOUT: Michelle Roberts lives in Tallahassee, Florida, with her husband, Paul, and two children, Ashleigh (12) and Philip (9). She ran her first 5k in October of 2012, her first half marathon in February of 2013 and her first full marathon in February 2015. She was diagnosed with Bipolar Disorder in 2001 and maintains a healthy balance without the use of medication thanks to a job she loves, a supportive family, regular exercise, her writing and therapy. A wonderful life of "Both Hills and Valleys".
"The marvelous richness of human experience would lose something of rewarding joy if there were no limitations to overcome. The hilltop hour would not be half so wonderful if there were no dark valleys to traverse."
Helen Keller
Comments
comments