Running for 24 hours!!
By Perry Newburn
After struggling for ideas on what to write about I thought lets cover what its like to run for 24 hours – for me anyway – around a 400 metre athletic track. This would not be most people's idea of fun but I actually looked forward to it. Yes I know, a bit strange, but that's me. I had several reasons for doing this run; firstly, it filled a gap in the calendar for me and was going to show me where I was fitness wise; secondly I wanted to use it as a launch for the USA run being 5 months out from the start date – yes it feels real now and exciting; thirdly it was going to definitely build on my mental strength. I set myself a goal of getting as close to, if reaching, the 200 km mark as for me goals are definitely important as something to strive towards.
After having done two 72 hour runs last year around our local motor racing circuit doing loops of either 4.5 km or 3 km I wasn't too worried about going for 24 hours, even though the circuits were only going to be 400 metres – a minor mistake on my part and definitely a lesson learnt – I should definitely consider any distance to be covered as hard (but doable) as this can be a real mind thing. For example I have been out on runs ranging from 25 km upwards and my mind has been set to that distance. At the end of that distance if someone suggested let's do another 10 km I have often said no – my mind wasn't set to do more.
These days I can counteract that by setting the distance for longer than what is set. Also by running on the track I had presumed (wrongly) that it would be nice and soft and easy on the legs and body – the first 5 hours or so I felt great. However, as the time went on, there was a lot more soreness developing than at any time on the 72 hour runs and especially in the legs, glutes and the bottom of my feet. The track was definitely harder on the body than I had imagined. I have basically always been a road runner so the body is accustomed to that surface and really enjoys it – most of the time. This was also a good lesson – do the homework appropriately on what sort of surface /terrain you are going to run on. I had done half a lap on the track a week before and thought "this feels really good" !!!!
I managed to have people down at the track most of the time. However, between 8.30pm and 2 am I was on my own and this period became pretty tough mentally – but I coped and worked out the strategy of 5 laps and writing off the lap list – although a couple of times I had to do this after 3 as the mind was wandering a bit!!!
My strategy for the run was to start off by running 10 laps then walking 1 knowing also that this would likely drop back to 5 laps as the day went on. I also knew that there would be periods when I would need to walk a couple when the mind battles were going on. I always go into this sort of run expecting these sort of moments so when they hit they are not a biggie and I know I can work through them. This time I also had a few hallucinations – from the shadows of the lights during the night. I had seen a photo of a giant rat caught in a flat (I think Sweden ) the day before and there was one shadow on the track in the early hours that really made me jump. I managed to laugh it off fairly quickly though.
A good  running mate came down between 7 am and 9 am and ran/pulled me along. This was just what I needed at this time (20 hours into it ) and there were some kms that we were going through at 5 min 10 sec pace. By this stage I had blocked out any pain and also I was having some very noticeable highs and lows – pace would drop back to 6 min km pace. However there were times when supporters would go and get me a Mcdonalds Burger and chocolate milkshake and boy would this pick me up again. Of course towards the end the customary Coke would help with the sugar hit that was needed.
At 11 am I realized I wouldn't quite make the 200 km mark (prob about 198 ) so decided to cruise it ( if you can !!!!) and reached 195 kms. Interesting point was the first lap and last lap were timed ; 1st lap – 2 mins 4 secs, last lap 2 min 2 secs.
At the end I was definitely happy with the kms reached and there were some good lessons learned and reminded of – if there is a next time on a track I know what I can do now.
Recovery generally has been pretty good. However, the first 2 days I was definitely a lot sorer after the 24 hours on the track than I had been after both the 72 hour runs last year on tarmac. However, with a walk the first day and slowly getting back I have still managed over a 100 miles for the week since – in that sense recovery has been great.
Now that the mind is totally focused on the run in 5 months – less now – I will have big mileage weeks for half the month and drop back ones for the others – can't wait and so looking forward to meeting and running with a lot of you.
As always – keep looking after yourselves and keep on having funz!!!!!!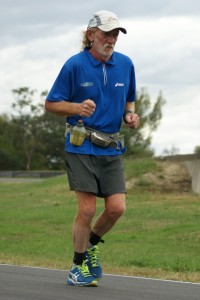 Perry Newburn is an ultra-marathon runner from New Zealand and the current leader of Moon Joggers. At the time of this post he has already logged 5,247 miles for the year and has plans to complete even more before the year is through. Next year, to celebrate his 60th birthday, Perry plans to break the master's record and run across America in 50 days. That is an average of 58 miles per day! To follow Perry on his journey and to support him along with way, check out his blog at Perry's Run: America in 50 Days.
Comments
comments