The Starting Point
My Wayland Wellness journey started February 2009 when our Executive Director/Vice President Dr. Bobby Hall approached me during lunch about starting a wellness program for the university. Little did I know this conservation was the start of a healthier life style and would change my life forever.
At that point in my life I weighed nearly 300 lbs., began wearing XXL clothes, had not been able to take my wedding ring off in almost 10 years and had not been able to wear my College ring in years. I also had no idea how to eat properly or what proper nutrition was and had not exercised in years.
On August 9th, I took my first step on my Wayland Wellness journey by making the decision to no longer drink Dr. Pepper or any soft drink. I was consuming at least 4 to 5 a day. At lunch on that day I told my wife Deanna I would not have another Dr. Pepper. Of course Deanna had a supportive yet unbelieving look on her face not truly believing what I just said to her.
In September 2009, my second step on my Wayland Wellness journey began by hiring Brandi Cook our (my wife and I) personal trainer. Stepping into the Laney Center to work out for the first time was very nerve racking because we had no idea how to use any of the equipment or what we needed to do to try to get into shape. Also, I was worried that people would laugh and make fun of me for even trying to lose weight.
During the first week we met with Brandi she asked me to walk 1 mile. That mile took 14:30 minutes to complete and after completing this mile I laid on the track thinking I was going to die. The next day, Brandi asked us to get on a treadmill and walk for 30 minutes. When Brandi walked away I turned to my wife and state "Has she lost her mind to ask me to walk for 30 minutes". During this time, we wanted Brandi to work with us every day because we were so insecure about what we were doing. There were many times Brandi would ask me to do something and the first then I would say to her was, "I can't do that".
In October 2009, my third step on my Wayland Wellness journey began by joining Weight Watchers. I had never tried a weight lose program before and wonder if I was get anything out of the program. When our team leader Pat began talking about proper eating habits, portion control and the Weight Watchers point system, I thought to myself that this may not be the program for me but I decided that I had nothing to lose by participating since the university was paying for me to participate for the 17 weeks.
With these three important steps taken on my Wayland Wellness journey to a new healthier life began and the following changes have occurred: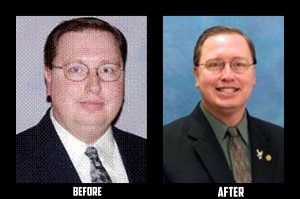 1. I lost over nearly 100.00 lbs and for the first time since graduating college in 1996 I weighed under 200 lbs.
2. I went from wearing size XXL clothes to medium and large clothes. The pants and jeans I use to wear were size 44 and now I can wear size 36.
3. I now can remove my wedding ring and cannot wear my college ring because it now too big. I am having to wear my high school ring instead.
4. No longer do I tell Brandi " I can't do that" but instead ask her how many reputations do you want me to do and for how long. No longer do I fear the equipment in the Laney Center or worry if people are laughing or talking about me. I enjoy my time working out and look forward to it throughout the day because I enjoy pushing myself to work harder, faster and stronger. I am now able to do workouts much like the ones a did in high school training to run track and field.
5. I am now a Life Member of Weight Watchers and have learned that I do not have to deprive myself of foods I enjoy but to eat them in moderation and understand portion control.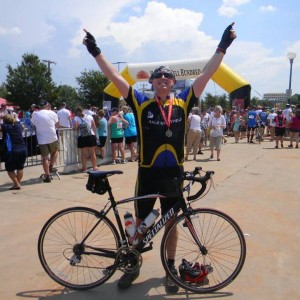 I want to thank the following individuals for helping during my Wayland Wellness Journey:
Deanna and Charline Appling, my wonderful and supporting wife and mother.
Dr. Bobby Hall for giving me the opportunity to start and participate in the Wayland Wellness program
Brandi Cook for being a GREAT personal trainer.
I realize I mention very little about running and that was by design but this story will continue in next month's blog. I hope you stay turn for My Wayland Wellness Journey Part II.
Ron Appling,
Proud Moonjogger for Life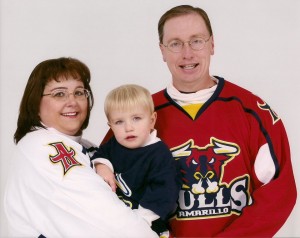 Ron Appling lives in Plainview, TX with his wonderful wife Deanna and son Ryne. He is 42 years old and has worked for Wayland Baptist University since 2004 as the Director of Human Resources. In 2009, the title of Wellness Manager was added when he was asked to start the university's Wayland Wellness program. Since the start of this program, Ron has lost 100 lbs in one year and has been able to maintain his weight for over three years, has assisted the university maintain a low cost of medical premiums, and helped a number of employees and their family members live healthier life styles. In order to maintain his healthy life style, Ron enjoys running, cycling, Crossfit training, and participating in a number of running and cycling in events in Texas and New Mexico. You can follow Ron healthy life style on Facebook at Ron Appling.
Comments
comments