Sole Running: Tales from the Trails: From Snow To The Beach In 5 Hours
By Bob Nicol
What do you get when you take a Canadian barefoot runner in December and deposit him on a tropical island for a week of beach running?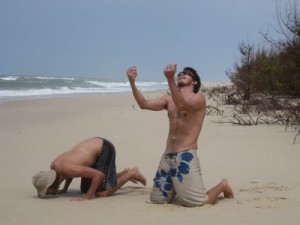 Yes, definitely a little bit of celebrating and a whole lot of beach sand kissing.
The excitement was mounting for sure:
To running this in 5 hours.
I was so excited, I had been running in -30 to -40 degree temperatures for most of the month of December, which being a barefoot runner does make things very interesting. In fact, I had only logged about 5 km barefoot since the first of December, very sad in deed. I had to resort to wearing, wait for it……….yes, shoes or my mukluks, I was very ashamed to be calling myself a barefoot runner with all this non-nakedness going on. Here we were going to Cuba and leaving the craziness of winter behind for some white sand beaches and +30 degree temperatures, I was beside myself with excitement, seriously a week of blue skies, white sand and turquoise waters and barefoot running.
I had packed more running shorts and shirts then I had anything else, actually almost an entire suitcase full between Nicole and myself. We actually had to repack a couple of times to make sure we had everything we needed at least in her eyes, imagine that. Seriously what more did I need than running shorts for Cuba; I don't need a shirt when I am running do I? Shoes…..pfft, I would bring my Luna's only in case of emergency, I didn't want to see those evil foot coverings for the next 7 days. No sir-ee Bob.  7 pairs of running shorts, a couple of running hats and I am good to go…..well it sounded good to me at the time.
This trip was a surprise to our kids for Christmas, they had never been off of the continent and my youngest had never seen the ocean, so we figured two birds with one stone. My two boys kept asking us, so what run are we going for because we never go anywhere unless there is a run involved. I was shocked, did they really think that way, well I guess by golly they did. It took me almost to the end of the trip to convince them there was no organized run event that we went on this trip for, because sneaking in beach runs really doesn't count……that is my thinking and I am sticking to it.
I was in heaven as soon as we stepped off the plane in Hoquin, Cuba. The temperature was hovering around 27 degrees Celsius and the skies were sunny and blue. This was going to be awesome; you could not have taken the smile off of my face with a jackhammer.
With the heat and the humidity my wife and I decided that early morning runs would be the best, this would also allow us to maximize the time with the kids during the day doing things. We asked around the resort staff and found a great little trail that ran towards a secluded stretch of white sand beach about 2.5 miles up the coast. The return trip along the beach to the resort included some of the most epic views I have had the pleasure to take in.
The first morning I went out, let me just say I confused a bunch of the resort staff along with the majority of the guests that I passed. Not sure why, nothing strange about a pale white guy with a grin from ear to ear, wearing only a pair of running shorts and a hat streaking by with the pitter patter of his bare feet as he headed out into the morning sun for a most enjoyable run. Nothing strange at all and I was hap-py so very happy.
What an experience it was as I tore down the road to the trails avoiding crabs running across the terrain for the safety of the ocean, tip-toeing over shells broken by the birds looking for a quick breakfast, I suddenly had to worry about so many different things from what I was used too. It was amazing. Once I hit the trails, I was in heaven as I ran parallel with the beach as the sound of the surf crashing on the beach, the shore birds squawking and swishing of the palm trees all around me.
The beach was pure ecstasy, running on the white sand and crashing through the waves as they hit the beach with the sun coming up was the most incredible experience and one I will never forget. Remember I live on the prairies, scenes like this for me are usually seen in a movie not happening to yours truly. I ran full out, lifting and dropping my feet as the smile got wider and wider…..I avoided the scurrying crabs as they flowed to the water on their morning odyssey, I watch pelicans dive into the water head first for their morning meal. It was like time stopped as I took it all in, the beauty and rhapsody of nature, this was where I belong. I ran over soft sand and ancient corral, through pools of water and over beds of seaweed, the textures on the soles of me feet reminding me what it was like to feel alive. Heaven……..pure heaven.
I was so sorry to turn that corner and see the resort, as I had the previous miles of beach to myself, not a soul just me and the pitter patter of my feet.
I was home….yes home is where the heart is and my heart is on that beach in Cuba
Happy Trails,
Bob is a barefoot runner from Canada who has been lucky enough to discover the passion of running. From running 5 km around his neighborhood with his faithful husky Hazel to running 100 mile Ultra-marathons over nasty terrain, Bob runs with a smile and an encouraging spirit. You can also follow his ramblings at Canadian Running Magazine Online (http://runningmagazine.ca/blogs/bare-my-soles/ ) and his personal blog, http://winnipegbarefootrunners.blogspot.ca/.
Run Strong, Run Hard, Run Happy and Run Free……………….
Comments
comments