A Barefoot Runner's Story Part Deux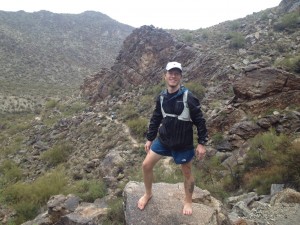 The story continues…………
……….. As I continued my research and experimentation into barefoot running, I was amazed at the amount of change that was happening to not only my running form but also to my growing love of running as a whole. For a guy that only the year prior didn't want to run at all, I was suddenly not able to get enough of it. I was signing up for all types of events, from 5km runs to Half Marathons, it didn't matter the distance I was having so much fun just get out there and participating. I was not fast but I was determined and my mantra was to start and finish with the same smile come hell or high water. The one thing I was not used to was the sudden attention I was getting for running san shoe, no matter what event I was in as soon as the initial shock of my running style sunk in, I seemed to become the centre of attention. Let me tell you this took a while to get used too, especially for this shy guy who would much rather run incognito and be lost in the masses then be up front and centre.
People truly seemed to be interested in what I was doing and why I was doing it. I was getting asked questions, lots of questions, people were taking photos of me, I was getting high fives……all for doing something that I enjoyed. I was taken aback at first but as my confidence increased in my barefooting abilities I became more and more willing to share my experiences.
My first bit of adversity came not due to running but in the form of my last knee surgery that I would undertake, I was scheduled for a procedure to clean my knee of bone fragments and other unwanted organic material. This would be my 7th surgery on my left knee and my last, my orthopedic surgeon laughed at me when I told him I ran and enjoyed it enough that I wanted to continue and eventually run a marathon (I didn't even mention that I ran barefoot). His words will stick with me for life as he proceeded to tell me I was crazy to think I could run as my knees were in no shape to take the abuse especially more than a couple of miles. Now that put a serious burr under my saddle, so I made a promise to myself to prove him wrong, so following the surgery I signed up for a 10 km run, the one catch was it the following weekend. Well I ran that race, I didn't just finish it I also PR'ed it as well with a 1:06 time, not bad for someone who had orthoscopic surgery the week before. This spurred me on to push the distances as I followed that up with longer and longer runs.
The next month, I ran the Buffalo Runner's Half Marathon in Pincher Creek, Alberta at the foot of the Rocky Mountains. This race followed one of the traditional buffalo hunting trails used by the Piikani Nation and finished at the Pow-wow grounds where the runners became part of the ceremonies. This event was where I learned how spiritual running was becoming to me and how much I enjoyed running trails. This was quickly followed up by my first marathon where I upped the ante and took my Scottish heritage to the next level and wore a kilt. So here I was, this guy who started running 10 months prior running his first marathon, barefoot in a kilt and on a course that was almost entirely on gravel roads. Can we say crazy, well yes I heard that numerous times throughout the day and yes I finished that too.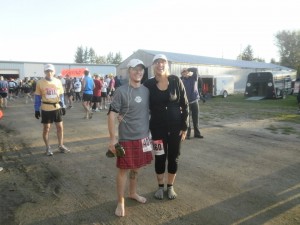 My wife Nicole and I at my first Marathon in Treherne, Manitoba.
26.2 miles of gravel goodness for my barefeet
Not to be satisfied with completing a marathon, I set my sights on my next challenge, the dreaded ultra….. I was jumping in with the big dogs now. Just 11 months after I nearly died from running a 5km fun run I was taking on a 50km trail run called Vulture Bait with a hard cutoff of 7 hours barefoot. The trails were awesome with lots of different surfaces to tackle (gravel, asphalt, chip n seal, dirt, roots, pine needle and leave covered and my favorite rocks lots of rocks. This would be my first look at a DNF, as I pulled my groin at about 35km and struggled through to 48km before I got shut down. I was in so much pain I could barely walk by the end, it was funny my feet didn't let me down if was a part of my body that I would never of thought would be an issue. Funny how things work, this made me realize I had to strengthen more than just my legs and feet I would have to strengthen the rest of my body and be ready for the next attempt and of course what would eventually follow that, the piece de-la-resistance, The Hundo.
I used the next year to toughen up my body and my feet prior to heading back to Vulture Bait, I ran as many miles as I could on all types of terrain and strengthened my body as I was going to finish that race and be the first one to complete it barefoot as well. So here was this guy that was not supposed to be able to run, conquering distances and terrain one by one barefoot and with a smile on his face. The story does not end there, as I have gone on to complete some distances and events that just 5 years ago I would never have thought possible.
Don't let someone tell you, you can't do something, just go and do it.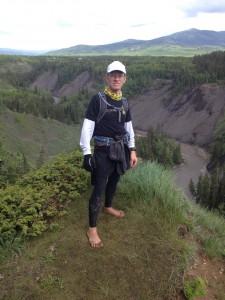 Running the Canadian Death Race Course in Grande Cache, Alberta
---
Bob is a barefoot runner from Canada who has been lucky enough to discover the passion of running. From running 5 km around his neighborhood with his faithful husky Hazel to running 100 mile Ultra-marathons over nasty terrain, Bob runs with a smile and an encouraging spirit. You can also follow his ramblings at Canadian Running Magazine Online (http://runningmagazine.ca/blogs/bare-my-soles/ ) and his personal blog, http://winnipegbarefootrunners.blogspot.ca/.
Run Strong, Run Hard, Run Happy and Run Free……………….
Comments
comments