Every Mile Counts!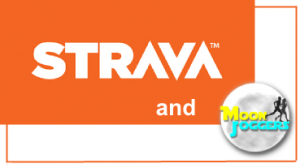 Strava is a great resource for helping runners and bikers. Strava lets you track your rides and runs via your iPhone, Android or dedicated GPS device and helps you analyze and quantify your performance. Remember, when inputing your biked miles into your Moon Joggers log make sure you divide the miles by 4 (see official rules). We love resources like Strava and how they help us reach our running or fitness goals. One of Moon Joggers' goals is to add to your running journey through accomplishing a joint goal with runners from across the world. We can't do it without you!
Log Your Miles from Strava
Simply scroll down this page and you will first see your individual mileage log with Moon Joggers. If you are not logged in, or registered, it will be blank. Go here to log in or get registered. The mileage log works the same as it does on the main mileage page. If you are unfamiliar with how it works please check out the logging miles tutorial.
Below your mileage log is a window for you to go log onto Strava.com and grab your mileage information. If the window does not appear, simply go to Strava.com (a new window will pop up) and log in to your Strava account.
Where Do I Find My Miles?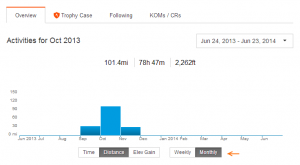 When you log on to Strava go to "My Profile" by hovering your mouse over your profile picture in the top right corner. The next page will show your activity for the past year. We suggest clicking on the "Monthly" button to change the graph to show mileage run by month. Click on the individual bars on the graph to get the mileage you ran/biked for that month.
Your Log
YOU MUST ENTER A DATE AND DISTANCE, the other options (TIME, TYPE and LOCATION) are optional
You don't have a Walking Log.
2013 Mission To The Moon
0 miles in 2013
2014 Voyage To Venus
0 miles in 2014
2015 Meet Me On Mars
0 miles in 2015
2016 Mercury Rising
0 miles in 2016
2017 Chase The Sun
0 miles in 2017
2018 Journey to Jupiter
0 miles in 2018
0 miles per month
0 miles per week
0 miles per day
0 miles per hour
Total MJ Miles
0 miles total
Your overall Moon Jogger ranking is according to your total Moon Jogger miles. Check your rankings here.
If you are logging your miles from an iPad or iPhone and have any problems logging, use

---

***If the window does not appear, simply go to Strava.com (a new window will pop up) and log in to your Strava account.