What is the Voyage to Venus?
Moon Joggers is looking for 25,000 runners (walkers and joggers too) to join our challenge this year to run to Venus!  It is a 25 million mile journey and our crew of 25,000 will commit to run (and/or walk), on average, 1000 miles each in 2014! This is a WORLDWIDE event, with participants from around the globe!
Our beginning runners will choose to complete 100 to 500 miles, while many of our ultra runners are committing to 3000 or more miles next year! You determine how far you will run!
The first 25,000 people to register will be on our 2014 crew. Registration will remain open until we reach 25,000 (you can go back to log any miles you've completed starting January 1, 2014 to today)!
Check us out on FACEBOOK!
How it Works
1. You sign up and set a goal for how many miles you will run in 2014 and which ranking you will achieve.
2. During the year you log your miles on our website. You'll move up the rankings as you reach your goal.
3. Along with achieving your personal goal, all of your miles contribute to our grand total of miles to get to Venus!
*Check out the OFFICIAL RULES HERE (find out how to include biking and swimming miles too)
Official Launch Date is
January 1, 2014 – Registration open throughout the year until we reach 25,000!

Sign up and set a personal goal for which ranking you will achieve in one year. Below is a list of rankings for our Voyage.
100 Miles: Space Rangers (great for kids)
500 Miles: Cadets (great for beginners)

1,000 Miles: Officers
1,500 Miles: Ensigns
2,014 miles: Lieutenants
2,500 miles: Commanders
3,000 miles:  Captains
4,000 miles: Commodores
5,000 miles: Admirals (top three runners will receive Golden Moon Boot award)
THERE IS AN OPTION TO SIGN UP FOR

FREE

OR CHOOSE ONE OF OUR PAID OPTIONS BELOW. RESERVE YOUR SPOT NOW!
Sign up now! Participants will receive: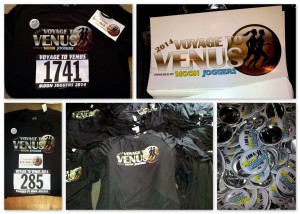 Official Voyage to Venus T-shirt
V2V Window Sticker

V2V Bracelet
V2V Button
V2V Running Bib
V2V Welcome Letter
A beautiful finisher's medal according to the highest ranking you achieve in 2014.

*you will receive two shipments. One at the beginning of our Voyage with your t-shirt and other goodies; and your medal at the end of the year. Shipping costs are included in your participation fee.
Also, throughout the year, you'll receive:
20% off all of our virtual races

Log your miles on our website and be listed in our results page

Priority spotlights and guest posts on our website

Possible sponsor/race discounts throughout the world

Special awards/contests (such as Golden Moon Boot Award for our top three runners of the year)

Participate in our community page on Facebook and connect with Moon Joggers all over the world
Finally, for signing up you will also:
Be entered into a drawing at the end of the year.  For every 500 people that sign up (paid registrations), we will give away one $500 Visa Gift Card.  Our goal is 25,000 participants, which means we'll be giving away 50 or more $500 gift cards. (We know how expensive running and participating in events can be and we like to give back to our runners).
And last, but not least, we will donate a portion of each registration to our favorite charity: Little Heroes Foundation.  Our goal is $50,000!

Little Heroes is committed to improve the well being of children worldwide and we are committed to helping them in this amazing cause.  Visit their website to see the different projects they are working on throughout the world to bless the lives of children.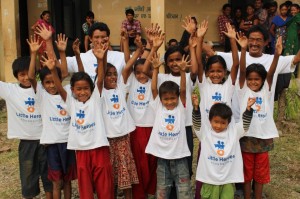 What are you waiting for? Sign up now and join us on this epic adventure through space!
*We also have a t-shirt only (no medal) option.  You can sign up for it HERE.
Check us out on FACEBOOK!

*If you have any problems at all with the registration above, you can register directly by copy and pasting the following link into your browser:
http://www.eventzilla.net/web/event?eventid=2139016428