The Running Edition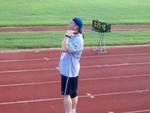 As I stated in Part I of my Wayland Wellness Journey blog I mentioned very little about running and that was by design but I wanted to inform everyone my starting point and continue the story by showing you my Running Journey.
In my High School days, I was a 400m runner and was pretty good at it. I never won a District Championship or advanced to the Regional Track Meet but I really loved to run that distance and even anchored some 4X400m relays teams which it was a real honor for me. Unfortunately from June 1990 to August 2009, I lost that love and passion to run. During those 19 years, I would try to run once in a while but after 1997 I started putting on the 300lbs I mention my first blog and running was just not fun. In fact it was hard and I would just quit. My mom even mentioned several times that my running days were over.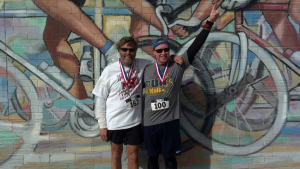 Then in September 2009, when my wife Deanna and I hired Brandi Cook as our personal trainer, the thought of running started becoming a reality for me once again. As the pounds started coming off, the easier the running became and the thought of running in events once again looked like it was possible but I had a problem, there are no Track and Field events in my part of the world for 38 year olds. That's when it hit me as I was driving around Lubbock, TX in the spring of 2010, I saw a yard sign for a "5K Run in Levelland, TX". My first thought was, "Yes, a running event, just what I was looking for" and then my second thought was, "What the heck is a 5K Run?" So when I got home I looked it up and found out it was 3.10 miles and I thought, "I think I can do that." Little did I know that yard sign in Lubbock, TX would change my life for the better!!!
So I met with Brandi the next day and we mapped out a training plan. For three months I trained until July 10, 2010, the day of the 5K. I was very nervous and sat in my truck for 10 minutes after picking up my registration packet thinking what did I get myself into and almost drove off but I did not. I ran the 5K and finished with a 29:28. I could not believe I was able to run that distance because in High School if my coach made me run two laps I would get so upset at him and now 20 years later I was a 5K runner. After the run, I met with Brandi and told what happened but I also told her I thought I was never be able to run more than 3.10 miles because my right knee hurt.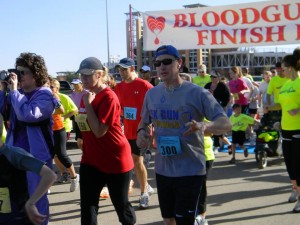 In 2011, I decided to push my knee's limitation so I trained and ran in the Bloodguster 10K in Midland, TX on March 26th with a finishing time of 56:46 and when I met with Brandi I stated the same thing, about my knee that I don't think I could never run more than 6.20 miles because it hurt but a co-worker of mine informed me there was a 15K event in two weeks which gave me my next challenge so I went for it. On April 9th, I ran the Race for the Arts 15K in Lubbock and finished with in 1:30:38 and you guessed it, I met with Brandi and told her I don't think I can run more than 9.30 miles because my knee hurt but little did I know I was not done.
After cycling in the Hotter N' Hell 100 Mile event in late August 2011, a friend of mine challenged me to try running a Half Marathon, gave me a training schedule and sent me on my way. Yep, you guessed it, I trained until October 1st and ran my the West Texas Crossroad Half Marathon in 2:11:32 and yep, you guessed it again, I met with Brandi and after I told her how the event went, she stated, so now you are going to tell me you cannot run more than 13.10 miles because your knee hurts and I totally surprised her by saying nope I am going to run a Full Marathon in January 2012 in Wichita Falls where my friend lived that challenged me to run the Half Marathon.
So from October 2011 to January 2012, I trained and on January 22nd, I ran with my friend in The Duel Full Marathon in 5:09:18. But wait, I was not done. Not more than an one or two days after I finished, my friend told me there was an Ultra Marathon which was 31.07 miles (50K) in Ft. Worth 34 days later. So I continued my training and ran The Cowtown Ultra Marathon on February 26th in 6:11:07.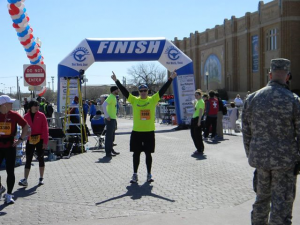 From March 2011 to February 2012, I am completed a 5K (Tulia, TX), 10K (Midland), 15K (Lubbock), Half Marathon (Odessa), Full Marathon (Wichita Falls), and Ultra Marathon (Ft. Worth) and through all these runs my right knee was not really hurt at all. After the Ultra Marathon, I had my knee checked and there was nothing wrong with it. Come to find out, I was using a knee injury I sustained in Middle School as a mental block. After I found out this information, I threw away the knee brace I had worn during my Running Journey in the trash and have not worn one since. On top of that, my knee never hurts and I don't even think about it anymore.
Since that time I have joined the following running groups and clubs, Stride Running Group – Plainview, TX, West Texas Runners Club (WTRC) – Lubbock, TX, Half Fanatics – National Group, and the Most Important Group of Them All – Moonjoggers – Worldwide Group.
The two things I would like you to take away from this blog is don't ever let anyone tell you that you cannot do something and running is Mental than Physical.
Ron Appling,
Proud Moonjogger for Life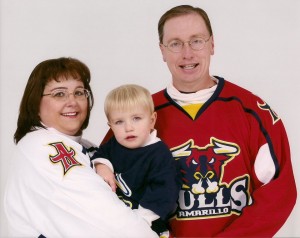 Ron Appling lives in Plainview, TX with his wonderful wife Deanna and son Ryne. He is 42 years old and has worked for Wayland Baptist University since 2004 as the Director of Human Resources. In 2009, the title of Wellness Manager was added when he was asked to start the university's Wayland Wellness program. Since the start of this program, Ron has lost 100 lbs in one year and has been able to maintain his weight for over three years, has assisted the university maintain a low cost of medical premiums, and helped a number of employees and their family members live healthier life styles. In order to maintain his healthy life style, Ron enjoys running, cycling, Crossfit training, and participating in a number of running and cycling in events in Texas and New Mexico. You can follow Ron healthy life style on Facebook at Ron Appling.
Comments
comments