Where My Feet Have Carried Me
By Sarah Satterfield
I ran this morning. Zero dark thirty and I, as usual, started my day with a run. It wasn't always like this. You see, I have never been an athlete. But that all changed in 2007.
My most unlikely journey began on Father's Day, June 17, 2007. My husband, Phalen, rarely had any time off work. This day was an exception and we decided to take advantage of it with a family outing to Disney. We loaded our two little girls into the car early and began our adventure. Peyton turned five that very day. Her baby sister, Emma Claire, was a mere four months.
Disney was crowded as it often is during the summer months. The day was hot and the children quickly grew restless. There was something else wrong, though. With Phalen. Phalen never complained of being sick, but something was not quite right. By the middle of the afternoon we were all ready to return home. Again out of the ordinary, Phalen said he needed to lie down. I unloaded the children and got everything together to teach summer session at our local college the next morning.
My cell phone rang the following day at about noon. It was Phalen. The manager of a furniture store, he was on his way to court to settle a dispute with a customer. His back was bothering him again. When he was just a few blocks from the courthouse, he decided to make a U-turn and go to the hospital instead.
This was the first of several bouts of intense pain. The pain was accompanied by unexplained and alarming surges in his blood pressure. He was in and out of various area hospitals for close to three weeks. Despite heavy medication, the pain would not subside. The ultimate diagnosis was devastating. Phalen—a thirty-five-year-old father of two–had an extremely rare and incurable disease that causes mid-sized arteries in the body to collapse. I carry the name of that disease still to this day on a crumpled post-it note in my wallet—polyarteritis nodosa.
The disease ravished Phalen's body, causing acute kidney failure. The pain he had been experiencing was brought on by the literal breaking apart of his left kidney. The initial prognosis was grim; Phalen was given a 13% chance of survival. Thirty-five years old. The father of two. 13% chance of survival.
Treatment with massive doses of steroids ultimately sent Phalen's disease into remission. But those same steroids caused avascular necrosis. Both femoral heads broke apart, necessitating a bilateral hip replacement. That surgery was followed-up by a heart attack.
I watched my husband struggle to stand. I watched him using a walker and insisting that all the blinds be pulled so the neighbors could not see in. I watched from the comfort of my recliner.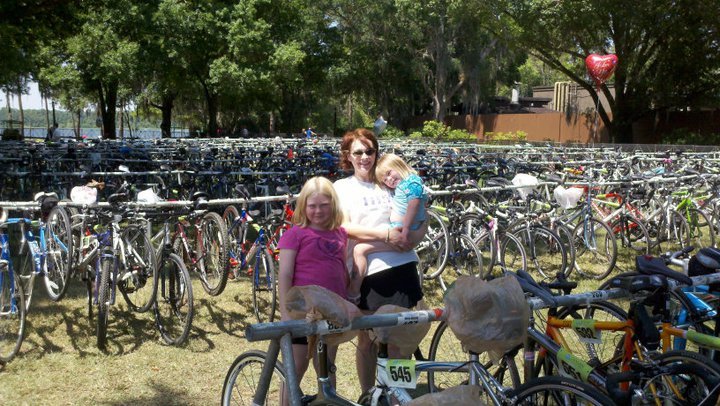 And then I woke up. I came to the realization that I had been blessed with the gift of health, yet was doing absolutely nothing. So I ran. I had never run before, but I ran. And I kept running, because I could. I ran for my husband. I ran for my children. I ran for my father who died way too young after a very short bout with cancer. I ran for those who could not.
And I am still running. I wish to "run" this country, and have thirteen states under my Spibelt thus far. I run 5Ks, half marathons, and marathons. I just run. This unlikely athlete—a middle-aged mother of two who one day got off the recliner—is now a nationally ranked triathlete. I have competed in the National Olympic Length Triathlon Championships; I have done Dopey. I have run the mountains of Vermont, and the hills of Utah. I have run through Amish country as well as the Everglades.
So where have my feet carried me? My feet have carried me to a place far bigger than I. A place that forced me to look inward and appreciate what I had. May your feet carry you there too.
Comments
comments