Preface: This may be the only blog you read about running that does not mention running. I thought about editing it to mention running, I thought long and hard, and I decided against it. This story about my life is such a perfect metaphor for why I run, much as running is a perfect metaphor for my life. Let's face it, without the running community, running would be the loneliest activity in the world. But the running community happens to be the most supportive group of humans I've ever met, so please enjoy this read, and take it upon yourself to apply it your own life, whether you run, walk, hike, roll, or do whatever, that inspires you to be a Moon Jogger!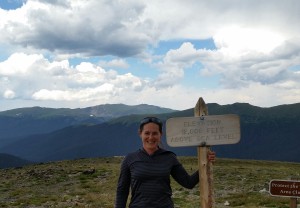 On my most recent adventure, it didn't hit me till about 300 miles in how incredibly alone I was. Not lonely, but alone. I was struck by the sheer number of things I do alone, and happily, that most people never do. Most people don't even go out to eat alone, much less find themselves in such states of aloneness that they cannot rely on a loved one for help if they chicken out. It's a consequence of a fluid intermeshing of my career, my personality, and my complete lack of choice in the matter. And I have some advice for you if you're looking to beef up your bucket list:

Get lost. A lot. Get lost alone.

Suddenly realize you are no less than 30 miles from the nearest one-horse-town, and that your car is a bit old and unstable, and that you have no cell signal. Let that terror sink in, but not for long. Admire the near untouched scenery while you imagine yourself calmly formulating a survival plan in a worst case scenario, which you will no doubt enact immaculately, returning with yet another great story.

Go on long hikes and camping trips alone. Go to unfamiliar environments. Research the wildlife before you go, then feel that blissful terror and awe again when you realize you just bent down to tie your shoe, and that a solitary, petite female human in a crouched and blinded position on a rocky mountain outcrop is an easy target for a mountain lion. Then get up, feel the weight of the large knife you had the forethought to bring, feel the weight of your wits, and of your ever increasing knowledge of the world around you that you consume with the fervor of a starving dog, resume your apex predator stance, and continue your journey with cautious confidence, watching for danger while simultaneously tuning out everything that isn't the stunning vista in front of you.

Go visit a friend who lives in one of the most amazing places on earth, which happens to be quite remote. Have car trouble on the day you plan to leave. Realize no one can help you for at least a week. Get it figured out. Then be sad when you do because now you have to leave.

Go to a foreign city and go for a walk and suddenly realize you are miles off course and not only is your grasp on the language shaky, but that almost no one there speaks yours at all. Then figure out what to do, and come home with a great story (but come home!).

Get lost in a city that's not far from yours at all. Sometimes that can be more fascinating and terrifying than anything.

Jump off high cliff into water, just because you were dared, (but make sure others did it safely before you), because you are more scared of that than everyone else, and that makes you feel quite alone.

Learn to find your bearings. Utilize the guidance of the sun, and know how to react if the day is overcast. Read, and observe, all you can about your world. Learn to quickly identify your relevant strengths and weaknesses. Feel the weight of your wits as you figure it all out, and be glad in the stories you'll have to tell. Get very in touch with your universe or your higher power, just the two of you.

Then go back home. Pay your bills. Maintain your home. Care for your family. Set good examples. Feel the weight of the burdens of your loved ones on top of your own. Face everything you are required to face as a member of society. You'll have great stories to tell from all that too. You'll have so much advice to give about being a good grownup. You'll be full of helpful analogies. You'll mostly be winging it, for as long as you live, but your heart is in the right place, and you're not naive, so it's okay if people listen to what is, at best, your educated guess. After all, you must know a thing or two about something.

And next time you go get lost, after all that time in the real world being un-lost and un-alone, and everything is suddenly terrifying and amazing, and you have no one to help you but yourself and your wits and your luck, the lions just won't seem that scary anymore.
-Maggie Hills
Comments
comments