Where My Feet Have Carried Me
by Rik Zortman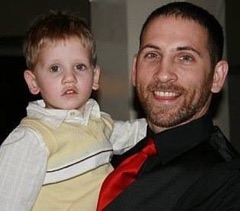 My name Is Rik Zortman and I have never been a runner. That changed when a life tragedy struck our family.  Here is my story as to where my feet have taken me.
Back in 2008, I was married and had five wonderful kids, four boys and one girl. I was stationed overseas as a military contractor when I got a fateful call on November 20th.  My wife had said that our youngest, Armstrong, had just had a seizure while being babysat and was being sent via an ambulance to Children's Hospital in Omaha.  I was helpless. I just couldn't leave. I was stuck at work wondering what caused this. I arranged with my employer to take emergency leave and fly back and see what going on. I found out before I left that Armstrong had a large mass on his brain and that he was going to have surgery on the following Monday, the day I was to arrive home.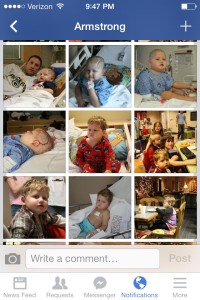 When I reached the hospital, Armstrong was still in surgery. I was numb. I was in shock. What came next from the doctor was something I will always remember. Your son has glioblastoma. Grade four brain cancer.  The doctors assured me they would do the best they could to remove it. I was thinking how? Why? All of the questions that a cancer parent was asking. A carepages account was created (http://www.carepages.com/carepages/Armstrong) and we journaled whenever we could and in our process, followed other parents and their journeys.
Weeks of radiation treatments, two more surgeries, and countless trips to Children's hospital. We even drove hundreds of miles from Omaha, Nebraska to Houston, Texas to see the best care available and it was taking a toll. Steroids made his body, not just his face, balloon up to twice his weight. We were trying what we could to help him live his life.  While in Houston, the best children's doctor said with a tumor this progressing, he would only have 3-6 more months to live. We were in shock and decided that if he had this short of time, to come back to Omaha and live his remaining months at home.
April 9, 2009 began just like any other day. A drive to Omaha for therapy followed by a trip to McDonald's because he did the best that he could. Did I mention that Armstrong was only 3?  He was such a trooper laying there taking the radiation treatments and amazed those that he affected. Well, later that night, he had a seizure that ended up taking his life. There was no more pain for Armstrong. To this day, it's still heartbreaking wondering how did he get it. Why did he get it and why us?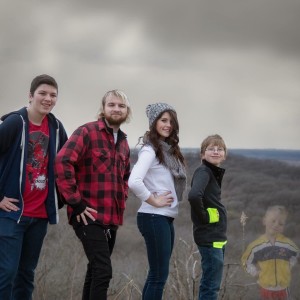 How could I personally remember my son? What could I do to live his memory thru me?  The one thing that came to me was running. Armstrong loved to run and although he was gone, he could run thru me. My first race was just days after he passed and it was a local 5k and I ran the majority of it without any training. I fell in love with the beat in my head and the feet hitting the pavement. I was now a runner.
2010, I signed up and ran my first ever half marathon in Kansas City called Rock the Parkway. I decided to run with a pace group because I had never ran a race this long ever!  I felt rejuvenated at mile 11 when his song came across my ipod. It was sprinkling and I would be lying if I didn't have tears running down my face.  The song: 1, 2, 3, 4 by the Plain White T's.  To this day, anytime I unexpectedly hear it or the song Human by the Killers, tears immediately fill my eyes.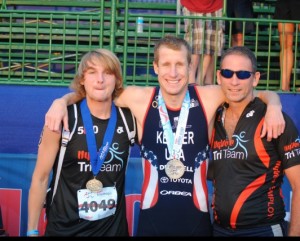 My oldest, Robert, ran the last leg of a triathlon in 2012 and my daughter, Isabella, took up two years of cross country for her high school.  I feel proud that my running has inspired them to hit the pavement. Fast forward to 2016 and in just under six years, I have ran 10 half marathons, 2 full marathons, and countless shorter races, including now virtual runs that I run here in the small town of Avoca.
Running will always be something that do until my body can't do it anymore. There are days where I don't want to do it but then I think back and realized that the motivation that I have is the memory of Armstrong and it gets me to lace them up and go for my run.  If it wasn't for a life changing moment, who knows if I would be a runner today.  This is where my feet have taken me.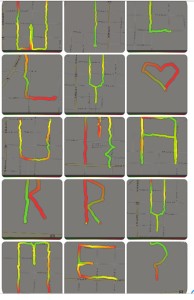 We all have motivation to be a runner, whether it is a goal to be healthier or running for someone. It's never too late to become a runner. Today can be your day one. You can do this. If a middle aged man can pick up running, then you can to.  Here's to all the runners that I have run with and the runners that I will run with in future races.
Note: Since 2010, I got divorced and recently got remarried to a wonderful and caring lady who I run for as well since she battles RA.  I proposed to her by making letters via GPS and spelling out will you marry me?
**All walkers and runners are invited to join Moon Joggers! If  you have not signed up for MERCURY RISING  (one of the paid registration options) do so now and you'll be able to save 25% on our virtual races in 2016! (Use code RUN2MERCURY to save 20% on MERCURY RISING)
Comments
comments