Where My Feet Have Carried Me
By Misty Lamendola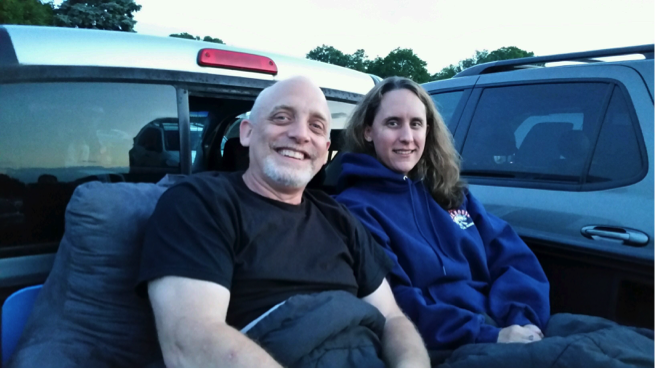 As I thought about the theme of "Where My Feet Have Carried Me" it came to me that while my feet have carried me through many things in life already I did not get in to the serious walking until 2015. I had struggled with many health issues through the years and my husband, Russ, faced many health issues of his own. There were times when I thought I was going to lose him. It was during these times that my motivation for staying active went away. I was never considered overweight but I did watch the scale increase in numbers.
As Russ and I talked we knew we had to get healthier in spite of the health challenges we faced. I have a bad knee and I knew running was not for me but as I pushed Russ to sign up for his very first half marathon I wanted to do something as well so I signed up for my first Mile in the Sand. These races were happening the same weekend so we could train at the same time. I started off walking on the road near our home and I remember struggling to even get through a half mile. We found a park nearby where we would go most Saturdays and saw the same people each time. It was a neat experience and I started to get in the habit of improving my pace for one mile walks. In September 2015 I completed my Mile in the Sand with my dad. I did not realize how different being in the sand was and my dad handled it much better than I did. The next day I watched Russ complete his first half marathon and it was inspiring watching so many people participate in the race, some with their own challenges, and others supporting them on the sidelines.
After a doctors visit at the end of September we were faced with information that there was a high probability that I was going to need surgery that would prevent me from ever having my own child. This was heart breaking news and came at a time when we were dealing with a situation where people we thought we could trust turned against us. With both of these happening at the same time it pushed us in to isolation so we turned to our running/walking. I used my walks to spend time with God in the quietness of His creation.
As I continued with testing to confirm I definitely needed the surgery I made the decision to step it up so I would be healthier for my surgery and hopefully not have as long of a recovery. In November I did my first Turkey Trot, which was also only a mile walk. In December I started doing 5K walks. I joined Moon Joggers and absolutely love the community and the virtual races that are offered. The virtual races have given me extra incentive to push forward even when I didn't want to. On February 1, 2016 I had the surgery and the healing process was difficult for me. I never had major surgery so I was not prepared for the recovery period. I had been so used to walking every weekend that when I couldn't I started to get depressed.
Towards mid-March I tried my first mile, which was exhausting. In early April I successfully complete my first 5K since my surgery. The pace was slower than I wanted but I was thrilled to finally be able to go the distance. In May we found a new place to race and train. On May 20th I had my best 5K since the surgery, which was only 2 minutes from my best time since I started doing 5Ks. I am well on my way to recovery and look forward to getting even stronger and faster.
Life gives us many challenges. Walking helps me to quiet myself before God and get a clearer focus on what to do next. I love my walks and I love that I am able to watch my husband do his running. Together we are able to support and encourage each other to be healthier. Later this year I will be doing the Mile in the Sand again and the next day while Russ does the half marathon I will be doing a 5K. This will be my first non-virtual 5K race. I am looking forward to it.
About me: My name is Misty Lamendola and I am forty years old. I have lived in New Jersey most of my life with the exception of a couple years when I lived in California. I married Russ in May 2000. My full time job involves clinical trials but I have a Masters Degree in Christian Counseling, which I use to work with people in ministry. I enjoy walking while my husband runs and spending weekends at the park. In the summer I enjoy going to the drive-in with Russ to watch movies under the stars.
Comments
comments