WHERE MY FEET HAVE CARRIED ME:  Whine & Wine
By Michael Brandt
 The 29th Marathon du Medoc, held in Pauillac, France on September 7, 2013, was by far the best marathon I had ever participated in, and it was not your typical race by any means. Pauillac, a town on the banks of the Gironde River, is famous for its legendary wine, elegant stone architecture, and French hospitality. Nowhere in the world will you find a marathon that is as entertaining as the Marathon du Medoc. For many, such as I, it was a destination marathon and a "must-do" for serious junkie marathoners.
Marathon du Medoc advertises itself as the "longest marathon in the world." When I arrived at the starting line on race day, the sponsors had a Las Vegas style Cirque du Soleil atmosphere with music, several thirty-foot high balloon acts with a performer secured underneath each balloon spinning around inside a medal sphere, as well as many costumed street performers mingling with the runners. I was immediately immersed in the festive ambience with ninety percent of the runners in elaborate costumes making this a marathon for any fun loving runner.
As the 8,500 marathoners gathered over a six block radius behind the starting line banner, many mingled and walked about the crowd viewing the different costumes. This year's theme was science fiction, and the costumes included Princess Leias (both males and females dressed like her) Darth Vaders, Avatar's Navis (painted blue bodies were very popular that year), Leelos of the 5th Element, Yodas, and one hairy grunting Chewbacca.  There were also centipedes and portable floats of different designs like a flying saucer.
The entire 26.2 miles (which was actually recorded by a GPS at 26.94 miles) was a wine drinking party or at best described as a – binge with a marathon!  Approximately twenty percent of the participants came from fifty-five countries and six continents. Most of the runners were not interested in time or speed, except for the winner who won his/her weight in wine.  Unlike other typical marathons, very few runners were interested in finishing faster than the six and a half hour allotted time limit (the time limit which was introduced as a way to discourage runners from spending too much time at the wine stops along the course). It was a whine thing by the sponsors.
The course looped around fifty-nine stunningly beautiful chateaux, twenty-two chateaux served wine at their "refreshment stands" with oysters being served at mile 21. Water was scarce, so I had to ask in French, "L'eau," followed up with, "Water," then someone would point to a separate table, often located out of the way. Gatorade, an electrolyte replacement for runners, was nowhere to be found.
The course ran through quaint, picturesque French towns and chateaux with massive crowd support. The result was a carnival-like celebration with runners and spectators enjoying the best that the region had to offer.
The Marathon du Medoc course read like a wine list: Chateaux Beychevelle, Gruaud-Larose and Lafite Rothschild. Twenty-five musical groups from string quartets to school bands to bagpipes entertained the runners and the townspeople turned out cheering the runners. Families had picnics along the roadside adding to the spirit of the marathon, and they often invited runners to share their splendid assortment of traditional French foods.
It was evident from the beginning that the course lacked toilet facilities, more commonly called "blue grottos" stateside, and it didn't really matter as ladybugs, Wonder Women, and scary space creatures ducked between rows of vines to answer the call of nature.
The time limit was 6:30 and I finished in 6:28:55. I stopped at many of the elegant chateaux, joined in the camaraderie, drank some wine, and met new friends.  By the time I stumbled across the finish line, I couldn't face any more wine or whines. My quads were tight, my liver swollen and twitchy.
At the finish line, the organizers gave everyone a Marathon du Medoc finisher's medal, a nicely inscribed commemorative backpack, a commemorative bottle of wine in a wooden box embossed with 29th Marathon du Medoc, and an orange plastic drinking cup with lanyard – for more wine.
The day after the marathon, the sponsors hosted the "Balade," a 9K recovery walk which turned out to be a 7.8 miles, or 12.5 kilometers. I had registered beforehand since it was limited to 4,000 walkers. When entering the hosting chateaux, they gave everyone a bright lime-green wrist band and a Tastevin vessel which is more commonly known as a Sommelier's wine tasting cup with a cord for hanging around your neck. Donned in my grape colored Paris Marathon t-shirt, I was prepared for any wine spilling episodes. The Balade course traveled around multiple vineyard back roads serving even more varieties of Bordeaux wines with an elegant lunch inside a circus type tent located at the end of the walk in an open field.  A traditional French lunch was served and each table had multiple bottles of wine.  For refills, the chateaux had a tapped casket with a spigot which you just walked over to and filled your bottle. What a party! Make that a two day BINGE with a marathon thrown in. The 2016 Bingeathon (act of excessive or compulsive consumption of French wines with a running habit) will be held on September 10th. À votre santé!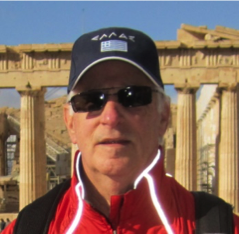 Michael Brandt is a veteran marathoner having completing marathons on all Seven Continents, sixteen countries, and twenty states while finishing 108 marathons and 112 half marathons. Michael is a retired law enforcement officer living in Northern California who been running marathons since 1983.
Comments
comments