Every Mile Matters
By Laura Lok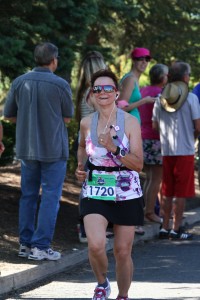 Hi my name is Laura Lok from Spokane, Washington.   I started my adventure with running like many do late in life and for a reason.  Mine was for a friend that wanted to join Team In Training to raise money in support of her sister in law that was battling leukemia. I said "I will do it with you." She didn't even ask but a pair is always better than one and helps motivate each other.  It went well and I walked my first half marathon at the Nike Women's half in San Francisco.  Everyone thought I was nuts to walk that far and prior to the event the most I had done was 10 miles.  I cried at mile 11.  Received my bling and crashed for a few hours afterwards.
I never thought I would do it again.  Just a one time bucket list kind of thing
WRONG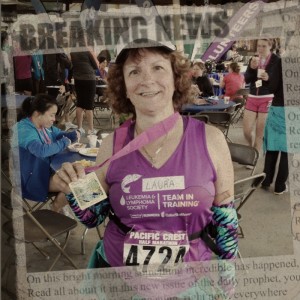 Something happened as I crossed that finish line and I picked up my medal, I fell in love with the race.  The people I met along the way.  The fact that I could actually accomplish this after a couple of months of training. The finisher shirt, the medal. All of it.
So I continued a few more races walking mostly with an occasional jog usually near the end.
After about 2 years I started running a bit more but always became winded.  My legs could go for miles but not my lungs.  The doc says I have reactive airway disease.  Whatever I thought he made that up, yeah I know they don't make things up.  I started an inhaler and things were better but not great.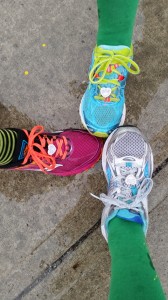 This past year I started running more than walking.  The more I go the better I get. Imagine that TRAINING really is training your body to handle it better and better.  I still only run once or twice a week but the rest of the week I get in lots of walking or hiking. When training for a half I increase my running to 3 times a week with a long run but sometimes walk at a very fast pace on the weekend.  I think that combo has really helped me do better.  At almost 50 and on my 13th official half I finally achieved my goal of a 2:30 half.  Yeah I am no speed demon but if I keep this up I may eventually get to 2:00 someday.  But if not oh well, I'll keep at it.  The races have taken me all over. Giving me an excuse for a girl's weekend or mini trip.
I have 3 more halves to do this year, all with friends and mostly hilly or destinations like Las Vegas.  Not expecting to beat that time because these races are about friendship.  I have friends that are faster and some that are slower we each go with what we feel like for the day. One of the reasons races mean so much to me is the people.  My friends and people I met along the way and hear their story.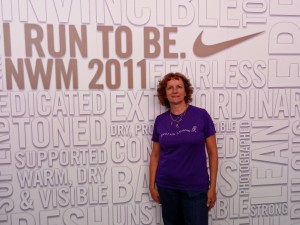 I have had people say you have been my rat this race thank you for helping me keep a pace and not give up.  The last 3 miles of one race a gal I started talking with said it was her first race and she had never done more than 8 miles she didn't think she was going to make it. We talked some more and another mile gone and another finally I said "You know you have only half a mile left you got this."  She thanked me and said she couldn't have done it without me.  She could have she just needed another reason to keep going and I was there to be that reason.  You never know who you will inspire as a slow runner or a fast runner.  We are all out there making our miles count for a reason, whether we know the reason yet or not.
Run or walk for your health or for a cause every step you take takes you someplace you haven't been before.
Comments
comments