Both Hills and Valleys: My First Half-of-a-Full Marathon
by Michelle Roberts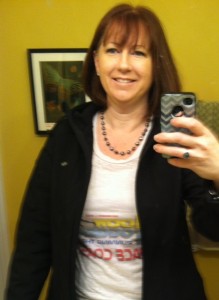 Looking back at the race expo for my first full marathon, I'm convinced it was my favorite part of my pre-race preparation but also maybe my worst mistake.
After a full week of encouraging posts and wonderful advice from all the Moon Joggers who have been there before me, I was so excited to participate in my first full marathon, the 40th Anniversary of the Tallahassee Marathon on Feb 2nd. When it came to the Expo, I decided against attending the viewing of "The Last Mile" to be sure I ate a proper lunch and had time with my two children before race day. But I didn't want to miss the first speaker, Bart Yasso of Runners World. So I picked up my race packet, walked through the small sponsor displays and had a seat near the front.
He was speaking about all the unexpected places running can take you in your life. With new Moon Jogger friends from all over the world and one, Hector from Germany, who created a FaceBook page just to invite everyone to cheer me on, I knew exactly where he was coming from. His photos included pictures from his first time at Badlands and he talked about the sinking feeling he had when the race director announced the 146 miles with one minute to start. It was 126 miles further than he had ever run before! For me it made those last 6.2 after training to 20 seem easy. He shared about the time he ran a marathon in Kilimanjaro with 149 East African runners. Even at the peak of his ability his 2:40 time brought him squarely to a finish line with no clock, no sign and no spectators. Enjoying lunch by then, the Race Director joked that he must have gotten lost along the way since all the other runners were hitting the showers. And when he told him that in the US they keep the chute open for 5:30 to 6 hours, the man laughed saying no one could ever run a marathon for so long. Bart Yasso told funny stories about his assignment in the Bare Buns Run in a nudist camp in Washington State and recounted more serious subjects like the way the Comrades Marathon in South Africa influenced the movement to end apartheid.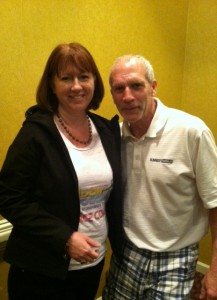 This runner, this writer was a Moon Jogger long before the group was ever created. I sat through his talk twice expecting a different topic but so glad I could hear it all told again with added details and new questions from the audience. He is filled with love of the sport and a deep appreciation for the amazingly generous and good-hearted community of runners around the world! If you ever have an opportunity to hear him speak or haven't yet read his book, I encourage you to do both. So sitting through his talk twice was by far my favorite part of my pre-race preparation.
One thing he did before his talk, though, asking the crowd how many were running the half marathon? How many were running a half for the first time? Then, how many were running the full marathon? And how many for the first time? I raised my hand proudly and smiled eagerly at the other first timers in the room as the audience clapped. He advised us over and over again not to start too fast. To maintain our pace. And he asked if anyone in the room had never experienced a running injury? I raised my hand at that, too. More to do with my inexperience than my wisdom to listen to my body or hold back when necessary. But that was my worst mistake! Raising my hand. Smiling. Didn't even think to knock on wood. Because my injury-free status had a time clock on it. And it was already counting down.
____
The morning of the race was wet and drizzling. Not pouring rain or even dripping into my eyes just a really dense fog and light drizzle at times. I'd followed the advice of all my Moon Jogger friends for days in advance. Rested well Friday night in case I couldn't sleep Saturday, like Sheila recommended. Ate 3 hours before the race like Eric mentioned, hydrating well until an hour and a half before the start. I even laid out my clothes like the first day of school to be sure I didn't forget anything. I had my pics of Sheila and her mother from Space Coast Half Marathon that I pinned beneath my bib number, my Moon Jogger button on my shoe, the Voyage to Venus bracelet on my wrist and even my Voyage to Venus bib pinned to the back of my Space Coast shirt for good measure. Partly in hopes of recruiting a few new members along the course.
I waited nervously for the start in the last marked corral, 10:30 or slower. Carolyn and Sheila will laugh with me on that one cause I'm a whole lot slower than that given my Galloway intervals but the right corral just the same. I didn't recognize anyone there but it felt much lonelier than being alone among 25k at the Disney Princess last February. Alone in only 800 half marathoners and maybe 400 marathons was much different. I listened to music and thought of my Moon Jogger friends running in New Orleans and South Florida that day. I knew they were there in spirit.
And the best part of running in Tallahassee was that the start was on campus at Florida State University, my alma mater. After the siren sounded I ran past the old track I used to walk for exercise 25 years earlier as a 17 year old shy freshman. We wrapped around and past Doak Campbell stadium where I celebrated our winning football seasons with friends and learned to be a lot less shy. The course followed the St. Marks trail lined with old oaks dripping Spanish moss and along what once were train tracks through pine forests. I ran further at the start without stopping but not so much that I wore myself out. After a mile or two I found a few runners using intervals who ran ahead as often as I ran past them. And using the Garmin Moon Jogger Linda Livingstone sold me, I was able to maintain the pace I needed to stay well ahead of the 6 hour cutoff time.
That was until I slipped on wet leaves at mile 4! I didn't fall but righted myself, jarring/twisting my left knee. The trees lining the course were no longer my favorite thing about the race! Despite the pain in my knee I managed to keep up with the few runners I'd marked for pacing. They crept a little further ahead but not too far. As we approached the half marathon turn around I knew I was slowing down and then it happened. Every single runner around me turned! Every single one! I think I even shocked the volunteers when I continued forward toward the marathon turnaround another 1/4 marathon ahead. I couldn't see a soul ahead of me, either. No one except the police officers still blocking the roads. And the volunteers who cheered me on for continuing to fight. I remembered the email I'd received from the race directors a couple weeks before announcing that they were closing the half marathon to current registrants due to an overwhelming number of requests to downgrade from the full. That's where my people were now, headed back to finish the half. I was proud of myself for staying true to my original goal and showing up for the full no matter the outcome.
I have to say those miles between 7-13.1 were hard. I knew I was last because of the injury but didn't want to concede. There weren't even runners headed back toward me for miles since the marathoners were still headed toward their turnaround and the half marathoners were all behind me. But I kept pushing ahead, running as often as I could but hobbling by the time I started to see the marathon leaders heading back. The other runners were great! The volunteers were so encouraging! And I kept thinking about what Sheila Dawe said about enjoying the race no matter what. It was a beautiful course and I was determined to see the entire thing. Just maybe not twice.
So when I neared 13.1, I limped toward a volunteer who let me use his phone. I called my husband and asked him to pick me up along the St. Marks. It wasn't an easy call to make and I thought so much about all my Moon Jogger cheerleaders expecting to see my finishline photo with my medal. I walked back and forth near the street where my husband would pick me up until my Garmin read 13.1, hit Stop, Reset and then I waited.  I thought about my son and daughter looking forward to congratulating me at the end of 26.2. But there'd be no 26.2 for me today.
Instead I finished my first half-of-a-full marathon. Very different from the four half marathons I'd run previously. It meant that on a healthier day with a good knee under me and no leaves in sight, I only had to do what I did that day and then go on to finish the other half to earn my first full marathon medal.
I'm thinking maybe Miami with its palm trees, even I could maneuver around a huge palm frond without incident. I think.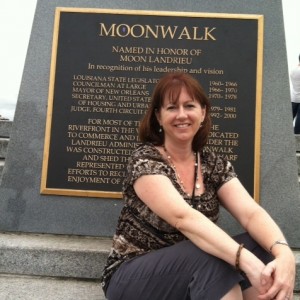 ABOUT: Michelle Roberts lives in Tallahassee, Florida, with her husband, Paul, and two children, Ashleigh (10) and Philip (8). She ran her first 5k in October of 2012 and her first half marathon in February of 2013. She was diagnosed with Bipolar Disorder in 2001 and maintains a healthy balance without the use of medication thanks to a job she loves, a supportive family, regular exercise, her writing and therapy. A wonderful life of "Both Hills and Valleys".
"The marvelous richness of human experience would lose something of rewarding joy if there were no limitations to overcome. The hilltop hour would not be half so wonderful if there were no dark valleys to traverse."
Helen Keller
Comments
comments