Back of the Pack: Following My Own Advice
By Amber Hadigan
Last month I wrote about the need for people to stop comparing themselves to others and to take pride in their own accomplishments. A few days after I wrote that column, I came face to face with my own advice.
I've been training for a half marathon, which is in April. I signed up for a 10 mile race on March 9 as a preparation for the half. I went online and checked the finishing times from the same race last year, and my heart sank. The slowest finisher completed with a time average of 10:43 per mile, which is about 1 hour 47 minutes for the ten miles. I had never done 10 miles in under two hours. I had visions of being the last on the course and everyone gone by the time I crossed the line. I dreaded the race for weeks, not feeling good enough to be running it.
Race day came. I reminded myself of my own advice and took comfort in the fact that I could complete ten miles, no matter what the time. I joined the crowd in the room preparing, and found a couple women to talk to. I admitted my fears. They smiled and nodded, but were faster than I.
When it was time to shuffle out to the starting line, I made my way to the back of the pack. I found a couple ladies who said they would be running as slow or slower than I. One woman said she was fighting a knee issue and was afraid she may not finish at all. I hung back with her at the start.
I watched the entire pack pull away, and it was just the two of us in back. After about a half mile, I pulled away from the lady I was running with. So I knew I would not be last, which, no matter how much I talk about accepting ourselves, I still have my own insecurities.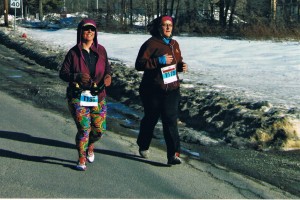 The course was two laps of five miles. At the five mile mark, a friend of mine, who had finished the five mile race, was there to cheer me on. There's something about hearing someone chant your name that gives a little kick to your step. I picked up the pace just a little. He high-fived me as I passed. At the time I still had one person behind me, but I could see someone ahead of me, and I worked on reeling her in.
The second lap was tougher, but I was running a little faster. At one point I ran an 11:16 mile, much faster than I usually run. I felt proud. And as I ran just a little faster, I managed to pass two people. I learned later that the two people I passed did not finish the race, but at the time all I knew was that three people were behind me. I felt some relief and used it to push myself.
There was one other person in front of me that I could see, and for the last couple miles we went back and forth; I passed her on the downhill, she passed me on the uphill. I got tired and slowed and got passed again after passing her. We must have done it half a dozen times. The last mile, she pulled ahead of me. At that point, I was happy just to be continuing. I knew I couldn't reel her in, but was thankful to have someone close to me to challenge me and keep me going.
When I crossed the finish line, my friend was still there to cheer me on. It felt great to have someone celebrate my finish with me. I was disconcerted that they had started dismantling the finish line before I ever crossed, but forgot when my friend came up to hug me. I seemed to matter less about the time than it mattered that I completed it. The woman who had been running back and forth with me also came up to congratulate me and thank me for challenging her. That is the point of running a race, especially if you run in the back. We support and challenge each other, and appreciate it when the race is over.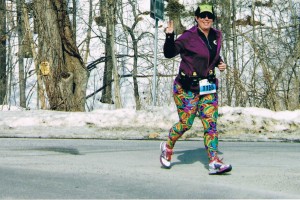 My finish time was 1:58:04, much faster than any previous ten mile run. I was very proud of that time. And it gave me the feeling that my half marathon dreams will come true.
At the end of the day, finishing 74th out of 75 didn't matter. Having the finish line partly dismantled didn't matter. My fear of being last didn't matter. Even if I was last, it would have been okay, because I challenged myself to run a race, a distance I had not raced before, and even when I felt the fear, I showed up. I am reminded: courage is not the absence of fear, but showing up even when you feel the fear. And I conquered. I won, just by crossing the finish line. I will never fear being last again.
Bring on the half marathon!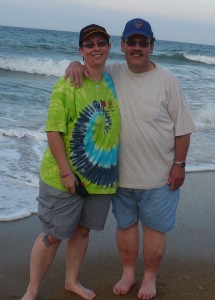 Amber Hadigan currently lives in Hyde Park, NY with her husband John and her two cats, Sobe and Scrappy. Originally from Wisconsin, she has lived in many different states. Now settled, she spends her time working, freelance writing, and writing and performing folk music. A runner as a child, she began running again in May 2013 and has rediscovered the peace and joy running gives her.
Comments
comments