Back of the Pack- Meeting Meb
By Amber Hadigan
On Monday April 21, I was glued to my computer watching Meb win the Boston Marathon. My heart raced as he closed in on the finish line, but someone else was closing in on him. I cheered when he crossed, the first American to win the race in 31 years. And I knew that my week would be perfect because I was going to meet him the following Saturday. One year after the Boston Marathon bombing, it felt like such a momentous achievement to have our country's banner waved at the oldest marathon in the world.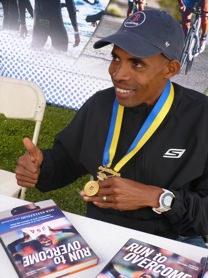 As the ambassador for the Kiwanis Kingston Classic in Kingston, NY, everyone running was promised an opportunity to meet Meb, who is now an American hero. Never have I met such a down to earth, generous and gracious man.
His motto is "Run to Win" which he signed in the cover of my book. In his talk, he explained that it does not mean finishing first. It means giving it everything you have. When talking about his Boston Marathon, he explained that his first goal was to win. His second goal was to get a PR. His third goal was to do the best he could. He said if he got a PR and did not win, how could he fault himself, as he had given it his all and done the best he ever had.
He runs to win, so he takes chances. He said he could have held back, but he was pushing himself to his own limits, and it gave him a win in one of the most meaningful marathons in history, and he took the glory for his country and  for the world. He felt that it meant helping give Boston back to the world after the horrible outcome of last year. He wore the names of the dead on his bib and raced for them.
He answered every question. He took the time to sign autographs and take pictures with each and every person. He joked with the crowd and was so gracious to all those he met. With a high school track meet going on, many of the kids came over to meet him also. He took the time to answer their questions, joke with them, and give training tips. He truly was a man of the people, a man representing our country in the best way he knew how, to spread the love of running and racing to every single person.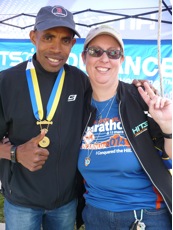 I think what impressed me most was when he was talking about adversity and giving up.  In a marathon where he was seriously struggling, he wanted to quit at about mile 19.  It was then he thought about his father, walking 225 miles to escape his war-torn country, having to leave his family to provide them with a better life.  As Meb said, if his father could walk 225 miles, he can make it another 7 to complete his marathon. He then recounted a story of meeting another runner on the course, and they each cheered and pushed each other forward. Thinking of his father and using the encouragement of another runner as fuel, he completed the race. The two ended up finishing together.
This is what running is. It is a community of people, united through common goals and struggles. It is cheering for each other, leaning on each other, supporting each other through the rough times and the great times. In my life, I have never met a more caring group of people than runners. We may not know each other, but we are brethren. I know when I see a runner on the street, I always think "my people", whether he are doing. 6 minute mile or a 12. For this crazy love of running unites us.
At the Kingston Classic, I ran the 10K race. At the starting line was Meb, slapping hands and cheering on every starter. He held the tape for the finishers of each race. He presented awards, and showed himself to be a true ambassador of our sport. I have to admit, getting a high five from the winner of Boston put a jump in my step and encouraged me through the entire race. I made a PR that day, beating my goal by almost two minutes!
I am proud to be part of a community that include people like Meb. For he is the rule, not the exception. When I go to a race, everyone is friendly. I always meet new people, and we can talk forever. We are a support system united through the sweat of the miles ran. If you are not a runner, I do not think you can understand.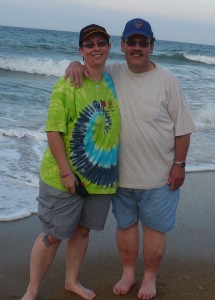 Amber Hadigan currently lives in Hyde Park, NY with her husband John and her two cats, Sobe and Scrappy. Originally from Wisconsin, she has lived in many different states. Now settled, she spends her time working, freelance writing, and writing and performing folk music. A runner as a child, she began running again in May 2013 and has rediscovered the peace and joy running gives her.
Comments
comments