Mending Things
by Michelle Roberts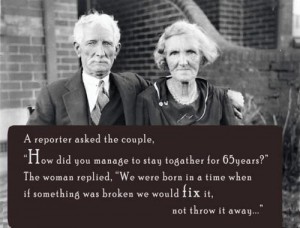 My grandfather lived 100 healthy years and I think of him often on my journey with Moon Joggers. My mother, brother, sister and I moved into his home when my parents divorced. I was just seven years old but felt the difference living under his roof from the start. Already in his 70's, his was a life of routine and order with dinner served every day at 5:30 sharp. I found comfort in the predictability and the relative calm.
Every morning he woke up early to do exercises – handstands, weights, calisthenics. Then he spent time working in the garden where he grew sweet potatoes, green beans, papaya, sugar cane, pomegranates, grapefruit, tangerines, kumquats, and too many other things to mention. We ate balanced meals every day with some of the food picked fresh from the yard. He saved aluminum foil, reused cans, and kept and repaired items that were broken instead of throwing them away.
I would sit on the carport floor late in the summer watching him remove the old sun-rotted plastic strapping from his aluminum framed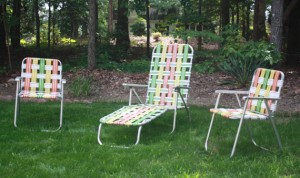 chairs like those in the picture. His strong, rough hands pulled off the old, measured the new and attached metal grommets to the ends. He wove the colorful strapping up and down on the seat and the back as the chair took shape. He was always ready with supplies when the next one needed repair. He lived in a time when everything could be fixed, nothing would be wasted and broken didn't mean something or someone should be tossed aside.
Maybe that's why his passing twelve years ago was so hard for me to accept. Even though he'd lived over 100 years, I never expected him to really leave. He had always been that reliable constant that was our family's safety net and security. Without him who would see the value in a chipped plate, reuse an empty can or see the potential in even the most damaged person.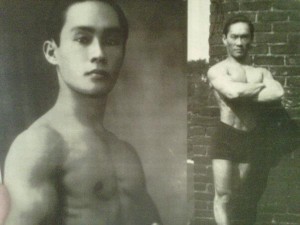 I was thinking about him when so many Moon Joggers replied with encouragement and invitations to try again after my failed attempt at my first Full Marathon last month. I'm so grateful to have found a world-wide community of menders, fixers and savers. With each new "I am a Moon Jogger" highlight I read another story of obstacles overcome and gratitude for support from friends and family. Because of all they have accomplished despite their struggles, Moon Joggers are some of the most resilient and dependable people I've had the pleasure to get to know.
Some of us are born with a safety net and the security of knowing that there will always be someone there for us when we fall. Others create their own throughout their lives like the bird gathering twine and sticks for its nest. They build friendships that feel more like family and patch their own safety net with those strong bonds. Because they already have the tools, those are the people who pass on the skill to others.
With every post by a Moon Jogger about an injury or setback the replies are a wonderful example of all the ways we hold each other up and catch each other when we fall. After all, we're tight rope walkers trying things for the first time and facing our own individual fears. I've watched more experienced members steady the rope, stake the net and call out to anyone reluctant to take that first step. And when they know it's time they also pull the net away giving others the confidence to go it alone because they've done the work and know they're ready!
Consider this my Hallmark card to all of you for the many ways you've been there for me and for all the good feelings that come from being a part of such a generous, supportive and inspiring group! Dennis, a fellow Filipino says it best, "Run Proud Moon Joggers!" XO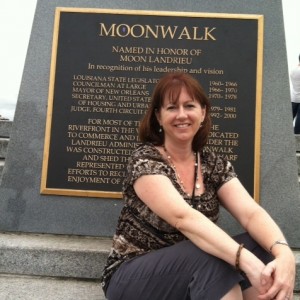 ABOUT: Michelle Roberts lives in Tallahassee, Florida, with her husband, Paul, and two children, Ashleigh (10) and Philip (8). She ran her first 5k in October of 2012 and her first half marathon in February of 2013. She was diagnosed with Bipolar Disorder in 2001 and maintains a healthy balance without the use of medication thanks to a job she loves, a supportive family, regular exercise, her writing and therapy. A wonderful life of "Both Hills and Valleys".
"The marvelous richness of human experience would lose something of rewarding joy if there were no limitations to overcome. The hilltop hour would not be half so wonderful if there were no dark valleys to traverse."
Helen Keller
Comments
comments