More Ramblings!!!!
by Perry Newburn
Running, for me, has to be fun and enjoyable – I know, I sound like a broken record but most people wouldn't do it and carry on with it if it wasn't. I have been asked the question many times – " what sort of distances should I do if I'm just starting out?" My first comment is always – " the first few times you go outit should pretty much feel as though you've done nothing." You wake up the next morning with no soreness. In the past when I've gone out for a run after a lengthy break I've felt great and pushed the distance a bit. However I've woken up the next morning very sore and with no motivation to do it again and hence another long break. It doesn't matter so much now as that is what I train for and expect a bit of pain and I can now work with it. It also doesn't matter whether there are a lot of walk breaks in those first few runs but these will decrease as time goes on – its important to learn to read the body as early as possible. So to start with its about keeping it going, keeping the enjoyment in there and loving the outdoors. Its also important to not worry about what others are doing as you are doing this for YOU. I have mentioned before that it took me a long time to join a running group as they were " runners " and I " wasn't". It took a while to change this mindset. As mentioned in my last blog it is important to set goals for ourselves and learn from them as this helps keep the motivation going and gives us something to strive for.
Another thing that will happen to all of us at various stages is loosing our " mojo". This of course will vary from person to person and sometimes it is hard to find the reason why. I have found , in the past month or so that my " mojo " has wained a bit and I was struggling to find the reason. However their have been a few factors ; I have been doing the same runs each week for the last 2 – 3 years without much variation, my shoes have covered to many miles/kms ( up to 2000 kms each pair) and this was causing some soreness in my legs so was getting wary of injuries; with the goal of USA pushed out ( due to circumstances) 5 months to Sept/Oct there had become nothing to aim for in the foreseeable future; and the winds we have had to put up with was wearing me down a bit – didn't stop me from getting out there though but did come close a couple of times. So with these what have I done about them . Firstly I have 2 new pairs of shoes and boy did I notice the difference straight away. Secondly I have varied where I have been running in the last few weeks and this has helped immensely in the mental state. Thirdly I have also varied my training a bit – with getting in the big mileage weeks I have found my speed was starting to drop ( not that I was fast in the first place!!). So I am now putting in a bit of speed work into my weekly routine. And fourthly I am putting some different runs into the 5 monthly build up to the USA. These are: hopefully on the 29th March – to the 30th March ( I will have these dates confirmed this week) I will be doing a 24 hr run around our local athletics track with the goal of reaching 200 kms and using this as the launch of the USA run with also the hope of raising a bit more money towards it. This will also make the run very real form now ; I am going to run a local marathon in about 4 weeks but keeping this as a fun one – the goal of a 3hr 20 marathon is booked for June.
With these all now in place there has been no problems with " mojo" and the running has been enjoyable – yes FUN. There can be a number of other reasons why a mojo can disappear such as work pressures, family pressures and so forth.. Just learn to work through it and it wont last forever.
Just to give you an idea of my training for the next couple of weeks – here it is:
Monday – 6am – 12 km slow run
10 am – 20 kms ( 5 km at 4 min 50 pace)
Tuesday – 6am – 12 km
10 am – 20 km ( 5 km at 4.50 pace)
Wednesday – 6am – 12 km
10am – 26 km( 10 km in 48 mins)
Thursday – 6am – 12 km
10am – 21 km
Friday –     6am – 12 km
915 –   25 km
Saturday – 35 km ( averaging 515 pace)
Sunday    – 21 km recovery – sometimes I will do a 2nd run of 10 km and aim for about 47 mins.
The reason the runs during the week are broken up is that I have to be back home to get my high special needs boy up and changed and dropped off the school by 930am ( hes in his last year at school).
If anyone has any ideas on what they would like me to write about from my perspective please let me know. And keep on having fun everyone.   corperry.new@xtra.co.nz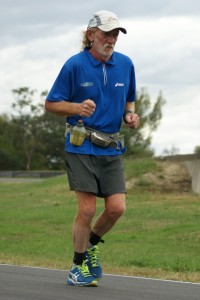 Perry Newburn is an ultra-marathon runner from New Zealand and the current leader of Moon Joggers. At the time of this post he has already logged 5,247 miles for the year and has plans to complete even more before the year is through.  Next year, to celebrate his 60th birthday, Perry plans to break the master's record and run across America in 50 days.  That is an average of 58 miles per day!  To follow Perry on his journey and to support him along with way, check out his blog at Perry's Run: America in 50 Days.
Comments
comments