Tapping Into My Passion For Running
I did not enjoy running when I was growing up.  I played a lot of sports and could play for hours and hours, but if you told me to run a mile, I'd refuse.  When we did the fun run in junior high (1 1/2 miles) it was the day I most dreaded.  It just wasn't fun and I ended up walking most of it. I could not understand why anyone would run just for the fun of it.
About eight or nine years ago I decided to give running a try.  I had a lot of friends and family members that were involved in running and I knew it was a good form of exercise.  So I started running.  At first it was awful and I took a lot of breaks and would get so frustrated that I couldn't run very far.  I kept going at it and slowly my endurance began to build.  I remember the first time I really felt that "runner's high" and felt like I could run forever.  I had felt that same feeling playing basketball and soccer, and now I had felt it running and it changed everything I felt about running.
I wish I could say that it got easier, but it didn't.  I still had to put in the work, and many times I did not enjoy my runs, but every once in awhile I'd get going and would suddenly feel so light on my feet and I felt complete joy as my legs carried me along for miles.  I've gone through my phases, as I'm sure many of you have, where I love running and then I hate running and then I run consistently and then I hardly run at all for weeks.
The past few months I've struggled a bit with running.  I've gotten out there and done a lot of speed walking and a little bit of running, but nothing like I want.  It's so hard once you get out of the routine to start up again.  I let the summer months fly by without allowing myself to run as much as I had hoped.  The motivation was lacking, but I'm so glad I had Moon Joggers there to push me on and get me out there on the pavement, even if it just meant a two mile walk around the neighborhood. At least I was doing something.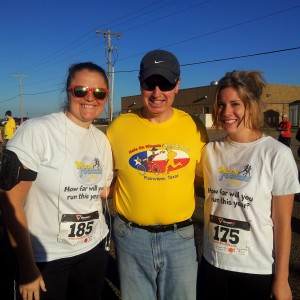 Last weekend, my friend Treesha and I, loaded up my car and drove six hours west to a small Texas town called Plainview. One of our fellow Moon Joggers, Ron, had invited me months earlier to participate in a race that he was in charge of: Hale on Feet.  I committed to go and I was excited to support Ron.  I signed up for the 10K and was worried I'd do terrible because I had not been very consistent with my running and just hadn't really been enjoying it as much as I used to.
The morning of the race Treesha and I headed out to the start line.  I had never met Ron before but we quickly found him and he was so great. His sweet wife was also there and it was fun to visit with them for  just a couple of minutes before the race began.  I started stretching and was getting nervous about the run.  I didn't want to disappoint anyone, including myself, and I really did not want to come in last.
The race began and off we went. The Texas heat was kind enough to take the weekend off and the weather was perfect for running.  Plainview was beautiful and provided a great landscape for the run.  As we ran I was hit with the feeling I'd been missing for so long: I  LOVE RUNNING! I love the challenge of it and the chance it gives me to see how strong my body really is.  I also LOVE participating in running events.  I have enjoyed every running event I've ever done.  There's just something amazing about running with people you don't even know, but you're connected because you share the same passion: RUNNING.
I'm happy to say that I did not finish last.  My competitiveness always seems to kick in when I'm running in a race and it helps to push me a little bit harder.  I finished the 10K in one hour and two minutes and was happy with my time.  As I was out there running in the open space I had a lot of time to think.  I thought about how much I want to continue training and building up my endurance so that I can continue to travel around and meet my fellow Moon Joggers and run with them and not be afraid that I will not be in shape enough to keep up.  I want to share this passion I have with others and to make running more of a priority in my life.  When I put in the work, and the miles, I feel so much better: physically, mentally and emotionally.
I'm so grateful Ron invited us out to Plainview.  After the race he and his wife took us out to lunch and Ron told us his story about losing more than 100 pounds through running and cycling and eating healthy and you could hear the passion in his voice and see it in his eyes as he talked about how much his life has changed and he talked about a lot of different events he's done and that he's planning on doing  and it totally inspired me.
I found my passion once again. It was hiding away in a small, Texas town called Plainview. Thanks Ron for helping me find it.
ANGIE WEBB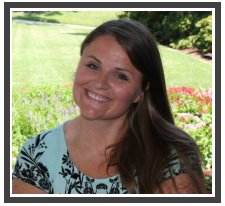 ——————————————–
Angie is the creator of Moon Joggers. It began as a small challenge between her and her sister, Ashley, and spread into a worldwide running challenge and community. She has run one full marathon, three half marathons and a few other smaller races. Angie currently resides in McKinney, Texas and works full time at a school for young children with learning disabilities. She is also working on her MBA and plans to finish June 2014. You can follow her ramblings at her personal blog I Really Lived (www.ireallylived.blogspot.com). Angie hopes to changes millions of lives, one mile at a time, as they participate in the Moon Jogger challenge.
Comments
comments