Why Run With A Disease?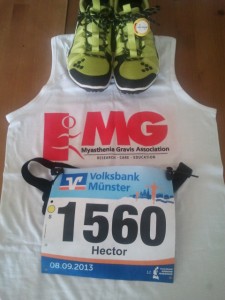 "Myasthenia gravis,
a neuromuscular disease
that usually results
in skeletal muscle weakness,
which worsens with exercise
and strenuous aerobic exercise,
is generally contraindicated."
(Scheer BV, Valero-Burgos E, Costa R.
Myasthenia gravis and endurance exercise.
Am J Phys Med Rehabil. 2012
Aug;91(8):725-7)
 I have always been a bit active. When I am interest in something I go on until I reach certain a level, even more until I feel satisfied. At other times I have skipped many things just because of lack of interest.
 I started to run with the same motivation as many of the fellows here: losing weight. After trashing-out some kg from myself (around 30) I became motivated to reach more difficult targets every day until I ran my first Marathon. The sensation after crossing the finish line was one of the best feelings ever and a kind of promotion to my new life. Since then I have been continuing running, enjoying the fresh air and the asphalt under my feet. But this post is not about how I began running but about something else: Why run with a disease?
 Two years ago I realised that I had some problems swallowing and with double vision while reading. I started to feel really tired in the evenings and slept more and more, sometimes up to 12 hours per day. Despite all of these issues I continued jogging and participating in different races. I tried to maintain some order in my life by first limiting my sleep to 8 hrs/day. Early in the morning, when I was feeling fresh I was going out to keep my legs moving. I was really happy because it really worked out. I continued at this "pace" for a while but, putting all the symptoms together, I was pretty sure that there was something more going on beyond the weakness and tiredness.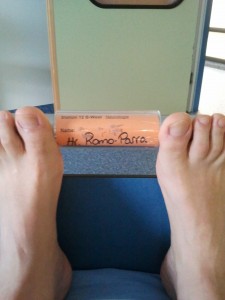 I asked some colleagues at work and they strongly suggested I spend some time in the hospital for a full check-up. There were 3 weeks of studies and beds but also, from my side, weeks of pushing through on the asphalt. As I mentioned before, I did not stop. I was going out early in the morning for a run and coming back before the doctor visited. I was also escaping from nurses (Kids do not follow my advice!). I was running up and down stairs, doing push-ups, sit-ups, etc; in short, trying to keep on track because I did not want to stop moving. So far it was the only way to release the stress from the idea that a bad diagnosis would show up soon. And finally the nightmare came true…I was diagnosed with MG.
 "Myasthenia Gravis is a disease which appears to the sufferer to weaken the muscles. It is a disorder of the junction between the nerve and the muscle, caused by the body's immune system attacking a vital part of this junction – this impairs the ability of the nerve to cause muscle contraction, and hence produces the apparent weakness." (http://www.mga-charity.org/)
 Immediately after the diagnosis, I started with medication which made the running a bit more difficult and painful compared to before. But I was not going to stop and I went on with my weekly running, overcoming the tiredness until this past September I ran a marathon, the first one with the disease. During the event I did not face "the wall" but the pain in my legs was intense and different from other events. Despite that, I pushed up to the finish line with a time of 3: 35 hrs.
 Now I am trying to maintain a regular physical fitness regime either when my MG is stable or even when it isn't. This involves running (of course!), cycling and weightlifting. As Moon Joggers know, I often participate in these activities up to 6 times a week. 
 What is the Prognosis?
 With treatment, patients have a normal life expectancy. Quality of life can vary depending on the severity and the cause. The drugs used to control MG either diminish in effectiveness over time (acetylcholinesterase inhibitors) or cause severe side effects of their own (Immunosupressors). Sometimes people experience remission.
 As a patient I am really new to this topic and I do not know where I will end up with it. However something is really clear for me:
 I will not stop moving until I will be forced to do it (and maybe not even then)…
 —–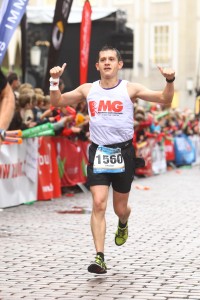 Héctor is a runner during mornings and a Neurophysiologist during days.  He has lived in Germany for 8 years. He runs for two motivations: his 4 year old Son who is living in Mexico and to raise funds for "The Myasthenia Gravis Association" since he has been diagnosed with this disease.
If you would like to support him please go to: http://www.justgiving.com/Hector-Romo-Parra
Comments
comments