One year ago I was driving down the road on a beautiful Texas evening.  My thoughts were focused on the coming new year and a challenge that I had issued my sister, Ashley, a few days earlier.  In an attempt to stay connected to her, and knowing how much she loved to run, I had the idea that we should have a little contest and see who would be the first one to run 1,000 miles in 2013.  She
eagerly accepted the challenge and our competitive juices started turning as we talked about the coming year.
On this particular evening I was driving down the road and the big Texas sky stretched out before me. Through my window I saw the moon.  The moon. That bright ball in the night sky speckled with its dark craters. I believe inspiration entered my mind's door at that moment and questions quickly start forming.  "How far away is the moon?" "How many people would it take, if we all ran 1,000 miles each, to get to the moon in one year?" "Could we expand our challenge to others and get enough people to run to the moon?"  I hurried home to jump onto Google and start doing the research.
I love numbers.  It seems like I'm always adding, subtracting or multiplying something in my mind, so this moon miles research was right up my alley.  I calculated, wrote numbers all over my notebook and concluded that the moon is 238,000 miles away from the earth.  This meant that we would need 238 people to each run 1,000 miles in one year, to get us up to the moon.
238 people. I called my sister.  "Do you think we could recruit 238 people to run to the moon with us?"  We weren't sure if we could, but we decided to give it a try.  We created a blog and started reaching out to friends and family members through Facebook and email.  In less than three weeks we had more than 238 people and there were still many more joining us each day.  As our launch date approached (January 1, 2013) we had more than 1,000 people that had taken our challenge and were ready to travel to the moon with us.  Many of these people were strangers to us.  They had heard about Moon Joggers as our invitation spread all over Facebook.  We had people from more than 40 countries around the world gearing up to run with us. We couldn't believe it!
On January 1 we took off on our journey through space.  In what we thought would take one year, took us

only five months.  On May 23, 2013 we were dancing on the moon! We enjoyed a quick run around the moon and then began our journey back to earth.  We've made it home from the moon and are now gearing up for our next big challenge:Voyage to Venus.  Venus is 25 million miles away, which means we have thousands of people we need to recruit to help us get there.
What have I learned from this journey to the moon?  First of all, I've learned that if there is a will, there is a way.  We wanted to go to the moon (who wouldn't want to go to the moon?) and we figured out a way to get there. I've run more miles this year than any other year in my life, all because I was working towards this team goal of running to the moon.
Second, I learned that there are so many incredible people out there in the world disguised as ordinary, regular people.  I've come to know many of my Moon Joggers and some have become dear friends.  We've shared our successes, our failures, our photos of our favorite running trails and our love of running, walking, jogging and any other form of physical exercise.  We've rallied around fellow Moon Joggers that were dealing with set backs or MJ's that were preparing for races that they'd never run before.  We've also celebrated milestones as our friends have surpassed certain milestones: 500 miles, 1,000 miles, 2,000 miles and even our fearless leader, Perry Newburn, who has logged more than 6,000 miles this year! We've all been inspired by one another.
Most importantly, I've learned that as the leader of this amazing group of people there is so much good that we can do.  In May we held a virtual running event and raised more than $2,500 for a seven year old boy, Adler, who was facing kidney cancer and his family had no insurance.  Moon Joggers around the world wore striped socks in honor of Adler the Brave.  In July we raised $1,000 for a group of runners in Kenya that were in need of good running shoes.  I look forward to future virtual events to be held, as more money is raised for people in need.
As I mentioned, next year our plan is to go to Venus, which is the closest planet to earth. The journey is 25 million miles, which is 24.5 million miles more than we've run this year.  What does this mean? It means we need 25,000 people to join our journey.  It means we have to reach out across the world, to hundreds of thousands, or even millions, of people to find the 25,000 that are ready to take the challenge and run with us.
It means that YOU, yes YOU, the person reading this right now, must join us and contribute as many miles as your legs will carry you, to get us to Venus.  The goal is ONE year.  25 MLLION miles. 25 THOUSAND Moon Joggers.  Miles completed by running, jogging, walking and even on the elliptical count towards our goal.  It also means that you must commit to your own personal goal for the year. Which ranking will you achieve?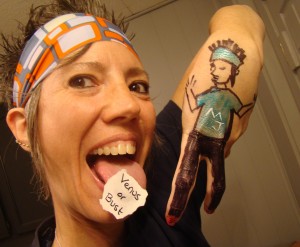 100 Miles: Space Rangers (great for kids)
500 Miles: Cadets (great for beginners)
1,000 Miles: Officers
1,500 Miles: Ensigns
2,014 miles: Lieutenants
2,500 miles: Commanders
3,000 miles:  Captains
4,000 miles: Commodores
5,000 miles: Admirals
Through Voyage to Venus we also plan to use a portion of all registration fees to raise at least $50,000 for The Little Heroes Foundation, which is a non-profit that is devoted to improving the well being of children around the world. We love this organization and hope to make a big contribution to all that they are doing for the lives of children worldwide.
Now is your chance to UNITE with runners (of all ages and fitness levels) from around the world to take part in a challenge that is going to be tough, and that is going to mean you've got to commit to doing your part and completing your miles.  But when you're standing up there on VENUS, with all of your fellow Moon Joggers, its going to mean that YOU did it! WE all did it!  TOGETHER!
HAPPY JOGGING!
Angie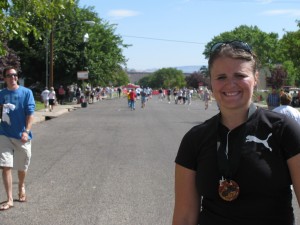 *SIGN UP NOW and use discount code SAVE10 to save $10. (there is also an option to sign up for FREE, so there's no excuse for not signing up!)

Comments
comments