Running with Ron: Setting Goals and Training to Achieve Them
by Ron Appling
When I started running again in 2010, I had to learn how to set my running goals and more importantly how to properly train to achieve these goals. For a lot of runners the ultimate goal is to complete a Full Marathon (26.2 miles) which is a great goal to have but there are a lot of event distances runners need to achieve before making it to the Holy Grail. My blog this month is to help new runners, joggers, and walkers navigate the distances available at events.
1.Setting Your Running Goal
Most new runner's first goal is a 5K (3.10 miles) which is a great starting point but after that what should be your next distance? There's a lot more 10K (6.10 miles) at events, then 15K (9.3 miles), and ½ Marathon (13.1 miles). But after that there are very few events that host races of distance between a ½ Marathon and a Full Marathon which is where a lot of runners stop progressing to the ultimate goal. Having a good training plan in place to make this leap in distance.
2. Joining a Running Club or Group
Joining a local Running Club or groups like Moon Joggers helps you find people that have the same goals, same running level, and that have run the distance you are working towards.
3. Ask if others have run in an event you are considering
When deciding which event you are planning to participate in, it is always a good idea to ask past participants via Facebook, other social media outlets, or ask the members of your local running club or groups. It is always good to ask about the numbers of participants, support, and hydration stations.
4. Training for the goal
Once you set your distance goal, talked to people, and selected an event, it is time to train to achieve this goal. To find a training schedule use websites like Runnersworld.com, some event website have training schedules, talk to other runners of your local runners club or running groups. The most important thing you should remember as you are using your training schedule, make adjustments as you see fit to do so. ALWAYS listen to your body and if you don't feel well or tired, then run a shorter distance or take the day off and don't try make the miles up that you missed.
I want to give you a real life example that occurred to me this morning (January 12th), I was supposed to run 12 miles but when I got to mile 9, I did not have any more energy after running 47 miles for the week, so I stopped because I did not want to risk an injury if I continued. I did not like stopping with only three miles away from finishing my first 50 mile week but it was the right thing to do.
Always remember this, everyone you look up to as a seasoned or veteran runner had to start somewhere. We all had our first 5K and I hope for those of you that read this blog you find it useful for your training and event running.
Ron Appling,
Proud Moonjogger for Life
Ron Appling lives in Plainview, TX with his wonderful wife Deanna and son Ryne. He is 42 years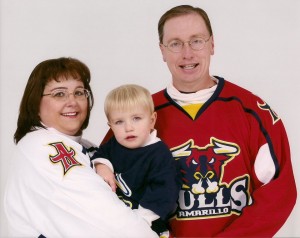 old and has worked for Wayland Baptist University since 2004 as the Director of Human Resources. In 2009, the title of Wellness Manager was added when he was asked to start the university's Wayland Wellness program. Since the start of this program, Ron has lost 100 lbs in one year and has been able to maintain his weight for over three years, has assisted the university maintain a low cost of medical premiums, and helped a number of employees and their family members live healthier life styles. In order to maintain his healthy life style, Ron enjoys running, cycling, Crossfit training, and participating in a number of running and cycling in events in Texas and New Mexico. You can follow Ron healthy life style on Facebook at Ron Appling.
Comments
comments