CHECK OUT MORE OF OUR VIRTUAL EVENTS HERE!
Join us on our first SPACEBALLS themed virtual race: Dark Helmut 5K & 10K: Calla's Run! We are running in honor of Calla Hess (read her story below) and proceeds from the event will go to Calla's family to help pay $250,000 in medical bills from her recent traumatic brain injury.  Calla is a runner that inspires so many others and is well known for her hot pink hair!
What: Complete a 5K or 10K! Set a goal for what your finishing time will be and dedicate your run/walk to Calla.
When: Complete your race any time between April 1 and July 31, 2015.
*Medals will be shipped out by the end of July. 
Where:  You choose the course and you time yourself (you'll report your finishing time to us).
Why:  Because we love space, and SPACEBALLS, and  want to run in honor of our friend, Calla
Calla's Story:
I'm Calla and I'm an Original Moon Jogger! I live in Palm Bay, F-L-A and have travelled around the world running marathons since I started running at age 44, almost eight years ago! I LOVE MOON JOGGERS and all the people I've met through this group; they have no idea how much they mean to me. It was my friend TJ who I saw on his page that he had joined a group called Moon Joggers, so I went to the page and saw that it was a group who were trying to get to the Moon! I had no intention on communicating with anyone on this site. I joined ONLY to challenge myself to run 1,200 miles, that would be over 400 miles more than I ran the year before!  Hmmmph…little did I know that I would fall in love with everyone on here!!  My husband thought I was crazy when I told him I'm driving up to Tallahassee, picking up a Moon Jogger who I met once before (Michelle!) and were driving to New Orleans to STAY with a Moon Jogger (Carolyn!) neither one of us had ever met before!!  And meeting our fearless founder (Angie!) and her mom (Shirlee!) there too. We all stayed at Carolyn's house!  But that's the way we roll, that's how GOOD Moon Joggers are!  We all LOVE our Moon Jogger Meet-Ups!!  As I was saying, I DID run more than 1,200 miles that year. I ran 1,306 miles! 2013 I ran 2,103 miles! This year I was challenged to run 3,000 miles. I was injured with pulled muscles etc. for a lot of the year and realized I wasn't gonna make 3,000 so I lowered my goal to 2,014.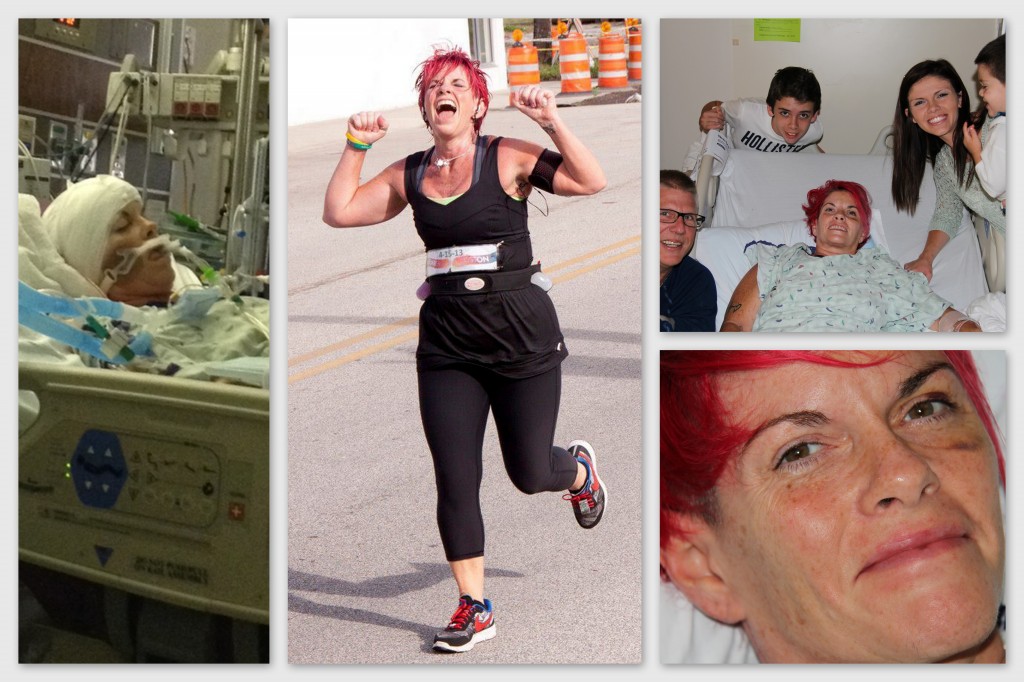 On September 6, 2014, I had a fall in my neighbor's driveway. I don't know how or why I fell, that's been erased from my mind as is very common with a traumatic brain injury, which I ended up with because of the fall. My family heard three different stories about that fall…I ended up with bleeding on the brain…I woke up in a hospital a week later….at my first post-surgery appointment…my neurosurgeon told me my injury should have been fatal!  It was a very difficult time for my family.  What this accident put my family through just breaks my heart. I love them all so much!  And I have NO memory of what happened, not the fall or the ambulance trip to the hospital or the drilling into my skull, NOTHING!  My neurosurgeon said that is good thing because I wouldn't have wanted to know what was going on with me, it wasn't very pretty!  I was unresponsive from the time I fell until I came out of my medically induced coma.  I was in the hospital here in town for two weeks and then was transferred three hours north to the rehab hospital in Jacksonville for one week.

My incredibly wonderful husband, Dave, never left my side throughout all of this.  I am a miracle in the eyes of many and I thank God for making me that miracle!  It was said that I am strong because I AM A RUNNER!   I am not the same as I was but you wouldn't know it by just looking at me.  I may not know what happened but I DO KNOW it didn't kill me!  OUR GOD IS AN AWESOME GOD. I AM TRULY BLESSED. I AM ALIVE!
I am humbled that Moon Joggers would honor me by sponsoring a virtual worldwide run FOR ME!  If all my medical bills, which will be upwards of $250,000, are taken care of, I will donate the funds to a Traumatic Brain Injury foundation.
Oh, by the way, this year I only made it to 839 miles. I don't know what I'll set my goal for in 2015, BUT I do KNOW that you will once again read my daily posts starting January 1, 2015!
**If you are a paid MEET ME ON MARS participant you should have received an email with a discount code to use on all of our virtual races this year to save 25% on each race. If you have not received that code email us at moonjoggers@gmail.com.  If  you have not signed up for MEET ME ON MARS (one of the paid registration options) do so now and you'll be able to save 25% on our virtual races! Sign up HERE. (Use code SAVE10 to save $10)
Follow us on Facebook!