Guest post: Tara Chavanne, Moon Jogger
To preface this recap:  This is my honest, candid, personal experience of the Big Sur Marathon.  It took me a month to be able to write it because I was upset with myself and how I did.   Just to let you know, I am usually a happy person.  Running, apparently, brings out extreme emotions in me.  I laugh about my experience now (I was actually laughing at myself immediately after the race).  And I am damn proud that I was able to do it.  So please don't judge me with what you are about to read.  I highly recommend to anyone who wants to run a marathon to run Big Sur.  Just know that it will be the hardest thing you will ever do.  And worth every minute of it.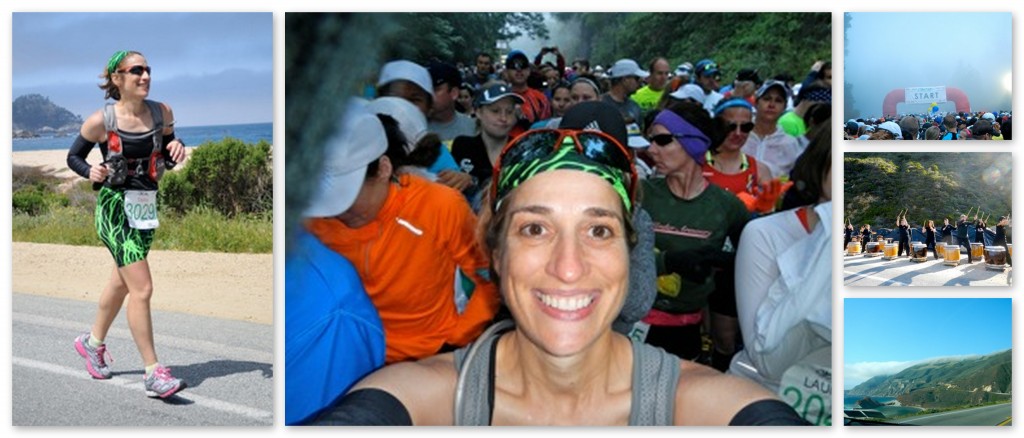 It actually started a year ago.  Every couple of months over my short 4 year running career I would contemplate running a marathon.  But after a couple days/weeks I realized that was a silly, stupid idea.  Something was different early last year, the thought wouldn't go away.  Maybe it was me about to turn 40.  Since the feeling wasn't going away, I decided if I was going to run a marathon it was going to have to be somewhere beautiful.  I had to look at something other than asphalt and concrete buildings for 26.2 miles.  Not soon after this thought, I came across this article: Top Spring Marathons in the US.  Big Sur International Marathon, the most scenic marathon in the country.   Everywhere I turned, every article I read on marathons told me to run this race.  Registration didn't open until June 15th.  Plenty of time to change my mind….and early registration didn't end until sometime in November.  PLENTY of time to make sure that this is what I wanted to do (come to my senses).  Needless to say, June 15th arrived with no big fanfare….until I got a FaceBook post saying that the race was already 50% full. WHAT?!?!  This was at 12:00 EST, registration was only open for a couple hours.  The rest of the day, I kept a close eye on the website.  65% full, 70% full.  A decision needed to be made and it needed to be made now.  Not next week, not next month, definitely not in November.  Should I or Shouldn't I.  Oh what the heck….. fill out the registration form.  But what if I can't…waited too long to hit enter and the page expired…must fill out registration form again.  This is going to be my one and only marathon.  You know that you will be kicking yourself if you don't do this.  Your chance is now….DO IT!  Damn, page expired AGAIN.  Fine, I know I would be crushed if I lost out on this opportunity. HIT ENTER….DONE….wait, what did I just do?????  I can't run a marathon!!!  Oh well, too late now.  Spent the money (not only on the registration but on the training shirts…both short sleeve and long sleeve.), Big Sur here I come.  I got this.
So excited, I told all my running friends that I finally did it.  I am running Big Sur, the most scenic marathon in the country.  From every single person I told, their reaction was, "wow, I heard that was really hard".  Hard, NO…scenic, pretty, beautiful, on Rt 1.  It's the coast, there are no hills on the coast…right??  I train on hills here all the time.  I can handle hills.  Then came the other list that I wish I had seen before I had registered (although it probably wouldn't have changed my mind.  I'm stubborn that way).  Top 15 Toughest marathons in the World Not just the country, the WORLD.  Other marathons on this list are Machu Picchu and the Great Wall of China.  UGH, what did I get myself into.  But I spent the money, no turning back now.  I got this.
I won't bore you with the next 10 months.  Training was hard.  Harder than anything I have ever done.  I've trained for 3 half marathons and it was hard, but bearable.  Marathon training would be the same just longer and more miles, right?  I thought, with training, your body would get used to the running and the miles.  Not the case.  The exhaustion was just building and my muscles were continuously sore.  I was physically and mentally exhausted.  For those that haven't ever experienced it, I would tell them all I do is run, eat, sleep…run, eat, sleep.  Please don't ask me to do anything else, because it won't get done.  That blank stare I give you when you ask me something, it's just me trying to process what you just said and how to intelligently respond….oh wait, how many miles do I have to run today??
There were days when April 28th seemed so far away, but then all of a sudden, it was April 26th and I was on the plane to Monterey, California.  I was ready for this.  I ran the miles, ALL the miles for 20 weeks.  I felt good.  I CAN DO THIS!  I got this.  Even though I kept saying that I didn't have a time goal…my time goal was 4:30, and I was planning on running with a pace group.  I got this.
We arrived in Monterey, California on Friday afternoon.  Before even checking into the hotel, we headed to Big Sur.  I had to see the course that I would be running in just 2 days.  It was just like everyone said. BEAUTIFUL and HILLY.  But I kept my positive attitude and kept saying….I got this.  If I have to walk, I will walk.  Enjoy the scenery if things get bad.  Take pictures.  I got this.
Next was the Expo and a day full of clinics to hear about the course through the professional's eyes.  Over and over again two questions were asked.  Is this the first time you ran Big Sur?  Is this your first marathon?  I began telling people this was my First First to alleviate them asking both questions!  The reaction I got whenever I said it was my First First was pretty much, "oh my gosh, really?!?!"  I started thinking this was a mistake.  This was going to be MUCH harder than I ever expected (I got this).  Another bit of information that I didn't know about (or just ignored) was there was a very severe camber to the road, for most of the course.  Well, I guess I will try to run the middle of the road.  Problem solved.  I got this.  On a positive note, race day was supposed to be beautiful.  Starting in the mid 40s, ending in the mid 60s and winds only 7mph.  I was keeping my eye on the wind speed, because Hurricane Point doesn't get its name for no reason!  Last year's race there were gust up to 40mph!!  Talk about stopping you in your tracks.  So, a perfect day to run.  I got this!
The morning of the race is finally here (is 3:15 considered morning or is it still nighttime?).  Since the course is point to point with the start line at Big Sur, the buses left Monterey starting at 4:00.  I, of course, was the first one on the bus.  I needed to make sure they didn't leave without me!  Nerves were starting to creep in, but I got this.  It was pitch black and you couldn't see the course, which was probably a good thing.  The 26 miles took the bus an hour to safely meander the hills and turns, but we finally got to the start line.  There were already hundreds of people there.  Music was playing….but first things first, porta potties!!  Everyone was all smiles.  Small talk here and there.  Yep, this is my First First.  Good Luck to you too.  Yep, I brought a camera.
My wave was going to start lining up at 6:15.  I was going to wait until the last second to drop off my sweat bag because it was cold out there and I was running in just shorts and a tank!  They finally called my wave.  Getting more excited.  Stripped down, put my bib on and camelbak, dropped off my sweat bag and onto Route 1 I went.  Finding my pace group was easy since they were carrying blue and yellow balloons.  We went over our game plan…even pace all the way.  There were a couple others in my group that this was their First First.  That made me feel a little better.  We were giving each other encouragement and telling each other that we can do this!  It's almost 6:45 (start time), and the Race Director from the Boston Marathon spoke a few words and then there was a moment of silence.  How could you not get emotional!
Now the singing of the National Anthem…it's almost that time!  A few more words of wisdom and the whistle blows.  Elites were first, then Wave One.  We all start walking closer to the start line.  Really, it's that time?  How did it get here so quickly?? Am I ready??  Oh well, too late now because I am running down the hill, holding back.  This is easy.  I got this.  A sharp downhill comes and I pick it up just a bit, but I LOVE downhills, that's what I do.  I might as well take advantage of it because the uphills are going to kill me.
My right hamstring is really tight, but I am hoping it will loosen up or else this is going to be a long 26 miles.  Normally, I don't get into my grove until at least mile 3 so I am not too worried.  Somehow I lose my pace group after a couple miles.  How did they get ahead of me.  Must be my hamstring slowing me down.  Oh well, stay positive.  I got this…right?  Miles 4, 5 and 6…this is my sweet spot, I am supposed to feel my best right now, what's going on?  Then all of a sudden I hear, "there you are".  My pace group was behind me this whole time!  Spirits perk for a moment.  I know there is only a couple miles until the 2 mile 5% incline climb to Hurricane Point.  I really want to stay with my group to help encourage me up this hill (mountain).  But the porta pots are calling my name and I really don't want to be uncomfortable for this climb.  So, I try to get ahead of my group and do a quick pit stop.  But by the time I get out, I see those blue and yellow balloons start making the climb….without me.  However, at the bottom of the hill are the Taiko Drummers.  One of the icons of the Big Sur Race.  One of the reasons I chose this race.  Must take pictures.  I will be really mad at myself if I came all this way and didn't take pictures of this!!  So I did, knowing there was probably no way that I will catch up with my pace group now.  That is okay.  I was here for the experience and I will finish no matter what.  Pictures taken, that should make me happy right??  Now up that darn hill (mountain).  All I was telling myself was the Bixby Bridge and the piano player were on the other side of this hill.  I can do this, walk when you have to, it's all okay.  I think I got this.  I don't remember much about the trek up the hill. I do know I walked A LOT.  Never found my happy place.  Never felt good about any of it. But wait, I'm running downhill?? When did this happen??  I survived Hurricane Point!!  Maybe I do got this.
Oh, and before I continue, I forgot to mention the wind.  The wind that wasn't supposed to be that bad.  It was horrible!!  And if this isn't horrible, I don't want to be running in horrible!!  It started around mile 6 or so.  I do know I was still with my pace group and our leader said to tuck behind someone bigger to get away from the wind!  I couldn't find anyone…not that I'm big, just there wasn't anyone.  So it was me vs the wind and the wind was winning…at least winning over my confidence.  I hate wind!
And I hate hills, but both were behind me now that I conquered Hurricane Point…right?  Down the hill I went waiting to hear the first sounds of the piano.  That means I was at the half way point.  Where is my happy place?  I really need to find my happy place.  Look at this beautiful ocean, there was a whale sighting…yes I saw a whale while running a marathon.  How can one not be happy.  I was not happy.  I was far from happy, I was angry.  So angry I started to cry.  Why wasn't I happy, why wasn't I enjoying this, why am I not taking more pictures?  More tears (thank God for sunglasses)!  And there I was crossing the Bixby Bridge, hearing the sounds of the piano and finally at the halfway point.  I forced (yes forced) myself to take pictures.  That's why I was here, right?  Don't make me get more angry!
I really don't remember much about the next 10 miles.  I was angry, I was crying, my body hurt, my head hurt, my mind hurt and I was walking a lot.  There goes my time goal, (at some point the 4:45 pace group passed me, I couldn't even keep up with them).  I never felt like this on any of my training runs, what is going on here.  So, I did a body/mind check, but still couldn't figure out what was going on.  Are you not fueling yourself, take another Gu.  Slow down and take pictures (I don't wanna take stupid pictures, stomping feet like a two year old).  Nothing worked, so I just kept moving forward.  I had to get to that stupid finish line.  Once I got to that stupid finish line I would be on vacation.  I would NEVER, EVER have to run, let alone run a marathon, again… EVER.  Still didn't do the trick.  More tears.  The volunteers…the wonderful volunteers that also got up at the crack of dawn to get to their aid station before the road was closed.  The fantastic volunteers that kept cheering me on..Go Tara, You look great, Tara.  I hate you all (side note …I LOVE volunteers, I always thank everyone as I pass each aid station, without them what would runners do?).  I was angry.  Why don't you come out here and run this stupid race…not just standing there yelling at me as I cry.  There was no thanking of anyone, which I feel really guilty about now.  But how can you thank someone when you are crying?  I couldn't even talk.
Finally, just 6 miles to go.  A 10k, you got this.  Yeah right, I haven't had anything  for 18 miles.  I was miserable and wanted this to be over.  But at least I could comprehend 6 miles.  A little more than an hour of running…if I could run.  The road camber was worse than I ever expected…I couldn't find any place on the road that was level.  This was putting extra strain on my already tired, sore legs.  I hate this road.
The beach, I see the beach, the beach means the end is near, isn't the beach pretty…you guys know the answer to that by now.  But soon the strawberry lady will be in sight.  A wonderful woman who comes out to mile 24 and gives all the runners (all 7000) strawberries.  I bet you know what I thought about the strawberries.  Even with just 2 miles to go, I was angry.  I would give anything to stop running right now.  Especially since the final test was a killer hill at mile 25.  Who puts a hill at mile 25????  More walking.  There was no running up hills.  Even though, I know I can run up hills.  I trained on hills.  Just get over this one and it is all downhill to the finish line.  Still angry.  I see the finish line now.  But I'm not happy (but I am).  I don't want to run (but I am).  I don't want to run faster (but I am).  I don't want to pass these stupid people (but I am).  I got this.  And here comes the tears again.  But it's because I am done.  I crossed the finish line at 4:58:18 and I crossed it LOOKING strong.  I got a high five from the race director.  I got my medal and pictures with me smiling like I actually enjoyed myself.  I'm smiling because I never have to do that again.
But guess what….a month ago I became a marathoner (a Big Sur Marathoner)….and I am planning on going back in 2015 to kick Big Sur's butt!!  I got this.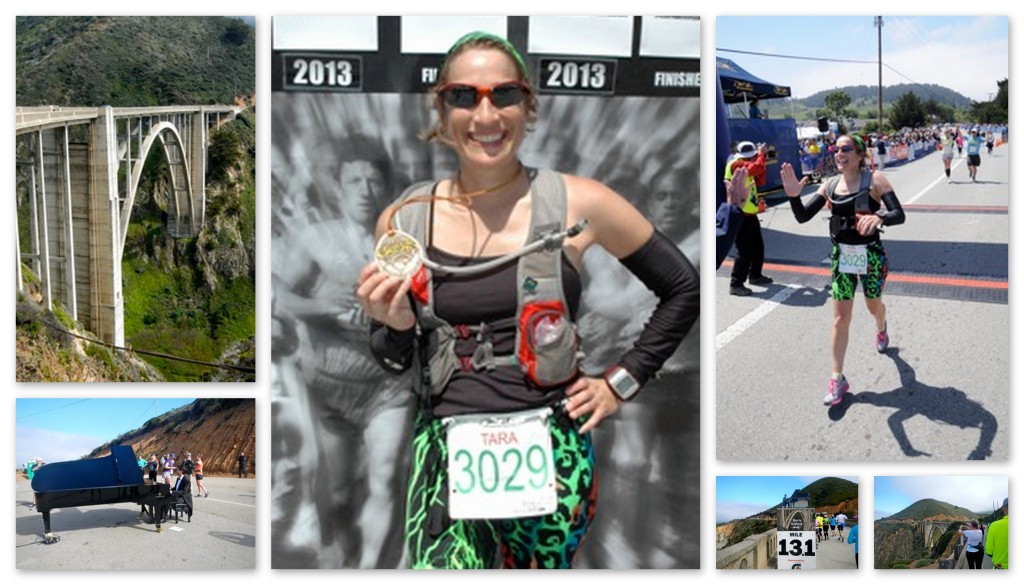 Comments
comments