I Will Be THAT Girl
By Linda Hodges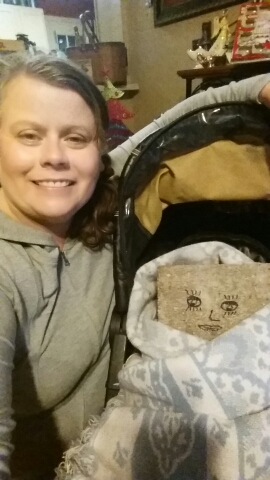 I know I'm late writing my article but I'll explain why in a bit. First let me apologize in advance for misspelled words, very poor grammar and well my horrific writing skills (I was that C-D grammar student). Now with that said here we go.
I'm not sure if you know anything about me, so let me introduce myself! My name is Linda, I'm a 43 year old married, mother of 4, grandmother of 5 (#6 due anytime). I'm a disabled registered nurse, former bookstore owner, electronic geek and many more titles. The thing is most people who see me these days see me as the unconventional uncontrolled diabetic, past CVA chick (brain attacks, stroke) in 2011 & 2013, past MI (heart attack)  with stent placement January 2015, severe neuropathy girl, and now the super depressed obese lady.
For most my life I've allowed my diagnosis dictate who or what I was. I allowed all the doctors to use medical terms to describe me, and I sat quietly while others determined what my life would look like. There has been days I'm tired of being sick and tired. I have suffered from depression so badly that I have stayed in bed, binged ate till my glucose wouldn't measure on home machines and cried thru out my showers. Depression paralyzed me and stole all my joy. It prevented me from completing anything including this story. I also gained a whopping 85 lbs in a year, this year to be on point. I tell you this to say….I'm over this, I don't want to be THAT girl anymore.
As a teen I ran track, long distance was my favorite. I loved getting into that perfect pace and letting every care I had slip under my feet. I looked forward to that shakey adrenaline filled person I became after a good run. Then as I became older with kids I looked forward to long walks pushing my rug rats in strollers. Now…..well now life is different I have days I can barely feel my feet thanks to neuropathy, my right side is weak from the strokes, and my heart thinks I'm in a marathon every time I check the mail. There is days I need to use an aide to walk, I have canes, standard walker, rolling walker, a wheel chair and an electric wheel chair. And again I don't want to be THAT girl anymore.
The one thing I didn't mention I am a Moonjogger! I joined on the maiden trip to the moon.   Thanks to my most popular very pretty cousin Carolyn Guhman. I was introduced to some wild and crazy folks. I instantly fell back in love with a life that I could no longer have, but was accepted anyway. As some ran marathons, I struggled to get in my 5k after an entire week but I was still accepted. I have NEVER met any of my goals and that is OK. I set more and moved on.  Even with your acceptance I was too embarrassed to mention how deeply the darkness had become…I didn't want to be THAT girl.
So here I sat feeling all kinds of blue all in my emotions. It was the one of the constants in my life. Wake up take meds, check my blood sugar, adjust my insulin pump watch TV, let the darkness control me, go to sleep…repeat. Till I became tired of THAT girl. This hasn't been months ago but rather last week. So I have no wonderful results to share but I want to throw this out there into the universe for all to read. I'm done with THAT girl!!!
I can't give you that exact ah ha moment, maybe it was several tiny moments. I literally woke up last week, looked in the mirror and was in shock at what I saw…in front of me was a broken person. Darkened eyes, hair was a nappy mess, and the weight I had gained so quickly has left me wearing very unflattering clothing from my mothers closet. Yes a loving woman she is but never known for her stylish qualities. I defiantly don't want to be THAT girl in the mirror any more.
Thank goodness for strong relationships I have in my life. As a nurse we were taught depression can destroy everything a person holds dear. My husband is a rock, he has taken everything with the strength unlike I've ever seen. His love has been proven over and over because it had to be love and faith that has kept him from running. From the reflection in the mirror anyone else would have ran for the hills.  I told him a few nights ago that I was tired and ready to be happy. You know what he said, I kid you not he said "that's my girl". Now I must say I wanna be THAT girl!
Everyone of you are so very dear to me, I read your struggles, I celebrate your successes and I pray for you daily. I wait to hear of your results from races, your last doctor appointment from an injury and I'm so excited when you get the all clear to hit the road. When Perry ran across the US I became so fixated that I felt as though I was with him as he ran…THANK YOU PERRY! So know your post are being enjoyed. (Keep posting)
So in the past week I've joined a gym, been swimming once, and started a Tai Chi class. Tomorrow is a huge day because I'll start on a treadmill. I'm going to take this "every mile matters" slogan to a new level. I might even measure the distance should I fall, that should count just unsure on the equation I should use. I'm excited again.
Tonight while I stood in line (unassisted) at the drug store, I received a message from our fearless leader, Angie. She was letting me know how well the phone home ET themed virtual run had turned out. I had been so depressed that I barely even acknowledged that y'all had a virtual race in my honor. THANK YOU!! I promise to fight the dark clouds, to lose the weight and be the best possible me regardless of my health. I will be THAT girl!
*We still have a few medals left from our Phone Home 5K – Linda's Run virtual race if you'd like to order. This race is in honor of Linda.  Sign up using promo code LINDA and save 15%.  Sign up HERE.
Comments
comments