Dear Moon Joggers,
For the past eight months I have had the opportunity to connect with many of you through our small MJ community (or at least stalk your posts on our Facebook page). When MJ was only a small, simple idea that came into my mind back in December I would never have imagined where that idea would lead me.
In July I drove from Ohio to Utah (30 hours of driving) with my older sister and her four children.  The three day drive took us through seven states and led us to amazing sites such as the Badlands and Mt. Rushmore.  The highlight of that trip was the opportunity to meet a fellow Moon Jogger, face to face, for the first time.
I had posted on Facebook that I would be driving through South Dakota and Patty Larsen, one of our Fabulous Fullenkamp Sisters, commented that she lived close by and would love to meet me.  I knew my sister and her four kids would not be thrilled about stopping, but I knew I couldn't pass up the chance to meet Patty.
So we made  a plan to meet at a gas station off the highway and on the way my sister and I joked that we were in the middle of nowhere going to meet someone that we had never met.  We'd been driving for about twelve hours that day and the kids were antsy to get out of the car for the night.  Patty knew we'd been traveling and promised it would be quick and that she just wanted to say hello.
We arrived at the gas station and I'll admit I got a little bit of butterflies in my stomach as we waited for Patty. I'd followed many of her posts on Facebook and knew a little bit about her, but when she pulled up and jumped out of her car and gave me a big hug, I felt as though we were old friends.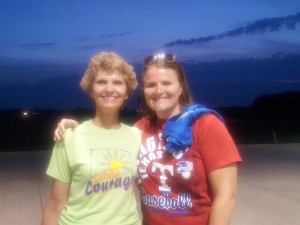 She pulled out a bag of Gatorade and snacks for the kids, and a t-shirt from the high school she works at for me and then we posed for a photo together.  Patty, my sister and I chatted for a few minutes next to the car while the kids did the best they could to wait patiently inside.   We talked about our large families (we come from a family of eight kids, Patty comes from a family of eleven) and talked about running and how much we love Moon Joggers.  Patty told us a little bit about South Dakota and places to see while we were there.  Then we hugged and said our goodbyes.
Patty is exactly as I had pictured her: bubbly, full of energy and incredibly kind.
As we drove off, my nephews (ages 9 and 11) started talking about how they were so amazed that someone they didn't even know had brought them a gift (Gatorade is their favorite drink) and they thought that was the coolest thing.  They were blown away that a stranger would do something so kind for them and we ended up having a good talk about being kind and serving people, even people you don't even know.   My first Moon Jogger Meet Up with Patty will always hold a special place in my heart.
This past weekend I was blessed with another Moon Joggers Meet Up.  This time it was in New Orleans, Louisiana.  I boarded a plane in Dallas, Texas and flew to New Orleans to go and stay with a woman I had never met, but had become friends with through our online MJ community. When people asked me where I was going and who I was staying with, I sort of just chuckled and said I was going to stay with a friend that I had never met.
On Friday afternoon I flew in and my mother met me at the airport (she had flown in from Utah) and we were picked up by Carolyn.  I had spent a bit of time chatting with Carolyn on Facebook and I knew she was from Louisiana, but when she started talking in her sweet Southern accent it made me smile.  I hadn't realized that I pictured every one of our MJ's speaking just like me and I forget that we all speak in different accents, and even different languages.  I loved listening to Carolyn speak all weekend and she gave us some great lessons in speaking like a true New Orleanian.   She and her husband, Rick, were the greatest hosts we could hope for.
We spent the afternoon at Carolyn's house visiting while we waited for two more of our fellow Moon Joggers to join us.  They were driving in from Florida and I was so excited to meet them.  I had chatted a bit with Michelle, from Tallahassee, and each day I read the posts the Calla (from Palm Bay, Florida) puts on our Facebook group page every morning after her run.  Again, I felt like I was being reunited with old friends.  They pulled up and we all got so excited and hugged and joked about how we didn't know each other, yet we did, and we were going to spend the whole weekend together, all because of Moon Joggers.
Friday evening Carolyn's friend, Courtney, came over and cooked as an incredible dinner of grilled tilapia  and shrimp over a delicious potato hash.  Courtney is one of those free spirited people that can sit and entertain you for hours with her incredible stories and her colorful outlook on life.  I was sad when she announced after dessert that she had to go.  I wanted her to stay with us for the rest of the weekend.
On Saturday morning I woke up to my alarm at 4:30am and got ready for the big event in which the five of us Moon Joggers had gathered together for.  The purpose of our Meet Up was to run a 1/2 marathon for the Full Sturgeon Virtual Race.  It was still dark outside as we left the house and drove down the quiet streets to Audubon Park.  We were all ready to start running by 5:45am and that was when the rain started coming down. Carolyn asked us if we wanted to get in the car and wait for the rain to stop and we all decided we might as well run and so we each took off.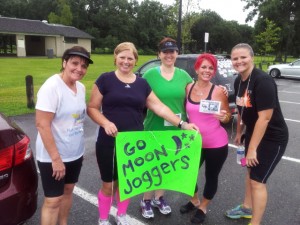 For the first two miles of the run it was dark and the rain was pouring down.  I was completely drenched and I loved it.  I've always enjoyed running in the rain.  Those two miles went by quickly and during the next two miles I watched the park slowly light up and come to life as the sun rose and began to reveal my surroundings.  Large oak trips stood on both sides of the path and a beautiful pond lay in the middle of the loop.  Those two miles suddenly turned into two more miles as I enjoyed the beauty around me and my thoughts turned to Moon Joggers and how much it has come to mean to me in my life.
During the run, which was around a 2 mile loop trail, I was able to cross paths with each of my MJ friends.  My mom, Shirlee, was in the lead and would wave to me and smile as we passed one another. She was incredibly happy in her element – which is running.  Calla was next and when I'd see her hot pink hair in the distance I knew I'd be greeted soon with a thumbs up and encouraging words.  I also knew she was fighting a painfully sore hip and it showed in her face, along with the determination that she wasn't going to let it stop her. She's a fighter.  Carolyn and Michelle stuck together and it made me happy each time I saw them, knowing that such a strong bond had formed between the two of them and they were enjoying each minute of being able to talk to one another in real life, rather than online, and I felt good knowing that I played a small part in helping to bring that friendship together.
By the time we all finished our 13.1 miles we were exhausted, wet and tired, but also so proud of what each of us had accomplished.  The rest of the weekend we were able to celebrate and to explore New Orleans and mostly, just enjoy each other.  I was able to spend time with each person throughout the weekend and to hear their stories and get to know them and connect in a way that can only happen when your face to face.  I wished so badly that I had a video camera with me to capture these women and their stories and to share with the world just how incredible they are.
What started out as a group of strangers that had met online, became a group of friends in which I felt I'd known for years. When I think about Moon Joggers this is what I love most about it, the way it brings people together.  The way people are able to connect because they share a love of running and through that connection they are able to share their lives, their stories, their ups and their downs, their failures and their successes.   That's what Moon Joggers is all about.  Yes, its about running.  But even more than that, its a place to come and share who YOU are and know that its a safe place and you're voice will be heard and the hands of Moon Joggers will reach out from all over the world to support you, encourage you and absolutely inspire you.
That's how I felt this weekend in New Orleans: supported, encouraged and totally inspired!
Until next time – keep on jogging and keep on logging.
Yours truly,
Angie
Moon Jogger Maniac
Comments
comments