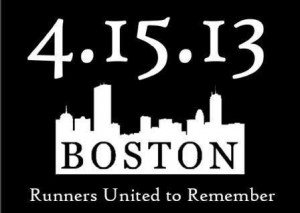 Hello Moon Joggers,
We want to begin by saying that here at Moon Joggers our hearts go out to those affected by the terrible act of cruelty that took place in Boston today.  We pray for the victims and their families and for everyone that feels a sense of sadness, anger and frustration by what has happened.  This week we invite to dedicate each and every mile that you walk, jog and run to the people of the Boston Marathon and send good thoughts their way as they begin to cope and begin to heal from what has happened.   Week 16 of Moon Joggers is Boston Marathon week and we encourage you, along with dedicating your miles to them, to reach out and be extra kind and look for opportunities to show extra kindness to those around you.  Running and kindness are two key components to a happy life!  There is always a virtual race that has thousands of people from all over the world that are committed to running for those affected in Boston.  Here is the link to their Facebook Event Page: Runner's United to Remember
Also, we want to announce that our second virtual race is open for registration!  We are excited to present the Full Strawberry Moon Virtual 1/2 Marathon, 10K and 5K!  The name of the Full Moon in June is the Full Strawberry, so the race takes place in June and it's going to be a lot of fun!  Read all of the details about it here, especially how you can win some pretty great prizes, like a $200 Visa Gift Card!  We figure one way we can give back to Moon Joggers is to hold drawings from a our races and participants can win gift cards to help pay for things such as running shoes, race entry fees, GPS watches, socks, running books and anything else.  SIGN UP FOR THE FULL STRAWBERRY MOON VIRTUAL RACE NOW!
One last thing, please be sure to log your miles and make sure you are up to date.  And please send us your favorite running/walking photos from the week by tomorrow (Tuesday) at Noon!  We also encourage you to join our Moon Joggers Facebook Group if you haven't already.   It's an incredible place where so many Moon Joggers connect and where walkers/runners of all levels can connect and support and motivate each other.   It's such a positive place!
Thanks again for all you do Moon Joggers. Our journey continues to move forward at amazing speed!
Happy Jogging!
Ang & Ash
Moon Jogger Maniacs
Comments
comments