If at First You Don't Succeed…
There aren't many friends who know the story behind my high school nickname but I was reminded of it just last week. Sometime after my first and last attempt to water ski, our high school Chemistry teacher, Weaver, started calling me Mish-mash. It was a friendly term to describe how closely I resembled Twiggy, the world-famous skiing squirrel, that day on the Intracoastal.
Even though I grew up along the Space Coast of Florida, the summer after my freshman year was my first time on a boat. Mr. Weaver invited a handful of us to join him skiing. It was organized for the pretty foreign exchange student who was heading home to France soon and my friends, Sarah and John, came along. Of the four of us, only the exchange student had ever water skied before but Sarah grew up snow skiing and had an advantage over John and me.
It was a beautiful day on the water and we each took our turn. Sarah got up on her skis on her first try and John took only a couple more starts to get adjusted to the idea. The exchange student had no trouble, maneuvering from side to side until she looked almost bored. When it was my turn I felt sick to my stomach and told myself my legs were strong from years of dance. How hard could it be?
The first time the boat pulled away I lost my grip on the handle and floated there like that's what I meant to do. On my second try, I actually got up on my skis. Then I just squatted there afraid to stand and pretending this was how everyone does it. My friends were yelling from the boat to stand up, flailing their arms and making faces. I shook my head until they all turned around. As soon as they did, I stood. The rope slacked and jerked and I fell.
Third try I was prepared for the slacking rope but I still squatted for a time, waiting for everyone to look away. Then I stood with bent arms ready to react to the change in tension. Suddenly I was skiing, like a real human and not like a squirrel at all. Never quite satisfied, my audience started urging me to ski left to right over the wake. The wake that didn't look like a small v-shaped ripple of water anymore but a cliff constructed of waves. No way.
Finally they turned around and I seized my opportunity. I skied over the mountain of water to the smooth surface on the other side. The rope slacked again and I fell again and again. Until the next time when I'd solved the riddle of the wake enough to move easily from side to side.
____
After almost thirty years I still have that tendency. I avoid doing anything for the first time with an audience. If I could just secretly practice for 4-6 months before revealing my great skill to the world that would be ideal. Especially when I was younger, I rarely enjoyed anything I wasn't already good at. I remember how frustrated my mother used to be to take me bowling because it only took a few gutter balls to put me in an awful mood. And if there were strangers in the lanes on either side she rued the day she decided to bring me along.
So just imagine for a moment what it was like for me the first time I tried to run a race. I'd walked charity 5k's but never considered running one until I signed up for my first half marathon and started training. It was a fundraiser for our neighborhood elementary school and I remember parking that morning with the strongest urge to turn back. I locked the car and headed to registration, the whole time convincing myself no one would notice if I wasn't there. That if I just left now everything would be okay.
But I stayed. I checked in at registration. I pinned my number to my shirt. I waited at the start line for the race to begin. All of this I did for the very first time and in a crowd of hundreds of friends and strangers. Experienced runners, PTO moms and other beginners surrounded me in every direction as I reconsidered for the last time. It was too late. We were off.
As I started my race, I realized no one was watching me at all. I was looking ahead at an anonymous sea of race shirts, running shoes and ponytails. And so were the people behind me. For the rest of the race I focused on my intervals and my playlist while occasionally checking my pace. I let my mind wander until a runner passed me and I tried to pull ahead to see if I could. I learned that by the end of the 3.1 miles my intervals carried me past someone who'd jogged slowly through the entire race. What I'd read about how intervals can help you avoid fatigue turned out to be true.
But most of all, I had fun. For once, I enjoyed doing something for the first time. And it was something I wasn't and might never be good at. I did it out in public for the whole wide world to see and it didn't hurt a bit. I was in the back of the pack but the crowd at the finish line cheered anyway. Instead of all the pressure placed on a pitcher in the ninth, the only one relying on my performance was me. Running might turn out to be just the right fit.
________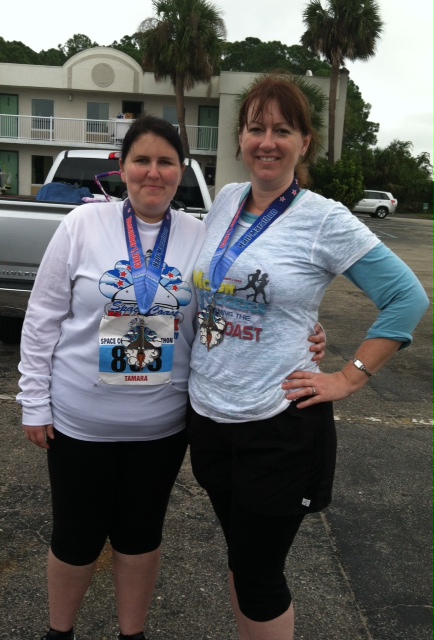 I remembered that feeling last week when I wrote my younger sister about the Space Coast Half Marathon. I knew she hadn't had as much time to train as she'd hoped and I didn't want her to feel obligated just because I registered her for her 30th birthday. My email was an opportunity for her to be let off the hook if she was looking for a way to back out.
She texted back, "I wanna try."
That's all I needed to hear.
Showing up and trying is where the journey begins. It takes courage and there's no better birthday present than accomplishing something difficult. Trying is the first step on the road to confidence.
And confidence doesn't ask for perfection.
It just asks for more trying.
She's learning this lesson much younger than I did. And all these years I thought I was the smarter sister.
– For my strong, brave and soon-to-be-Moon-Jogger sister Tamara Addison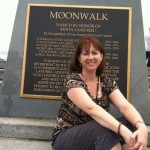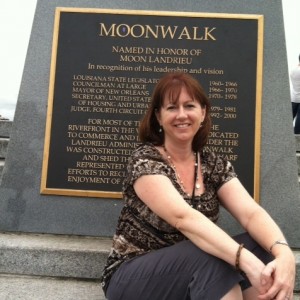 ABOUT: Michelle Roberts lives in Tallahassee, Florida, with her husband, Paul, and two children, Ashleigh (10) and Philip (8). She ran her first 5k in October of 2012 and her first half marathon in February of 2013. She was diagnosed with Bipolar Disorder in 2001 and maintains a healthy balance without the use of medication thanks to a job she loves, a supportive family, regular exercise, her writing and therapy. A wonderful life of "Both Hills and Valleys".
"The marvelous richness of human experience would lose something of rewarding joy if there were no limitations to overcome. The hilltop hour would not be half so wonderful if there were no dark valleys to traverse."
Helen Keller
Comments
comments