Meandering thoughts from the trail: Walk the Walk
By Sheila Dawe
Back in my twenties, before I did any kind of exercise, I was challenged by a friend to do "The Great Walk". This is a 64 km walk on the remote logging roads of Vancouver Island from one small community to another tiny village. One co-worker told me that there was no way he thought I would be able to do it. Those words stuck with me throughout my training, and I was determined to prove him wrong. I was a beginner in endurance sports and had no idea how
to train; in hind sight I realize I did not do nearly enough training. But I did complete it, despite my feet feeling like I was walking on only bones, and wanting to quit at every single aid station. This was the birth of my long distance walking obsession. I went on to complete the Great Walk 13 times, The Great Lake Walk (56 km) 4 times, and Nijmegen (4 consecutive days of 40km in Netherlands) twice. Additionally with my mom and some friends we did the Coast to Coast in England (192 miles over 2 weeks), which was a fantastic experience, that I long to do again.
Over ten years I grew to love the long distance walk. There is something very satisfying about walking for hours and continuing with the journey despite feeling bone weary fatigue. When friends started running, I would say "oh, I can't run, my knees would hurt too much." I had had surgery to repair a torn ACL and thought that running would never be something I could do. When I finally did start running (in 1999), I did it very cautiously, expecting it never to last. It turned out that running improved my knees by strengthening my quads resulting in better stability. I now feel that walking gives me the mental toughness and endurance while running improves my overall fitness.
Walking prepared me for my long distance running in a multitude of ways. It gave me determination, the ability to endure doing one thing for hours on end, and a passion for long distance training. Walking also gave me the confidence that I could cover any distance if I set my mind to it. When I ran my first marathon, and all subsequent marathons, I have never wondered if I could make it; I always know that no matter what, I can complete the distance even if I walked it. An odd trick I play with myself is that in the late stages of the marathon I work out the time it would take me to walk the remaining distance, and then I realize that I'm okay with that finish time. Somehow this mentally gives me an out and I end up running to the end because I know I would be still satisfied even if I had to walk to the end.
This, however, brings me to a disturbing thought I occasionally hear; runners stating that "at least I didn't walk." One author I read wanted
something like this on his tombstone. They talk of walking as if it is a bad thing. I feel that walking and running are both tremendous forms of exercise and I have equal respect for both. In some ways walking is more difficult, as one is out there covering the distance for a longer period of time. I do both and feel that they are equally challenging, just in different ways. My ultra-marathon training is a combination of walking and running and I really don't distinguish between them. I like to just say that I do X number of miles. When people hear that I am going to attempt a 100 miler there are several common questions I get asked:
1. Do you constantly run the whole time? No, I walk a lot. When I run, I do a run/walk/run. And there are aid stations where I get a bite to eat, refill my camel bak with water, change clothes, and go to the bathroom. One has to manage time at aid stations carefully though by being efficient and taking care of yourself in the minimal time possible. Time goes by very fast in aid stations in Ultras.
2. Do you stay awake the whole time? Yes. I expect to take just under 35 hours. Going through night is one of my favorite parts of the ultra. It's peaceful, different for the mind, epic and time goes by pretty fast.
3. Why would you want to do that? For me it is the challenge. This is the same feeling I felt with all the long distance walking. I feel like an explorer. Pushing my own boundaries. It is transformative being out walking or running for a very long time. It is epic.
So be it walking, running, biking, elliptical, or swimming they are all miles that we are logging on our Voyage to Venus. It is truly tremendous that all the moon joggers from all around the world are out adventuring and getting healthy. Here's to many more miles…keep on keeping on.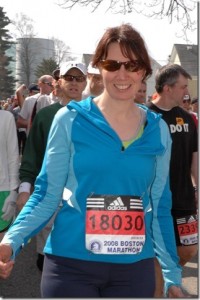 Biography:  Sheila being 49 years old, single, with no kids has the perfect lifestyle for becoming an obsessive runner. Her 77 year old mother, Catherine Campbell (another Moon Jogger) moved in next door to her in 2000. After cheering Sheila on at multiple marathons, Catherine finally caught the running bug. Sheila taught her to run in 2009 and this year is very significant as Sheila is training Catherine to complete her first ever half marathon. Sheila works for the Government of Canada as a fish health technician but longs for the day when she can retire and dedicate even more time to her passion…running.
Comments
comments