WHERE HAVE MY FEET TAKEN ME?
By Perry Newburn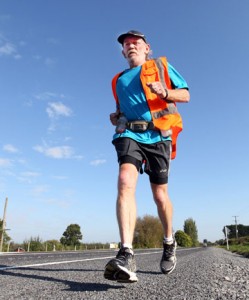 My feet have taken me to many places – both physically and mentally. And I may say there are so many more to be taken.
Firstly one of the reasons " I got back " into running and some form of physical fitness in my late 30's was to help me back to some sort of " normality" as I battled the early stages of coming off a 16 year battle with Heroin Addiction. I wont go on to much about this here as I have written about it earlier but I am more than happy to answer ( or try to!!) any queries/questions any of you may have in the future. Some may say I was " running away from addiction" but I look at it as " running towards a better life". The one thing I will say is that I am very lucky to be alive and able to do the things I love.
So these early stages of running were not easy and I really had to build on my " mental strength" But I came to enjoy the outside, the time alone to think, the time to talk to others and be with others and this became easier and easier as my confidence in myself grew. If anyone had said " why not run a marathon" in those early years I would have laughed as I still thought that was an impossibility at that stage – Oh how things changed in the next 10 – 20 years!!!.
Physically running has taken me to many places. Firstly I wanted to see more of New Zealand being my home country, and the chances started to happen after I succeeded with that goal of running of running a marathon ( of which it was only going to be one!!!) with of course travelling to other centres to run more( or in some cases crawl). A bigger chance came along later when sadly a major earthquake caused major damage and loss of life in my birthplace of Christchurch. I decided to do a 1053 km run in 15 days from Auckland to Christchurch to raise funds towards the rebuild. This was successful and also started the process of running major distances to " give back" to our communities – as well as of course seeing new places and meeting more people.
This was one of the reasons that instigated the " run around NZ " ( a 5000 km run in 70 days) to raise funds for the Mental Health Foundation of NZ as well as pushing the positive effect that any form of exercise has on ones mental wellness. Again some of the places I ran through I hadn't seen and the scenery has to be seen to be believed.
Next, and how could I not mention it, the run across the USA in 2014 which was successfully completed in 51 days 19 hours and 40 minutes. What a country and what a time I had seeing it at ground level, all be it putting in some hard yards on the roads. I was often asked " what was your favorite place?" and my response was " they are all wonderful but also unique to themselves."
During a large majority of these runs it hasn't just been about the great places I have seen but also about the people I have had the pleasure to meet , From " team Webb " who were so wonderful during my run in the USA to the people who travelled huge distances to spend some time with us on the road, to the wonderful people who opened up their homes, to the MJ's who are such a supportive and special group of people and to the many others I have met through running. I said many times during and after the USA run as to how humbled I was by the goodness of people that I saw day after day.
As I've very briefly covered there so many reasons why I enjoy running so much ; from the wonderful places I have had the pleasure to run through, to the wonderful people I have met and the friendships I have gained to far better health both physically and emotionally and to the chances to be able to " give back to communities" through doing something I love. I will stop here as each section could be a book within itself and that will happen someday.
Take care all and reap the rewards of where you're feet will take you.
There will be more!!!!
**All walkers and runners are invited to join Moon Joggers! If  you have not signed up for MERCURY RISING  (one of the paid registration options) do so now and you'll be able to save 25% on our virtual races in 2016! (Use code RUN2MERCURY to save 20% on MERCURY RISING)
Comments
comments